Abstract
Efforts to describe and functionally categorize the amazing diversity of microbial life have long been hampered by our inability to cultivate most microorganisms in the laboratory. Recent technological advances in whole-genome amplification and cell sorting now permit insights into previously uncharacterized microorganisms, without prior cultivation. This month's Genome Watch reviews a selection of the initial attempts to exploit these important advances.
Access options
Subscribe to Journal
Get full journal access for 1 year
$99.00
only $8.25 per issue
All prices are NET prices.
VAT will be added later in the checkout.
Tax calculation will be finalised during checkout.
Rent or Buy article
Get time limited or full article access on ReadCube.
from$8.99
All prices are NET prices.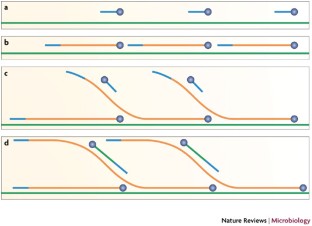 References
1

Pinard, R. et al. Assessment of whole genome amplification-induced bias through high-throughput, massively parallel whole genome sequencing. BMC Genomics 7, 216 (2006).

2

Lasken, R. S. Single-cell genomic sequencing using multiple displacement amplification. Curr. Opin. Microbiol. 10, 510–516 (2007).

3

Marcy, Y. et al. Nanoliter reactors improve multiple displacement amplification of genomes from single cells. PLoS Genet. 3, e155 (2007).

4

Zhang, K. et al. Sequencing genomes from single cells by polymerase cloning. Nature Biotechnol. 24, 680–686 (2006).

5

Raghunathan, A. et al. Genomic DNA amplification from a single bacterium. Appl. Environ. Microbiol. 71, 3342–3347 (2005).

6

Kvist, T. et al. Specific single-cell isolation and genomic amplification of uncultured microorganisms. Appl. Microbiol. Biotechnol. 74, 926–935 (2007).

7

Marcy, Y. et al. Dissecting biological "dark matter" with single-cell genetic analysis of rare and uncultivated TM7 microbes from the human mouth. Proc. Natl Acad. Sci. USA 104, 11889–11894 (2007).

8

Podar, M. et al. Targeted access to the genomes of low-abundance organisms in complex microbial communities. Appl. Environ. Microbiol. 73, 3205–3214 (2007).

9

Spits, C. et al. Whole-genome multiple displacement amplification from single cells Nature Protoc. 1, 1965–1970 (2006).
Related links
Related links
DATABASES
Entrez Genome
About this article
Cite this article
Walker, A., Parkhill, J. Single-cell genomics. Nat Rev Microbiol 6, 176–177 (2008). https://doi.org/10.1038/nrmicro1862