This month's column looks at a recent comparative analysis of three members of the Rickettsiales that are all causative agents of human ehrlichiosis.
Access options
Subscribe to Journal
Get full journal access for 1 year
$99.00
only $8.25 per issue
All prices are NET prices.
VAT will be added later in the checkout.
Tax calculation will be finalised during checkout.
Buy article
Get time limited or full article access on ReadCube.
$32.00
All prices are NET prices.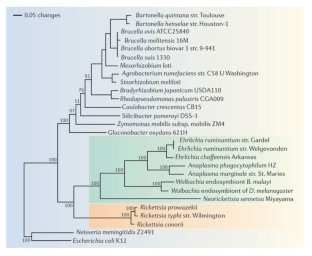 References
Dunning Hotopp, J. C. et al. Comparative genomics of emerging human ehrlichiosis agents. PLoS Genet. 2, e21 (2006).

Chakravortty, D. & Hensel, M. Inducible nitric oxide synthase and control of intracellular bacterial pathogens. Microbes Infect. 5, 621?627 (2003).

Lin, M. & Rikihisa, Y. Ehrlichia chaffeensis and Anaplasma phagocytophilum lack genes for lipid A biosynthesis and incorporate cholesterol for their survival. Infect. Immun. 71, 5324?5331 (2003).

Cerdeño-Tárraga, A. et al. Extensive DNA inversion in the B. fragilis genome control variable gene expression. Science 307, 1463?1465 (2005).
Acknowledgements
The author thanks Dr Stephen Bentley, The Wellcome Trust Sanger Institute, for helpful discussions.
Related links
Related links
DATABASES
Entrez Genome Project
FURTHER INFORMATION
About this article
Cite this article
Crossman, L. Budget genomes. Nat Rev Microbiol 4, 326–327 (2006). https://doi.org/10.1038/nrmicro1396
Issue Date:

DOI: https://doi.org/10.1038/nrmicro1396