Abstract
Biologists regularly face an increasingly difficult task — to effectively communicate bigger and more complex structural data using an ever-expanding suite of visualization tools. Whether presenting results to peers or educating an outreach audience, a scientist can achieve maximal impact with minimal production time by systematically identifying an audience's needs, planning solutions from a variety of visual communication techniques and then applying the most appropriate software tools. A guide to available resources that range from software tools to professional illustrators can help researchers to generate better figures and presentations tailored to any audience's needs, and enable artistically inclined scientists to create captivating outreach imagery.
Relevant articles
Open Access articles citing this article.
Edward J. Martin

,

Thomas R. Meagher

&

Daniel Barker

BMC Bioinformatics Open Access 23 September 2021

Syed S Husain

,

Alexandr Kalinin

…

Ivo D Dinov

Journal of Big Data Open Access 17 July 2015
Access options
Subscribe to Journal
Get full journal access for 1 year
$99.00
only $8.25 per issue
All prices are NET prices.
VAT will be added later in the checkout.
Tax calculation will be finalised during checkout.
Buy article
Get time limited or full article access on ReadCube.
$32.00
All prices are NET prices.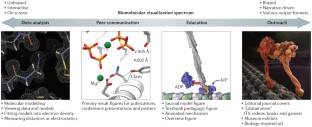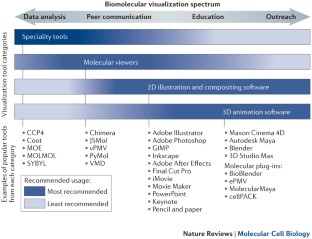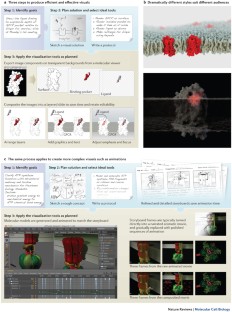 References
Kendrew, J. C. et al. A three-dimensional model of the myoglobin molecule obtained by X-ray analysis. Nature 181, 662–666 (1958).

Zhao, G. et al. Mature HIV-1 capsid structure by cryo-electron microscopy and all-atom molecular dynamics. Nature 497, 643–646 (2013).

Takamori, S. et al. Molecular anatomy of a trafficking organelle. Cell 127, 831–846 (2006).

Wilhelm, B. G. et al. Composition of isolated synaptic boutons reveals the amounts of vesicle trafficking proteins. Science 344, 1023–1028 (2014).

Johnson, G. et al. 3D molecular models of whole HIV-1 virions generated with cellPACK. Faraday Discuss. (in the press).

Ward, A. B., Sali, A. & Wilson, I. A. Biochemistry. Integrative structural biology. Science 339, 913–915 (2013).

Iwasa, J. H. Animating the model figure. Trends Cell Biol. 20, 699–704 (2010).

McGill, G. Molecular movies... coming to a lecture near you. Cell 133, 1127–1132 (2008).

Johnson, G. T., Autin, L., Goodsell, D. S., Sanner, M. F. & Olson, A. J. ePMV embeds molecular modeling into professional animation software environments. Structure 19, 293–303 (2011).

Autin, L., Johnson, G., Hake, J., Olson, A. & Sanner, M. uPy: a ubiquitous CG Python API with biological-modeling applications. IEEE Computer Graph. Appl. 32, 50–61 (2012).

Goodsell, D. S. & Johnson, G. T. Filling in the gaps: artistic license in education and outreach. PLoS Biol. 5, e308 (2007).

Wong, B. & Kjaegaard, R. S. Pencil and paper. Nature Methods 9, 1037 (2012).

Kozma, D., Simon, I. & Tusnády, G. E. PDBTM: Protein Data Bank of transmembrane proteins after 8 years. Nucleic Acids Res. 41, D524–D529 (2013).

Lomize, M. A., Lomize, A. L., Pogozheva, I. D. & Mosberg, H. I. OPM: orientations of proteins in membranes database. Bioinformatics 22, 623–625 (2006).

Rundgren, C. J. & Tibell, L. A. E. Critical features of visualizations of transport through the cell membrane — an empirical study of upper secondary and tertiary students' meaning-making of a still image and an animation. Int. J. Sci. Math. Educ. 8, 223–246 (2010).

Kramer, I. M., Dahmani, H. R., Delouche, P., Bidabe, M. & Schneeberger, P. Education catching up with science: preparing students for three-dimensional literacy in cell biology. CBE Life Sci. Educ. 11, 437–447 (2012).

O'Donoghue, S. I. et al. Visualizing biological data — now and in the future. Nature Methods 7, S2–S4 (2010).

O'Donoghue, S. I. et al. Visualization of macromolecular structures. Nature Methods 7, S42–S55 (2010).

Hornus, S., Levy, B., Lariviere, D. & Fourmentin, E. Easy DNA modeling and more with GraphiteLifeExplorer. PLoS ONE 8, e53609 (2013).

Kremer, J. R., Mastronarde, D. N. & McIntosh, J. R. Computer visualization of three-dimensional image data using IMOD. J. Struct. Biol. 116, 71–76 (1996).

Walter, T. et al. Visualization of image data from cells to organisms. Nature Methods 7, S26–S41 (2010).

Pettersen, E. F. et al. UCSF chimera — a visualization system for exploratory research and analysis. J. Comput. Chem. 25, 1605–1612 (2004).

Hanson, R. M. Jmol — a paradigm shift in crystallographic visualization. J. Appl. Crystallogr. 43, 1250–1260 (2010).

Sanner, M. F. Python: a programming language for software integration and development. J. Mol. Graph. Model. 17, 57–61 (1999).

DeLano, W. L. The PyMOL molecular graphics system. DeLano Scientific [online], (2002).

Humphrey, W., Dalke, a. & Schulten, K. VMD: visual molecular dynamics. J. Mol. Graph. 14, 33–38, 27–28 (1996).

Alberts, B. et al. Molecular Biology of the Cell 4th edn (Garland Science, 2002).

Pollard, T. D., Earnshaw, W. & Lippincott-Schwartz, J. Cell Biology 2nd edn Ch. 27 (Elsevier, 2007).

Iwasa, J. H. & Johnson, G. The art and science of cell biology (ASCB2). ASCB Newsletter 35, 3–5 (2012).

Johnson, G. T. Announcing the Winners of the autoPACK visualization Challenge2012: present HIV in blood plasma. AMI Newsletter (AMI, 2013).

Johnson, G. T. Interview iwth Drew Berry, 2010 MacArther Fellow. AMI Newsletter (Association of Medical Illustrators, 2011).

Berry, D. Molecular animation of cell death mediated by the fas pathway. Sci. STKE 2007, tr1 (2007).

Downey, A. Think Python (O'Reilly Media, 2012).

Lv, Z. et al. Game on, science — how video game technology may help biologists tackle visualization challenges. PLoS ONE 8, e57990 (2013).

Johnson, G. T. et al. cellPACK: a virtual mesoscope to model and visualize structural systems biology. Nature Methods (in the press).

Bhabha, G. et al. Divergent evolution of protein conformational dynamics in dihydrofolate reductase. Nature Struct. Mol. Biol. 20, 1243–1249 (2013).

Tarini, M., Cignoni, P. & Montani, C. Ambient occlusion and edge cueing to enhance real time molecular visualization. IEEE Computer Graph. Appl. 11, 1237–1244 (2006).

Krebs, W. G. & Gerstein, M. The morph server: a standardized system for analyzing and visualizing macromolecular motions in a database framework. Nucleic Acids Res. 28, 1665–1675 (2000).

Farrell, D. W., Lei, M. & Thorpe, M. F. Comparison of pathways from the geometric targeting method and targeted molecular dynamics in nitrogen regulatory protein C. Phys. Biol. 8, 026017 (2011).

Tufte, E. R. Envisioning information. Optom. Vision Sci. 68, 322–324 (1991).

Tufte, E. R. & Graves-Morris, P. The Visual Display of Quantitative Information (Graphics Press Cheshire, 1983).

Wong, B. Points of view: color coding. Nature Methods 7, 573–573 (2010).

Wong, B. Points of view: color blindness. Nature Methods 8, 441–441 (2011).

Wong, B. Points of view: avoiding color. Nature Methods 8, 525–525 (2011).

McCloud, S. Understanding Comics: the Invisible Art (Tundra Pub., 1993).

McGill, G. Protein dynamics. EMBL Conference on Visualizing Biological Data [online], (2011).

Miko, I. Episode 19: HMS's Gael McGill on molecular visualization. Nature Education [online], (2011).

Vale, R. D. & Milligan, R. A. The way things move: looking under the hood of molecular motor proteins. Science 288, 88–95 (2000).

Carter, A. P., Cho, C., Jin, L. & Vale, R. D. Crystal structure of the dynein motor domain. Science 331, 1159–1165 (2011).

Pollard, T.D., Earnshaw, W. C. & Johnson, G. T. Electronic Image Collection for Cell Biology (W. B. Saunders, 2002).

Mura, C., McCrimmon, C. M., Vertrees, J. & Sawaya, M. R. An introduction to biomolecular graphics. PLoS Comput. Biol. 6, e1000918 (2010).
Acknowledgements
The authors thank E. Meng for editing, and G. Bhabha for inspiration and assistance with DHFR. S.H. acknowledges funding from a postdoctoral fellowship by the Swiss National Science Foundation, and G.J. from a QB3@UCSF (University of California, San Francisco) Fellowship.
Ethics declarations
Competing interests
The authors declare no competing financial interests.
Supplementary information
About this article
Cite this article
Johnson, G., Hertig, S. A guide to the visual analysis and communication of biomolecular structural data. Nat Rev Mol Cell Biol 15, 690–698 (2014). https://doi.org/10.1038/nrm3874
Published:

Issue Date:

DOI: https://doi.org/10.1038/nrm3874
Further reading
Edward J. Martin
Thomas R. Meagher
Daniel Barker

BMC Bioinformatics (2021)

Syed S Husain
Alexandr Kalinin
Ivo D Dinov

Journal of Big Data (2015)