Abstract
The efficacy of vaccines depends on the presence of an adjuvant in conjunction with the antigen. Of these adjuvants, the ones that contain aluminium, which were first discovered empirically in 1926, are currently the most widely used. However, a detailed understanding of their mechanism of action has only started to be revealed. In this Timeline article, we briefly describe the initial discovery of aluminium adjuvants and discuss historically important advances. We also summarize recent progress in the field and discuss their implications and the remaining questions on how these adjuvants work.
Your institute does not have access to this article
Relevant articles
Open Access articles citing this article.
Mohammad Reza Asadi Karam

,

Farzad Badmasti

…

Mehri Habibi

Scientific Reports Open Access 25 January 2022

Ana Clara Barbosa Antonelli

,

Vinnycius Pereira Almeida

…

Simone Gonçalves Fonseca

Scientific Reports Open Access 07 January 2022

Yaomei Tian

,

Qiuyue Hu

…

Li Yang

npj Vaccines Open Access 20 May 2021
Access options
Subscribe to Journal
Get full journal access for 1 year
$59.00
only $4.92 per issue
All prices are NET prices.
VAT will be added later in the checkout.
Tax calculation will be finalised during checkout.
Buy article
Get time limited or full article access on ReadCube.
$32.00
All prices are NET prices.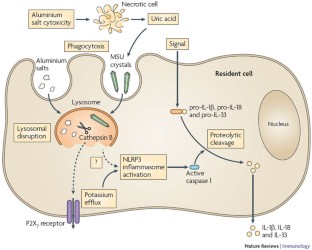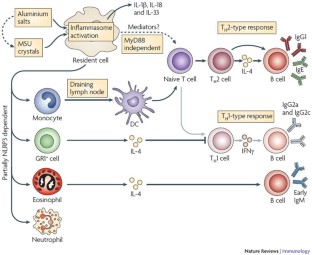 References
von Behring, E. Ueber ein neues diphtherieschutzmittel. Dtsch. Med. Wschr. 39, 873–876 (1913).

Glenny, A. T. & Sudmersen, H. J. Notes on the production of immunity to diphtheria toxin. J. Hyg. 20, 176 (1921).

Ramon, G. Sur le pouvoir floculant et sur les proprietes immunisantes d'une toxine diphtherique rendue anatoxique. C. R. Hebd. Seances Acad. Sci. 177, 1338–1340 (1923).

Glenny, A. T., Pope, C. G., Waddington, H. & Wallace, U. Immunological Notes: XVII-XXIV. J. Pathol. Bacteriol. 29, 31–40 (1926).

Grun, J. L. & Maurer, P. H. Different T helper cell subsets elicited in mice utilizing two different adjuvant vehicles: the role of endogenous interleukin 1 in proliferative responses. Cell. Immunol. 121, 134–145 (1989).

Kono, H. & Rock, K. L. How dying cells alert the immune system to danger. Nature Rev. Immunol. 8, 279–289 (2008).

Kool, M. et al. Alum adjuvant boosts adaptive immunity by inducing uric acid and activating inflammatory dendritic cells. J. Exp. Med. 205, 869–882 (2008).

Eisenbarth, S. C., Colegio, O. R., O'Connor, W., Sutterwala, F. S. & Flavell, R. A. Crucial role for the Nalp3 inflammasome in the immunostimulatory properties of aluminium adjuvants. Nature 453, 1122–1126 (2008).

Glenny, A. T., Buttle, G. A. H. & Stevens, M. F. Rate of disappearance of diphtheria toxoid injected into rabbits and guinea-pigs: toxoid precipitated with alum. J. Pathol. Bacteriol. 34, 267–287 (1931).

Harrison, W. T. Some observations on the use of alum precipitated diphtheria toxoid. Am. J. Public Health Nations Health 25, 298–300 (1935).

White, R. G., Coons, A. H. & Connolly, J. M. Studies on antibody production. III. The alum granuloma. J. Exp. Med. 102, 73–82 (1955).

Holt, L. B. Developments in diphtheria prophylaxis. (Wm. Heinemann, London, 1950).

Sharp, F. A. et al. Uptake of particulate vaccine adjuvants by dendritic cells activates the NALP3 inflammasome. Proc. Natl Acad. Sci USA 106, 870–875 (2009).

Hornung, V. et al. Silica crystals and aluminum salts activate the NALP3 inflammasome through phagosomal destabilization. Nature Immunol. 9, 847–856 (2008).

Mannhalter, J. W., Neychev, H. O., Zlabinger, G. J., Ahmad, R. & Eibl, M. M. Modulation of the human immune response by the non-toxic and non-pyrogenic adjuvant aluminium hydroxide: effect on antigen uptake and antigen presentation. Clin. Exp. Immunol. 61, 143–151 (1985).

Ulanova, M., Tarkowski, A., Hahn-Zoric, M. & Hanson, L. A. The common vaccine adjuvant aluminum hydroxide up-regulates accessory properties of human monocytes via an interleukin-4-dependent mechanism. Infect. Immun. 69, 1151–1159 (2001).

Sun, H., Pollock, K. G. & Brewer, J. M. Analysis of the role of vaccine adjuvants in modulating dendritic cell activation and antigen presentation in vitro. Vaccine 21, 849–855 (2003).

Sokolovska, A., Hem, S. L. & HogenEsch, H. Activation of dendritic cells and induction of CD4+ T cell differentiation by aluminum-containing adjuvants. Vaccine 25, 4575–4585 (2007).

Schnare, M. et al. Toll-like receptors control activation of adaptive immune responses. Nature Immunol. 2, 947–950 (2001).

Gavin, A. L. et al. Adjuvant-enhanced antibody responses in the absence of toll-like receptor signaling. Science 314, 1936–1938 (2006).

Ng, G. et al. Receptor-independent, direct membrane binding leads to cell-surface lipid sorting and Syk kinase activation in dendritic cells. Immunity 29, 807–818 (2008).

Li, H., Nookala, S. & Re, F. Aluminum hydroxide adjuvants activate caspase-1 and induce IL-1β and IL-18 release. J. Immunol. 178, 5271–5276 (2007).

Li, H., Willingham, S. B., Ting, J. P. & Re, F. Cutting Edge: inflammasome activation by alum and alum's adjuvant effect are mediated by NLRP3. J. Immunol. 181, 17–21 (2008).

Franchi, L. & Nunez, G. The Nlrp3 inflammasome is critical for aluminium hydroxide-mediated IL-1β secretion but dispensable for adjuvant activity. Eur. J. Immunol. 38, 2085–2089 (2008).

Kool, M. et al. Cutting Edge: alum adjuvant stimulates inflammatory dendritic cells through activation of the NALP3 inflammasome. J. Immunol. 181, 3755–3759 (2008).

Dostert, C. et al. Innate immune activation through Nalp3 inflammasome sensing of asbestos and silica. Science 320, 674–677 (2008).

Cassel, S. L. et al. The Nalp3 inflammasome is essential for the development of silicosis. Proc. Natl Acad. Sci. USA 105, 9035–9040 (2008).

Behrens, M. D. et al. The endogenous danger signal, crystalline uric acid, signals for enhanced antibody immunity. Blood 111, 1472–1479 (2008).

Chen, C. J. et al. MyD88-dependent IL-1 receptor signaling is essential for gouty inflammation stimulated by monosodium urate crystals. J. Clin. Invest. 116, 2262–2271 (2006).

Schmitz, N., Kurrer, M. & Kopf, M. The IL-1 receptor 1 is critical for Th2 cell type airway immune responses in a mild but not in a more severe asthma model. Eur. J. Immunol. 33, 991–1000 (2003).

Nakae, S. et al. IL-1 is required for allergen-specific Th2 cell activation and the development of airway hypersensitivity response. Int. Immunol. 15, 483–490 (2003).

Claman, H. N., Chaperon, E. A. & Triplett, R. F. Immunocompetence of transferred thymus–marrow cell combinations. J. Immunol. 97, 828–832 (1966).

Mosmann, T. R., Cherwinski, H., Bond, M. W., Giedlin, M. A. & Coffman, R. L. Two types of murine helper T cell clone. I. Definition according to profiles of lymphokine activities and secreted proteins. J. Immunol. 136, 2348–2357 (1986).

Kopf, M. et al. Disruption of the murine IL-4 gene blocks Th2 cytokine responses. Nature 362, 245–248 (1993).

Brewer, J. M., Conacher, M., Satoskar, A., Bluethmann, H. & Alexander, J. In interleukin-4-deficient mice, alum not only generates T helper 1 responses equivalent to freund's complete adjuvant, but continues to induce T helper 2 cytokine production. Eur. J. Immunol. 26, 2062–2066 (1996).

Brewer, J. M. et al. Aluminium hydroxide adjuvant initiates strong antigen-specific Th2 responses in the absence of IL-4- or IL-13-mediated signaling. J. Immunol. 163, 6448–6454 (1999).

Brewer, J. M. et al. Neither interleukin-6 nor signalling via tumour necrosis factor receptor-1 contribute to the adjuvant activity of alum and Freund's adjuvant. Immunology 93, 41–48 (1998).

Jordan, M. B., Mills, D. M., Kappler, J., Marrack, P. & Cambier, J. C. Promotion of B cell immune responses via an alum-induced myeloid cell population. Science 304, 1808–1810 (2004).

Wang, H. B. & Weller, P. F. Pivotal advance: eosinophils mediate early alum adjuvant-elicited B cell priming and IgM production. J. Leukoc. Biol. 83, 817–821 (2008).

McKee, A. S. et al. Gr1+IL-4-producing innate cells are induced in response to Th2 stimuli and suppress Th1-dependent antibody responses. Int. Immunol. 20, 659–669 (2008).

Berton, M. T., Uhr, J. W. & Vitetta, E. S. Synthesis of germ-line gamma 1 immunoglobulin heavy-chain transcripts in resting B cells: induction by interleukin 4 and inhibition by interferon gamma. Proc. Natl Acad. Sci. USA 86, 2829–2833 (1989).

Kung, T. T. et al. Characterization of a murine model of allergic pulmonary inflammation. Int. Arch. Allergy Immunol. 105, 83–90 (1994).

Reddy, P. Interleukin-18: recent advances. Curr. Opin. Hematol. 11, 405–410 (2004).

Pollock, K. G., Conacher, M., Wei, X. Q., Alexander, J. & Brewer, J. M. Interleukin-18 plays a role in both the alum-induced T helper 2 response and the T helper 1 response induced by alum-adsorbed interleukin-12. Immunology 108, 137–143 (2003).

Keller, M., Ruegg, A., Werner, S. & Beer, H. D. Active caspase-1 is a regulator of unconventional protein secretion. Cell 132, 818–831 (2008).

Hem, S. L. & Hogenesch, H. Relationship between physical and chemical properties of aluminum-containing adjuvants and immunopotentiation. Expert Rev. Vaccines 6, 685–698 (2007).

Ogura, Y., Sutterwala, F. S. & Flavell, R. A. The inflammasome: first line of the immune response to cell stress. Cell 126, 659–662 (2006).

Martinon, F. & Glimcher, L. H. Gout: new insights into an old disease. J. Clin. Invest. 116, 2073–2075 (2006).

Shi, Y., Evans, J. E. & Rock, K. L. Molecular identification of a danger signal that alerts the immune system to dying cells. Nature 425, 516–521 (2003).

Shi, Y., Zheng, W. & Rock, K. L. Cell injury releases endogenous adjuvants that stimulate cytotoxic T cell responses. Proc. Natl Acad. Sci. USA 97, 14590–14595 (2000).

Shi, Y. & Rock, K. L. Cell death releases endogenous adjuvants that selectively enhance immune surveillance of particulate antigens. Eur. J. Immunol. 32, 155–162 (2002).

Martinon, F., Petrilli, V., Mayor, A., Tardivel, A. & Tschopp, J. Gout-associated uric acid crystals activate the NALP3 inflammasome. Nature 440, 237–241 (2006).

Oliveira, S. H., Costa, C. H., Ferreira, S. H. & Cunha, F. Q. Sephadex induces eosinophil migration to the rat and mouse peritoneal cavity: involvement of mast cells, LTB4, TNF-α, IL-8 and PAF. Inflamm. Res. 51, 144–153 (2002).

Reese, T. A. et al. Chitin induces accumulation in tissue of innate immune cells associated with allergy. Nature 447, 92–96 (2007).

McKerrow, J. H., Caffrey, C., Kelly, B., Loke, P. & Sajid, M. Proteases in parasitic diseases. Annu. Rev. Pathol. 1, 497–536 (2006).

Sokol, C. L., Barton, G. M., Farr, A. G. & Medzhitov, R. A mechanism for the initiation of allergen-induced T helper type 2 responses. Nature Immunol. 9, 310–318 (2008).

Pollock, K. G. et al. The Leishmania mexicana cysteine protease, CPB2.8, induces potent Th2 responses. J. Immunol. 170, 1746–1753 (2003).

Panisset, M. Gaston Ramon decouvrait les anatoxines. Can. J. Comp. Med. Vet. Sci. 13, 60–63 (1949).

Park, W. H. & Schroder, M. C. Diphtheria toxin–antitoxin and toxoid: a comparison. Am. J. Public Health Nations Health 22, 7–16 (1932).

Harrison, W. T. Effect of alum-precipitated ragweed pollen extract on guinea pigs. Public Health Rep. 49, 462–464 (1934).

Oakley, C. L. Alexander Thomas Glenny. 1882–1965 (The Royal Society, London, 1966).
Acknowledgements
This work was partially supported by the US Public Health Service Commissioned Corps (grants A1-18785 and A1-22995).
Related links
Related links
FURTHER INFORMATION
About this article
Cite this article
Marrack, P., McKee, A. & Munks, M. Towards an understanding of the adjuvant action of aluminium. Nat Rev Immunol 9, 287–293 (2009). https://doi.org/10.1038/nri2510
Issue Date:

DOI: https://doi.org/10.1038/nri2510