Abstract
Members of the TIM (T-cell immunoglobulin domain and mucin domain) protein family are emerging as important regulators of immune responses. As their names imply, the TIM proteins were originally thought to be T-cell-specific molecules that served mainly to regulate T-helper-cell responses. However, the recent discovery that antigen-presenting cells also express TIM molecules and the identification of new TIM-protein ligands has expanded the known roles of the TIM proteins in immune regulation.
Relevant articles
Open Access articles citing this article.
Lucile Amrouche

,

Sylvaine You

…

Dany Anglicheau

Scientific Reports Open Access 30 October 2019

Yueying Zheng

,

Liqing Wang

…

Shengmei Zhu

Cell Communication and Signaling Open Access 22 August 2019

Li-jun Song

,

Xiao Wang

…

Qiang Shu

Diagnostic Pathology Open Access 16 June 2015
Access options
Subscribe to this journal
Receive 12 print issues and online access
$189.00 per year
only $15.75 per issue
Rent or buy this article
Get just this article for as long as you need it
$39.95
Prices may be subject to local taxes which are calculated during checkout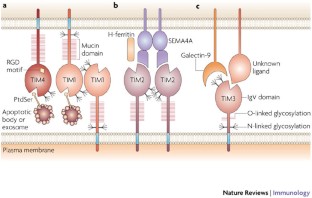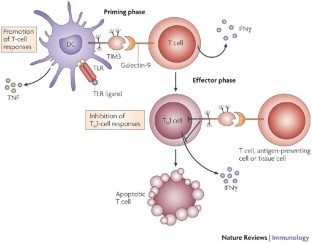 References
Kuchroo, V. K., Umetsu, D. T., DeKruyff, R. H. & Freeman, G. J. The TIM gene family: emerging roles in immunity and disease. Nature Rev. Immunol. 3, 454–462 (2003).

Umetsu, S. E. et al. TIM-1 induces T cell activation and inhibits the development of peripheral tolerance. Nature Immunol. 6, 447–454 (2005).

Meyers, J. H. et al. TIM-4 is the ligand for TIM-1, and the TIM-1–TIM-4 interaction regulates T cell proliferation. Nature Immunol. 6, 455–464 (2005).

Nakae, S., Iwakura, Y., Suto, H. & Galli, S. J. Phenotypic differences between Th1 and Th17 cells and negative regulation of Th1 cell differentiation by IL-17. J. Leukoc. Biol. 81, 1258–1268 (2007).

Sizing, I. D. et al. Epitope-dependent effect of anti-murine TIM-1 monoclonal antibodies on T cell activity and lung immune responses. J. Immunol. 178, 2249–2261 (2007).

de Souza, A. J., Oriss, T. B., O'Malley, K. J., Ray, A. & Kane, L. P. T cell Ig and mucin 1(Tim-1) is expressed on in vivo-activated T cells and provides a costimulatory signal for T cell activation. Proc. Natl Acad. Sci. USA 102, 17113–17118 (2005).

Degauque, N. et al. Immunostimulatory Tim-1 specific antibody deprograms Tregs and prevents transplant tolerance in mice. J. Clin. Invest. 118, 735–741 (2008).

Xiao, S. et al. Differential engagement of Tim-1 during activation can positively or negatively costimulate T cell expansion and effector function. J. Exp. Med. 204, 1691–1702 (2007).

Ueno, T. et al. The emerging role of T cell Ig mucin 1 in alloimmune responses in an experimental mouse transplant model. J. Clin. Invest. 118, 742–751 (2008).

Binne, L., Scott, M. L. & Rennert, P. D. Human TIM-1 associates with the TCR complex and up-regulates T cell activation signals. J. Immunol. 178, 4342–4350 (2007).

Chakravarti, S. et al. TIM-2 regulates T helper type 2 responses and autoimmunity. J. Exp. Med. 202, 437–444 (2005).

Kumanogoh, A. et al. Class IV semaphorin Sema4A enhances T-cell activation and interacts with Tim-2. Nature 419, 629–633 (2002).

Kumanogoh, A. et al. Nonredundant roles of Sema4A in the immune system: defective T cell priming and Th1/Th2 regulation in Sema4A-deficient mice. Immunity 22, 305–316 (2005).

Rennert, P. D. et al. T cell, Ig domain-2 gene-deficient mice reveal a novel mechanism for the regulation of Th2 immune responses and airway inflammation. J. Immunol. 177, 4311–4321 (2006).

Knickelbein, J. E., de Souza, A. J., Tosti, R., Narayan, P. & Kane, L. P. Cutting Edge: inhibition of T cell activation by Tim-2. J. Immunol. 177, 4966–4970 (2006).

Rodriguez-Manzanet, R. et al. TIM-4 expressed on APCs induces T cell expansion and survival. J. Immunol. 180, 4706–4713 (2008).

Mizui, M. et al. Bimodal regulation of T cell-mediated immune responses by TIM-4. Int. Immunol. 20, 695–708 (2008).

Monney, L. et al. Th1-specific cell surface protein Tim-3 regulates macrophage activation and severity of an autoimmune disease. Nature 415, 536–541 (2002).

Zhu, C. et al. The Tim-3 ligand galectin-9 negatively regulates T helper type 1 immunity. Nature Immunol. 6, 1245–1252 (2005).

Anderson, A. C. et al. Promotion of tissue inflammation by the immune receptor Tim-3 expressed on innate immune cells. Science 318, 1141–1143 (2007).

Cao, E. et al. T cell immunoglobulin mucin-3 crystal structure reveals a novel ligand binding surface. Immunity 26, 311–321 (2007).

Santiago, C. et al. Structures of T cell immunoglobulin mucin receptors 1 and 2 reveal mechanisms for regulation of immune responses by the TIM receptor family. Immunity 26, 299–310 (2007).

Santiago, C. et al. Structures of T cell immunoglobulin mucin protein 4 show a metal-ion-dependent ligand binding site where phosphatidylserine binds. Immunity 27, 941–945 (2007).

Miyanishi, M. et al. Identification of Tim4 as a phosphatidylserine receptor. Nature 450, 435–439 (2007).

Kobayashi, N. et al. TIM-1 and TIM-4 glycoproteins bind phosphatidylserine and mediate uptake of apoptotic cells. Immunity 27, 927–940 (2007).

Khademi, M. et al. T cell Ig- and mucin-domain containing molecule-3 (TIM-3) and TIM-1 molecules are differentially expressed on human Th1 and Th2 cells and in cerebrospinal fluid-derived mononuclear cells in multiple sclerosis. J. Immunol. 172, 7169–7176 (2004).

Koguchi, K. et al. Dysregulated T cell expression of TIM3 in multiple sclerosis. J. Exp. Med. 203, 1413–1418 (2006).

Yang, L., Anderson, D. E., Kuchroo, J. & Hafler, D. A. Lack of TIM-3 immunoregulation in multiple sclerosis. J. Immunol. 180, 4409–4414 (2008).
Related links
Related links
FURTHER INFORMATION
About this article
Cite this article
Kuchroo, V., Dardalhon, V., Xiao, S. et al. New roles for TIM family members in immune regulation. Nat Rev Immunol 8, 577–580 (2008). https://doi.org/10.1038/nri2366
Issue Date:

DOI: https://doi.org/10.1038/nri2366