In 2017, studies of cellular metabolism broadly permeated immunological research. Accumulating data support the view that understanding how metabolism regulates immune cell function could provide new therapeutic opportunities for the many diseases associated with immune system dysregulation.
Access options
Subscribe to Journal
Get full journal access for 1 year
$59.00
only $4.92 per issue
All prices are NET prices.
VAT will be added later in the checkout.
Tax calculation will be finalised during checkout.
Rent or Buy article
Get time limited or full article access on ReadCube.
from$8.99
All prices are NET prices.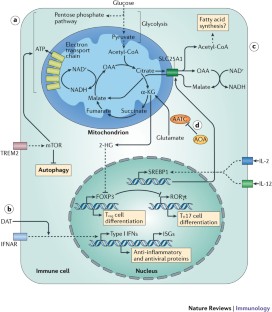 References
1

Ulland, T. K. et al. TREM2 maintains microglial metabolic fitness in Alzheimer's disease. Cell 170, 649–663.e13 (2017).

2

Steed, A. L. et al. The microbial metabolite desaminotyrosine protects from influenza through type I interferon. Science 357, 498–502 (2017).

3

Kernbauer, E., Ding, Y. & Cadwell, K. An enteric virus can replace the beneficial function of commensal bacteria. Nature 516, 94–98 (2014).

4

Ichinohe, T. et al. Microbiota regulates immune defense against respiratory tract influenza A virus infection. Proc. Natl Acad. Sci. USA 108, 5354–5359 (2011).

5

Assmann, N. et al. Srebp-controlled glucose metabolism is essential for NK cell functional responses. Nat. Immunol. 18, 1197–1206 (2017).

6

Keating, S. E. et al. Metabolic reprogramming supports IFN-γ production by CD56BRIGHT NK cells. J. Immunol. 196, 2552–2560 (2016).

7

Xu, T. et al. Metabolic control of TH17 and induced Treg cell balance by an epigenetic mechanism. Nature 548, 228–233 (2017).

8

O'Neill, L. A. & Pearce, E. J. Immunometabolism governs dendritic cell and macrophage function. J. Exp. Med. 213, 15–23 (2016).

9

Puleston, D. J., Villa, M. & Pearce, E. L. Ancillary activity: beyond core metabolism in immune cells. Cell Metab. 26, 131–141 (2017).
Acknowledgements
The authors are supported by grants from the National Institutes of Health (to E.J.P. and E.L.P.), the Deutsche Forschungsgemeinschaft (to E.J.P.) and the Max Planck Society (to E.J.P. and E.L.P.).
Ethics declarations
Competing interests
E.J.P. and E.L.P. consult with Third Rock Ventures on the research area covered by this commentary.
About this article
Cite this article
Pearce, E., Pearce, E. Driving immunity: all roads lead to metabolism. Nat Rev Immunol 18, 81–82 (2018). https://doi.org/10.1038/nri.2017.139