Obesity and ageing are major worldwide health challenges associated with lifestyle changes and an increase in age-related diseases, characterized by chronic inflammation dubbed metaflammation and inflammaging. However, the mechanistic link between these inflammatory processes is still unknown. New findings in 2016 shed light on these issues and indicate common targets for intervention.
Access options
Subscribe to Journal
Get full journal access for 1 year
$59.00
only $4.92 per issue
All prices are NET prices.
VAT will be added later in the checkout.
Tax calculation will be finalised during checkout.
Rent or Buy article
Get time limited or full article access on ReadCube.
from$8.99
All prices are NET prices.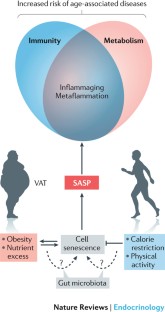 References
1

Kennedy, B. K. et al. Geroscience: linking aging to chronic disease. Cell 159, 709–713 (2014).

2

Franceschi, C. & Campisi, J. Chronic inflammation (inflammaging) and its potential contribution to age-associated diseases. J. Gerontol. A Biol. Sci. Med. Sci. 69 (Suppl. 1), 4–9 (2014).

3

Franceschi, C. et al. Inflammaging and 'garb-aging'. Trends Endocrinol. Metab. http://dx.doi.org/10.1016/j.tem.2016.09.005 (2016).

4

Gregor, M. F. & Hotamisligil, G. S. Inflammatory mechanisms in obesity. Annu. Rev. Immunol. 29, 415–445 (2011).

5

Schafer, M. J. et al. Exercise prevents diet-induced cellular senescence in adipose tissue. Diabetes 65, 1606–1615 (2016).

6

Shirakawa, K. et al. Obesity accelerates T cell senescence in murine visceral adipose tissue. J. Clin. Invest. 126, 4626–4639 (2016).

7

Hall, B. M. et al. Aging of mice is associated with p16Ink4a- and β-galactosidase-positive macrophage accumulation that can be induced in young mice by senescent cells. Aging (Albany NY) 8, 1294–1315 (2016).

8

Yang, L. et al. Long-term calorie restriction enhances cellular quality-control processes in human skeletal muscle. Cell Rep. 14, 422–428 (2016).

9

Collins, K. H. et al. A high-fat high-sucrose diet rapidly alters muscle integrity, inflammation and gut microbiota in male rats. Sci. Rep. 6, 37278 (2016).

10

Biagi, E. et al. Gut microbiota and extreme longevity. Curr. Biol. 26, 1480–1485 (2016).
Acknowledgements
This work was supported by the European Union (EU)'s H2020 Project 'Propag-ageing' (grant agreement no. 634821), EU FP7 "HUMAN", G.A. n. 602757; and EU JPND 'Adage' to C.F.
Ethics declarations
Competing interests
The author declares no competing financial interests.
About this article
Cite this article
Franceschi, C. Obesity in geroscience — is cellular senescence the culprit?. Nat Rev Endocrinol 13, 76–78 (2017). https://doi.org/10.1038/nrendo.2016.213
Further reading
Giulia Matacchione

,

Felicia Gurău

,

Andrea Silvestrini

,

Mattia Tiboni

,

Luca Mancini

,

Debora Valli

,

Maria Rita Rippo

,

Rina Recchioni

,

Fiorella Marcheselli

,

Oliana Carnevali

,

Antonio Domenico Procopio

,

Luca Casettari

&

Fabiola Olivieri

Biogerontology (2021)

Arsun Bektas

,

Shepherd H. Schurman

,

Claudio Franceschi

&

Luigi Ferrucci

Immunity & Ageing (2020)

Aurelia Santoro

,

Giulia Guidarelli

,

Rita Ostan

,

Enrico Giampieri

,

Cristina Fabbri

,

Claudia Bertarelli

,

Claudio Nicoletti

,

Fawzi Kadi

,

Lisette C. P. G. M. de Groot

,

Edith Feskens

,

Agnes Berendsen

,

Anna Brzozowska

,

Olga Januszko

,

Katarzyna Kozlowska

,

Susan Fairweather-Tait

,

Amy Jennings

,

Nathalie Meunier

,

Elodie Caumon

,

Alessandro Napoli

,

Daniele Mercatelli

,

Giuseppe Battista

,

Miriam Capri

,

Claudio Franceschi

&

Alberto Bazzocchi

European Radiology (2019)