Abstract
Chorus is a small, operationally independent clinical development organization within Eli Lilly and Company that specializes in drug development from candidate selection to clinical proof of concept. The mission of Chorus is to achieve proof of concept rapidly and at a low cost while positioning successful projects for 'pharma-quality' late-stage development. Chorus uses a small internal staff of experienced drug developers and a network of external vendors to design and implement chemistry, manufacturing and control processes, preclinical toxicology and biology, and Phase I/II clinical trials. In the decade since it was established, Chorus has demonstrated substantial productivity improvements in both time and cost compared to traditional pharmaceutical research and development. Here, we describe its development philosophy, organizational structure, operational model and results to date.
Access options
Subscribe to this journal
Receive 12 print issues and online access
$189.00 per year
only $15.75 per issue
Rent or buy this article
Get just this article for as long as you need it
$39.95
Prices may be subject to local taxes which are calculated during checkout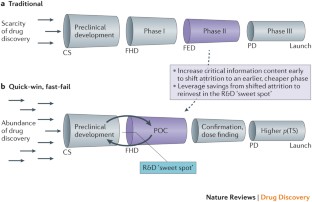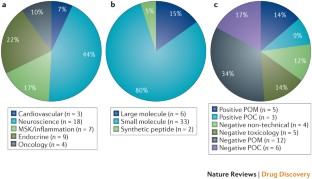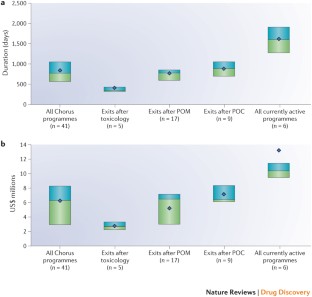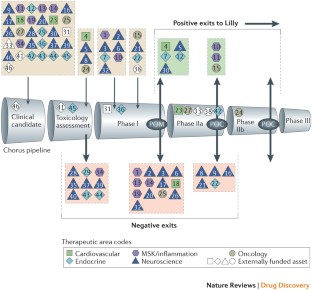 References
Munos, B., Lessons from 60 years of pharmaceutical innovation. Nature Rev. Drug Discov. 8, 959–968 (2009).

Paul, S. M. et al. How to improve R&D productivity: the pharmaceutical industry's grand challenge. Nature Rev. Drug Discov. 9, 203–214 (2010).

Dimitri, N. An assessment of R&D productivity in the pharmaceutical industry. Trends Pharmacol. Sci. 32, 683–685 (2011).

Pammolli, F., Laura Magazzini, L. & Massimo Riccaboni, M. The productivity crisis in pharmaceutical R&D. Nature Rev. Drug Discov. 10, 428–438 (2011).

Scannell, J. W., Blanckley, A., Boldon, H. & Warrington, B. Diagnosing the decline in pharmaceutical R&D efficiency. Nature Rev Drug Discov. 11, 191–200 (2012).

McAndrews, P. Lilly sings a new tune: Chorus unit brings high efficiency note to early R&D. The Pink Sheet 69, 26 (2007).

Longman, R. Lilly's Chorus experiment. In Vivo 25, 1–5 (2007).

Bonabeau, E. N., Bodick, N. & Armstrong, R. W. A more rational approach to new-product development. Harv. Bus. Rev. 86, 96–102 (2008).

Ringel, M., Tollman, P., Hersch, G. & Schulze, U. Does size matter in R&D productivity? If not, what does? Nature Rev. Drug Discov. 12, 901–902 (2013).

Cook, D. et al. Lessons learned from the fate of AstraZeneca's drug pipeline: a five-dimensional framework. Nature Rev. Drug Discov. 13, 419–431 (2014).

Bouchie, A. Lilly's new operating system. BioCentury A7–A8 (2009).

An audience with... Steven Paul. Nature Rev. Drug Discov. 8, 14 (2009).

Morgan, P. et al. Can the flow of medicines be improved? Fundamental pharmaocokinetic and pharmacodynamic principles toward improving Phase II survival. Drug Discov. Today 17, 419–424 (2012).

Cartwright, M. E. et al. Proof of concept: a PhRMA position paper with recommendations for best practice. Clin. Pharmacol. Ther. 87, 278–285 (2010).

McNamee, P. & Celona, J. Decision Analysis for the Professional 4th edn (Smartorg Inc., 2005).

Genovese, M. C. et al. LY2439821, a humanized anti–interleukin-17 monoclonal antibody, in the treatment of patients with rheumatoid arthritis. Arthritis Rheum. 62, 929–939 (2010).

Genovese, M. C. et al. Tabalumab in rheumatoid arthritis patients with an inadequate response to methotrexate and naive to biologic therapy. Arthritis Rheum. 65, 880–889 (2013).

Dodick, D. W. et al. Safety and efficacy of LY2951742, a monoclonal antibody to calcitonin gene-related peptide, for the prevention of migraine: a phase 2, randomised, double-blind, placebo-controlled study. Lancet Neurol. 13, 885–892 (2014).

Raddad, E. et al. Pharmacometric analyses to support early development decisions for LY2878735: a novel serotonin norepinephrine reuptake inhibitor. CPT Pharmacometrics Syst. Pharmacol. 2, e66 (2013).

Sloan-Lancaster, J. et al. Double-blind, randomized study evaluating the glycemic and anti-inflammatory effects of subcutaneous LY2189102, a neutralizing IL-1β antibody, in patients with type 2 diabetes. Diabetes Care 36, 2239–2246 (2013).

Bihorel, S. et al. Population pharmacokinetic modeling of LY2189102 after multiple intravenous and subcutaneous administrations. AAPS J. 16, 1009–1017 (2014).

Galsky, M. D. et al.A Phase I trial of LY2510924, a CXCR4 peptide antagonist, in patients with advanced cancer. Clin. Cancer Res. 20, 3581–3588 (2014).

Adams, C. and Brantner, V. Spending on new drug development. Health Econom. 19, 130–141 (2010).

Mestre-Ferrandiz, J., Sussex, J. & Towse, A. The R&D Cost of a New Medicine (Office of Health Economics, 2012).

Christensen, C. The Innovators Dilemma (Harvard Business Review Press, 1997).

Garnier, J. P. Rebuilding the R&D engine in big pharma. Harv. Bus. Rev. 86, 68–76 (2008).

Moran, N. Public sector seeks to bridge 'valley of death'. Nature Biotech. 25, 266 (2007).

Larsen, C. M. et al. Interleukin-1–receptor antagonist in type 2 diabetes mellitus. N. Engl. J. Med. 356, 1517–1526 (2007).

Larsen, C. M. et al. Sustained effects of interleukin-1 receptor antagonist treatment in type 2 diabetes. Diabetes Care 32, 1663–1668 (2009).

Donath, M. Y. et al. XOMA 052, an anti-IL-1β antibody, in a double blind, placebo controlled, dose escalation study of the safety and pharmacokinetics in patients with type 2 diabetes mellitus — a new approach to therapy. Diabetologia 51, S1–S588 (2008).
Acknowledgements
Since its inception in 2002, Chorus has benefited enormously from the people of Chorus, both past and present. This story would not have been possible without the vision, leadership, creativity, passion and talent of so many people. We gratefully acknowledge and thank them all for their contributions. Our story would also not be possible without our many collaborators and partners: external vendors, consultants, key opinion leaders and clinical trial site staff are all part of the Chorus story and we thank them too. A key part of our success has also relied on visionaries and leaders within Lilly; we thank our key supporters for many years of continued collaboration. Particular recognition is deserved by A. Bingham, N. Bodick and M. Clayman who originated, advanced and nurtured the original Chorus concept. I. Wilding, A. Schacht, S. Paul and the referees are gratefully acknowledged for contributions to this manuscript.
Ethics declarations
Competing interests
The authors declare no competing financial interests.
About this article
Cite this article
Owens, P., Raddad, E., Miller, J. et al. A decade of innovation in pharmaceutical R&D: the Chorus model. Nat Rev Drug Discov 14, 17–28 (2015). https://doi.org/10.1038/nrd4497
Published:

Issue Date:

DOI: https://doi.org/10.1038/nrd4497