Key Points
Pharmaceutical research and development (R&D) has become increasingly challenging for various reasons, including the proliferation of plausible targets to pursue for therapeutic innovation resulting from advances in molecular biology, most of which are yet to be validated.

R&D investments tend to focus on new therapeutic targets, which are characterized by high uncertainty and difficulty, but lower expected post-launch competition and higher sales.

We find that the reorienting of investments toward high-risk/high-premium targets accounts for most of the recent decline in productivity in pharmaceutical R&D, as measured in terms of attrition rates, development times and the number of NMEs launched.

Our analysis also confirms the existence of important differences in the organization of national systems of innovation and regulation in pharmaceuticals. At first glance, the organizations with their headquarters based in European countries are characterized by a higher probability of market launch for compounds entering clinical development.

However, when the composition of research portfolios is taken into account, the apparent comparative advantage of European organizations vanishes. By controlling for portfolio composition of research investments, we do not find support to the claim of R&D productivity differences between US and European organizations, as classified according to headquarter location. These findings were confirmed by defining nationality on the basis of the location of patent inventors.

When we considered sales of compounds launched in the global marketplace, we found that the average market value of NMEs launched by US companies was higher than European ones.

However, the focus on the comparison between Europe and the United States misses an important finding that emerges from our analysis: the most productive organizations in pharmaceutical R&D at present are global companies with innovative activities located on both sides of the Atlantic.
Abstract
Advances in the understanding of the molecular basis of diseases have expanded the number of plausible therapeutic targets for the development of innovative agents in recent decades. However, although investment in pharmaceutical research and development (R&D) has increased substantially in this time, the lack of a corresponding increase in the output in terms of new drugs being approved indicates that therapeutic innovation has become more challenging. Here, using a large database that contains information on R&D projects for more than 28,000 compounds investigated since 1990, we examine the decline of R&D productivity in pharmaceuticals in the past two decades and its determinants. We show that this decline is associated with an increasing concentration of R&D investments in areas in which the risk of failure is high, which correspond to unmet therapeutic needs and unexploited biological mechanisms. We also investigate the potential variations in productivity with regard to the regional location of companies and find that although companies based in the United States and Europe differ in the composition of their R&D portfolios, there is no evidence of any productivity gap.
Relevant articles
Open Access articles citing this article.
Qianlong Wen

,

Ruoqi Liu

&

Ping Zhang

BMC Medical Informatics and Decision Making Open Access 24 September 2021

Jörg Mahlich

,

Arne Bartol

&

Srirangan Dheban

Health Economics Review Open Access 16 January 2021
Access options
Subscribe to this journal
Receive 12 print issues and online access
$189.00 per year
only $15.75 per issue
Rent or buy this article
Get just this article for as long as you need it
$39.95
Prices may be subject to local taxes which are calculated during checkout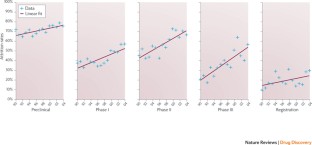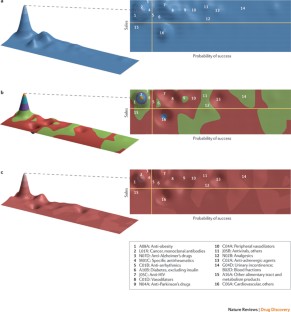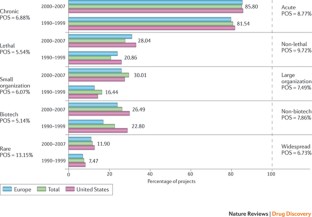 References
Griliches, Z. Productivity, R&D, and the data constraint. Amer. Econ. Rev. 84, 1–23 (1994).

Kortum, S. Equilibrium R&D and the patent–R&D ratio: US evidence. Amer. Econ. Rev. 83, 450–457 (1993).

Kortum, S. Research, patenting, and technological change. Econometrica 65, 1389–1419 (1997).

Lanjouw, J. & Schankerman, M. Patent quality and research productivity: measuring innovation with multiple indicators. Econ. J. 114, 441–465 (2004).

Jones, B. The burden of knowledge and the 'death of the reinassance man': is innovation getting harder? Rev. Econ. Stat. 76, 283–317 (2009). A parsimonious explanation for the increase in specialization and teamwork in pharmaceutical R&D.

Everson, R. Patents, R&D and invention potential: international evidence. Amer. Econ. Rev. 83, 463–468 (1993).

Segerstrom, P. Endogenous growth without scale effects. Amer. Econ. Rev. 88, 1290–1310 (1998).

Drews, J. In Quest of Tomorrow's Medicines 1–272 (Springer, Basel, 1998).

Cockburn, I. M. in Innovation Policy and the Economy Vol. 7 Ch. 1 (eds Jaffe, A. B., Lerner, J. & Stern, S.) 1–32 (The MIT Press, 2007). A critical assessment of the productivity crisis in pharmaceutical R&D.

Orsenigo, L., Pammolli, F. & Riccaboni, M. Technological change and network dynamics: lessons from the pharmaceutical industry. Res. Policy 30, 485–508 (2001).

Booth, B. & Zemmel, R. Prospects for productivity. Nature Rev. Drug Discov. 3, 451–456 (2004).

Paul, S. M. et al. How to improve R&D productivity: the pharmaceutical industry's grand challenge. Nature Rev. Drug Discov. 9, 203–214 (2010).

DiMasi, J., Hansen, R. & Grabowski, H. The price of innovation: new estimates of drug development costs. J. Health Econ. 22, 151–185 (2003).

Munos, B. Lessons from 60 years of pharmaceutical innovation. Nature Rev. Drug Discov. 8, 959–968 (2009).

Mervis, J. Productivity counts — but the definition is key. Science 309, 726–726 (2005).

Pammolli, F. & Riccaboni, M. Innovation and Industrial Leadership: Lessons from Pharmaceuticals (Center for Transatlantic Relations, 2008). This book contains an in-depth analysis of pharmaceutical productivity based on the PhID.

David, E., Tramontin, T. & Zemmel, R. Pharmaceutical R&D: the road to positive returns. Nature Rev. Drug Discov. 8, 609–610 (2009).

Helpman, E. & Trajtenberg, M. in General Purpose Technologies and Economic Growth (ed. Helpman, E.) 85–119 (The MIT Press, 1998).

Owen-Smith, J., Riccaboni, M., Pammolli, F. & Powell, W. A comparison of U.S. & European university–industry relations in the life sciences. Manage. Sci. 48, 24–43 (2002). An in-depth comparative analysis of the US and European systems of innovation in the life sciences.

Braunwald, E. et al. Harrison's Principle of Internal Medicine 15th edn (McGraw-Hill, 2001).

Abrantes-Metz, R., Adams, C. & Metz, A. Pharmaceutical development phases: a duration analysis. J. Pharma. Fin. Econ. Policy 14, 19–41 (2006).

Adams, C. & Van Brantner, V. Estimating the cost of new drug development: is it really $802 million? Health Affairs 25, 420–428 (2006).

DiMasi, J. & Faden, L. Factors associated with multiple FDA review cycles and approval phase times. Drug Inform. J. 43, 201–225 (2009).

Keyhani, S., Diener-West, M. & Powe, N. Are development times for pharmaceuticals increasing or decreasing? Health Affairs 25, 461–468 (2006).

Ma, P. & Zemmel, R. Value of novelty? Nature Rev. Drug Discov. 1, 571–572 (2002).

Yin, W. Market incentives and pharmaceutical innovation. J. Health Econ. 27, 1060–1077 (2008).

Coté, T., Kelkar, A., Xu, K., Braun, M. M. & Phillips M. I. Orphan products: an emerging trend in drug approvals. Nature Rev. Drug Discov. 9, 84 (2010).

Trusheim, M. R., Berndt, E. R. & Douglas, F. L. Stratified medicine: strategic and economic implications of combining drugs and clinical biomarkers. Nature Rev. Drug Discov. 6, 287–293 (2007).

DiMasi, J. & Grabowski, H. G. Economics of new oncology drug development. J. Clin. Oncol. 25, 209–216 (2007).

Acemoglu, D. & Lin, J. Market size in innovation: theory and evidence from the pharmaceutical industry. Q. J. Econ. 119, 1049–1090 (2003).

Kneller, R. The importance of new companies for drug discovery: origins of a decade of new drugs. Nature Rev. Drug Discov. 9, 867–882 (2010).

Grabowski, H. G. & Wang, Y. R. The quantity and quality of worldwide new drug introductions, 1982–2003. Health Affairs 25, 452–460 (2006).

Friedman, Y. Location of pharmaceutical innovation: 2000–2009. Nature Rev. Drug Discov. 9, 835–836 (2010).

Light, D. Global drug discovery: Europe is ahead. Health Affairs 28, W969–W977 (2009).

Cohen, W., Nelson, R. & Walsh, J. Protecting their intellectual assets: appropriability conditions and why U.S. manufacturing firms patent (or not). NBER Working Paper No. 7552 (National Bureau of Economic Research, 2000).

Henderson, R. & Cockburn, I. Scale, scope, and spillovers: the determinants of research productivity in drug discovery. Rand. J. Econ. 27, 32–59 (1996).

Arora, A., Gambardella, A., Pammolli, F. & Riccaboni, M. in Innovation and Competitiveness in the European Chemical Industry (eds Cesaroni, F., Gambardella, A. & Garcia-Fontes, W.) 175–202 (Springer, 2004).

Arora, A., Gambardella, A., Magazzini, L. & Pammolli, F. A breath of fresh air? Firm type, scale, scope and selection effects in drug development. Manage. Science 55, 1638–1653 (2009).

Danzon, P. M. & Chao, L. W. Cross-national price differences for pharmaceuticals: how large, and why? J. Health Econ. 19, 159–196 (2000).

Drews, J. Drug discovery: a historical perspective. Science 287, 1960–1964 (2000).

Hopkins, A. L. & Groom, C. R. The druggable genome. Nature Rev. Drug Discov. 1, 727–730 (2002).

Drews, J. Strategic trends in the drug industry. Drug Discov. Today 8, 411–420 (2003).

Overington, J. P., Al-Lazikani, B. & Hopkins, A. L. How may drug targets are there? Nature Rev. Drug Discov. 5, 993–996 (2006).

Pammolli, F. & Riccaboni, M. Market structure and drug innovation. Health Affairs 23, 24–43 (2004).

Gambardella, A., Orsenigo, L. & Pammolli, F. Global Competitiveness in Pharmaceuticals: a European Perspective (Directorate General Enterprise of the European Commission, 2001).
Acknowledgements
This work was supported by a grant from selected members of the Ad Hoc Working Group on the Economics of the Pharmaceutical Industry (AstraZeneca Pharmaceuticals LP, Novartis, Pfizer, and the National Pharmaceutical Council). Discussions with members of funding companies and with B. Munos and W. Looney are gratefully acknowledged. We also benefited from comments and suggestions from anonymous referees.
Ethics declarations
Competing interests
This research was funded, in part, by grants from AstraZeneca Pharmaceuticals, Novartis Pharmaceuticals, Pfizer and the National Pharmaceutical Council. The authors are solely responsible for the design, conduct and analysis of the study, and the conclusions that are drawn.
Glossary
Knowledge production function

A function that specifies the output of new ideas by an individual, a firm, an industry or the entire economy for all combinations of research and development inputs (labour and the existing stock of knowledge).

New molecular entity

(NME). A medication containing an active ingredient that has not been previously approved for marketing in any form in the United States. NME is conventionally used to refer only to small-molecule drugs, but the term is used here to include biologics as a shorthand for both types of new drug and also to new drugs in all the regions studied, rather than just those approved in the United States.
About this article
Cite this article
Pammolli, F., Magazzini, L. & Riccaboni, M. The productivity crisis in pharmaceutical R&D. Nat Rev Drug Discov 10, 428–438 (2011). https://doi.org/10.1038/nrd3405
Published:

Issue Date:

DOI: https://doi.org/10.1038/nrd3405