Inflammation is a recognized component of many diseases, including atherosclerosis and its complications. IL-1β is a crucial cytokine promoting the inflammatory cascade. In the February 2017 issue of Nature Medicine, Furman et al. show that metabolites can trigger inflammation via inflammasome-dependent IL-1β production in elderly individuals. Intriguingly, caffeine is protective by offsetting this activation.
Access options
Subscribe to Journal
Get full journal access for 1 year
$59.00
only $4.92 per issue
All prices are NET prices.
VAT will be added later in the checkout.
Tax calculation will be finalised during checkout.
Rent or Buy article
Get time limited or full article access on ReadCube.
from$8.99
All prices are NET prices.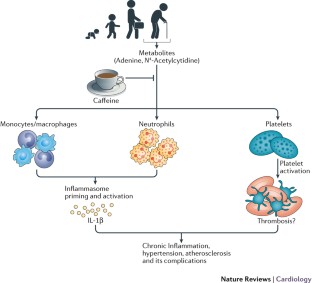 References
1

Furman, D. et al. Expression of specific inflammasome gene modules stratifies older individuals into two extreme clinical and immunological states. Nat. Med. 23, 174–184 (2017).

2

Matzinger, P. The danger model: a renewed sense of self. Science 296, 301–305 (2002).

3

Furman, D. et al. Apoptosis and other immune biomarkers predict influenza vaccine responsiveness. Mol. Syst. Biol. 9, 659 (2013).

4

Swirski, F. K. & Nahrendorf, M. Leukocyte behavior in atherosclerosis, myocardial infarction, and heart failure. Science 339, 161–166 (2013).

5

Hansson, G. K. & Libby, P. The immune response in atherosclerosis: a double-edged sword. Nat. Rev. Immunol. 6, 508–519 (2006).

6

Ridker, P. M., Thuren, T., Zalewski, A. & Libby, P. Interleukin-1beta inhibition and the prevention of recurrent cardiovascular events: rationale and design of the Canakinumab Anti-inflammatory Thrombosis Outcomes Study (CANTOS). Am. Heart J. 162, 597–605 (2011).
Acknowledgements
The authors acknowledge funding from the NHLBI and the MGH Research Scholar programme.
Ethics declarations
Competing interests
The authors declare no competing financial interests.
About this article
Cite this article
Swirski, F., Nahrendorf, M. Old, caffeinated, and healthy. Nat Rev Cardiol 14, 194–196 (2017). https://doi.org/10.1038/nrcardio.2017.22