In 2017, genetic research on cardiovascular disease (CVD) produced seemingly paradoxical findings. Thanks to the continuous upscaling of genotyping and sequencing data, researchers have discovered that whereas numerous genetic variants among the general population can increase CVD risk, an individual can tolerate most severe genetic alterations.
Access options
Subscribe to Journal
Get full journal access for 1 year
$209.00
only $17.42 per issue
All prices are NET prices.
VAT will be added later in the checkout.
Rent or Buy article
Get time limited or full article access on ReadCube.
from$8.99
All prices are NET prices.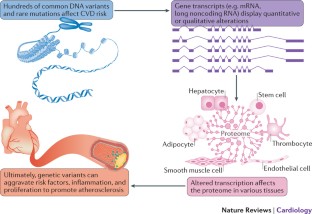 References
1

Nelson, C. P. et al. Association analyses based on false discovery rate implicate new loci for coronary artery disease. Nat. Genet. 49, 1385–1391 (2017).

2

Warren, H. R. et al. Genome-wide association analysis identifies novel blood pressure loci and offers biological insights into cardiovascular risk. Nat. Genet. 49, 403–415 (2017).

3

Boyle, E. A., Li, Y. I. & Pritchard, J. K. An expanded view of complex traits: from polygenic to omnigenic. Cell 169, 1177–1186 (2017).

4

Jaiswal, S. et al. Clonal hematopoiesis and risk of atherosclerotic cardiovascular disease. N. Engl. J. Med. 377, 111–121 (2017).

5

Saleheen, D. et al. Human knockouts and phenotypic analysis in a cohort with a high rate of consanguinity. Nature 544, 235–239 (2017).

6

Khetarpal, S. A. et al. A human APOC3 missense variant and monoclonal antibody accelerate apoC-III clearance and lower triglyceride-rich lipoprotein levels. Nat. Med. 23, 1086–1094 (2017).

7

Dewey, F. E. et al. Genetic and pharmacologic inactivation of ANGPTL3 and cardiovascular disease. N. Engl. J. Med. 377, 211–221 (2017).

8

Ma, H. et al. Correction of a pathogenic gene mutation in human embryos. Nature 548, 413–419 (2017).

9

Kessler, T. et al. Functional characterization of the GUCY1A3 coronary artery disease risk locus. Circulation 136, 476–489 (2017).

10

Gupta, R. M. et al. A genetic variant associated with five vascular diseases is a distal regulator of endothelin-1 gene expression. Cell 170, 522–533 (2017).
Acknowledgements
The author is supported by grants from the Fondation Leducq (CADgenomics: understanding CAD genes, 12CVD02), the German Federal Ministry of Education and Research (BMBF) within the framework of the e:Med research and funding concept (e:AtheroSysMed, grant 01ZX1313A-2014), the German Center of Cardiovascular Research (DZHK) Munich Heart Alliance, and the European Union Seventh Framework Programme FP7/2007-2013 under grant agreement no. HEALTH-F2-2013-601456. Further grants were received from the DFG as part of the Sonderforschungsbereich CRC 1123 (B2).
Ethics declarations
Competing interests
The author declares no competing financial interests.
About this article
Cite this article
Schunkert, H. Expanding the spectrum of CVD genetics. Nat Rev Cardiol 15, 77–78 (2018). https://doi.org/10.1038/nrcardio.2017.209
Further reading
Adam J. Russak

,

Farhan Chaudhry

,

Jessica K. De Freitas

,

Garrett Baron

,

Fayzan F. Chaudhry

,

Solomon Bienstock

,

Ishan Paranjpe

,

Akhil Vaid

,

Mohsin Ali

,

Shan Zhao

,

Sulaiman Somani

,

Felix Richter

,

Tejeshwar Bawa

,

Phillip D. Levy

,

Riccardo Miotto

,

Girish N. Nadkarni

,

Kipp W. Johnson

&

Benjamin S. Glicksberg

Journal of Cardiovascular Pharmacology and Therapeutics (2020)

Cristina Giuliani

,

Paolo Garagnani

&

Claudio Franceschi

Circulation Research (2019)

Thomas Wurster

,

Ulf Landmesser

,

Leif-Christopher Engel

,

Boris Bigalke

&

Marcus Makowski

Current Cardiovascular Imaging Reports (2019)