Abstract
Optimal therapeutic decision-making requires integration of patient-specific and therapy-specific information at the point of care, particularly when treating patients with complex cardiovascular conditions. The formidable task for the prescriber is to synthesize information about all therapeutic options and match the best treatment with the characteristics of the individual patient. Computerized decision support systems have been developed with the goal of integrating such information and presenting the acceptable therapeutic options on the basis of their effectiveness, often with limited consideration of their safety for a specific patient. Assessing the safety of therapies relative to each patient is difficult, and sometimes impossible, because the evidence required to make such an assessment is either imperfect or does not exist. In addition, many of the alerts sent to prescribers by decision-support systems are not perceived as credible, and 'alert fatigue' causes warnings to be ignored putting patients at risk of harm. The CredibleMeds.org and BrugadaDrugs.org websites are prototypes for evidence-based sources of safety information that rank drugs for their risk of a specific form of drug toxicity—in these cases, drug-induced arrhythmias. Broad incorporation of this type of information in electronic prescribing algorithms and clinical decision support could speed the evolution of safe personalized medicine.
Key Points
For prescribers attempting to assess the benefit and risk potential of therapies, the large and rapidly changing knowledge base for adverse drug reactions represents a major challenge

Most automated decision-support systems designed to promote safe use of medicines do not provide evidence-based, actionable information about a specific patient's relative risk of harm from available therapeutic options

Independent resources, in which the huge amount of rapidly changing information on the relative safety of medications are continuously assessed, are needed to inform modern decision-support systems

Excessive QT prolongation on the electrocardiogram is a preventable drug reaction associated with >50 medications and drug interactions that can result in life-threatening ventricular arrhythmias (i.e. torsades de pointes), and death

Websites are available that provide independent information on the relative risk of drugs that can induce QT prolongation and torsades de pointes in various clinical settings

These resources provide a model for causality analysis that can be incorporated into decision-support systems to inform physicians about the relative risks of drug-induced adverse events
Relevant articles
Open Access articles citing this article.
Cristina Basso

,

Beatriz Aguilera

…

Katarzyna Michaud

Virchows Archiv Open Access 09 September 2017

Tal Lorberbaum

,

Kevin J. Sampson

…

Nicholas P. Tatonetti

Drug Safety Open Access 10 February 2016
Access options
Subscribe to Journal
Get full journal access for 1 year
$79.00
only $6.58 per issue
All prices are NET prices.
VAT will be added later in the checkout.
Tax calculation will be finalised during checkout.
Buy article
Get time limited or full article access on ReadCube.
$32.00
All prices are NET prices.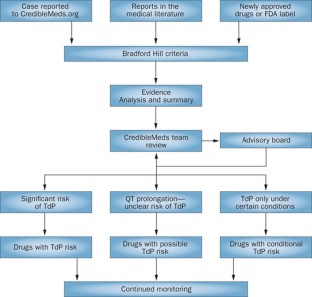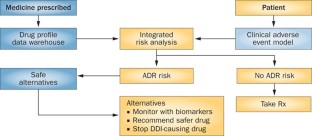 References
Spinks, A., Glasziou, P. P. & Del Mar, C. B. Antibiotics for sore throat. Cochrane Database of Systematic Reviews Issue 4. Art. No.: CD000023 http://dx.doi.org/10.1002/14651858.CD000023.pub3.

The Medical Letter. Trusted drug information and drugs facts since 1959 [online], (2013).

Prorok, J. C., Iserman, E. C., Wilczynski, N. L. & Haynes, R. B. The quality, breadth, and timeliness of content updating vary substantially for 10 online medical texts: an analytic survey. J. Clin. Epidemiol. 65, 1289–1295 (2012).

Phua, J., See, K. C., Khalizah, H. J., Low, S. P. & Lim, T. K. Utility of the electronic information resource UpToDate for clinical decision-making at bedside rounds. Singapore Med. J. 53, 116–120 (2012).

Wolters Kluwer Health. UpToDate [online], (2013).

Isaac, T., Zheng, J. & Jha, A. Use of UpToDate and outcomes in US hospitals. J. Hosp. Med. 7, 85–90 (2012).

Jeffery, R. et al. How current are leading evidence-based medical textbooks? An analytic survey of four online textbooks. J. Med. Internet Res. 14, e175 (2012).

Banzi, R. et al. Speed of updating online evidence based point of care summaries: prospective cohort analysis. BMJ 343, d5856 (2011).

Cao, Y. et al. AskHERMES: an online question answering system for complex clinical questions. J. Biomed. Inform. 44, 277–288 (2011).

Eslami, S., Abu-Hanna, A., de Keizer, N. F. & de Jonge, E. Errors associated with applying decision support by suggesting default doses for aminoglycosides. Drug Saf. 29, 803–809 (2006).

Strom, B. L. et al. Unintended effects of a computerized physician order entry nearly hard-stop alert to prevent a drug interaction: a randomized controlled trial. Arch. Intern. Med. 170, 1578–1583 (2010).

Rogers, J. A. et al. Combining patient-level and summary-level data for Alzheimer's disease modeling and simulation: a beta regression meta-analysis. J. Pharmacokinet. Pharmacodyn. 39, 479–498 (2012).

Cabana, M. D. & Kim, C. Physician adherence to preventive cardiology guidelines for women. Women's Health Issues 13, 142–149 (2003).

Cabana, M. D. et al. Why don't physicians follow clinical practice guidelines? A framework for improvement. JAMA 282, 1458–1465 (1999).

Veatch, R. M. Reasons physicians do not follow clinical practice guidelines. JAMA 283, 1685 (2000).

Kesselheim, A. S. et al. A randomized study of how physicians interpret research funding disclosures. N. Engl. J. Med. 367, 1119–1127 (2012).

Wennberg, D. E. Variation in the delivery of health care: the stakes are high. Ann. Intern. Med. 128, 866–868 (1998).

Yu, D. T. et al. Impact of implementing alerts about medication black-box warnings in electronic health records. Pharmacoepidemiol. Drug Saf. 20, 192–202 (2011).

Payne, T. H., Nichol, W. P., Hoey, P. & Savarino, J. Characteristics and override rates of order checks in a practitioner order entry system. Proc. AMIA Symp. 2002, 602–606 (2002).

Kohn, L. T., Corrigan, J. M. & Donaldson, M. S. for The Committee on Quality of Health Care in America. To err is human: building a safer health system. Institute of Medicine of the National Academies [online], (1999).

Lucado, J., Paez, K. & Elixhauser, A. Statistical brief #109. Medication-related adverse outcomes in US hospitals and emergency departments, 2008. Healthcare Cost and Utilization Project. Agency for Healthcare Research and Quality [online], (2011).

Straus, S. M. et al. Antipsychotics and the risk of sudden cardiac death. Arch. Intern. Med. 164, 1293–1297 (2004).

Straus, S. M. et al. Non-cardiac QTc-prolonging drugs and the risk of sudden cardiac death. Eur. Heart J. 26, 2007–2012 (2005).

Zhang, K., Young, C. & Berger, J. Administrative claims analysis of the relationship between warfarin use and risk of hemorrhage including drug–drug and drug–disease interactions. J. Managed Care Pharm. 12, 640–648 (2006).

McWilliam, A., Ludder, R. & Nardinelli, C. AEI-Brookings Joint Center for Regulatory Studies Health care savings from personalized medicine using genetic testing: the case of warfarin. Working paper 06–23. Genelex.com, [online] (2006).

Johnson, J. A. & Bootman, J. L. Drug-related morbidity and mortality. A cost-of-illness model. Arch. Intern. Med. 155, 1949–1956 (1995).

Ernst, F. R. & Grizzle, A. J. Drug-related morbidity and mortality: updating the cost-of-illness model. J. Am. Pharm. Assoc. (Wash.) 41, 192–199 (2001).

Health Care Financing Administration DoCE. National health expenditures, 1986–2000. Health Care Financ. Rev. 8, 1–36 (1987).

Cutler, D. M. & Everett, W. Thinking outside the pillbox—medication adherence as a priority for health care reform. N. Engl. J. Med. 362, 1553–1555 (2010).

Hohl, C. M. et al. Outcomes of emergency department patients presenting with adverse drug events. Ann. Emerg. Med. 58, 270–279 (2011).

Woosley, R. L. Discovering adverse reactions: why does it take so long? Clin. Pharmacol. Ther. 76, 287–289 (2004).

Kerr, D. J. et al. Rofecoxib and cardiovascular adverse events in adjuvant treatment of colorectal cancer. N. Engl. J. Med. 357, 360–369 (2007).

Leahey, E. B. Jr et al. Interactions between quinidine and digoxin. JAMA 240, 533–534 (1978).

Peck, C. C. et al. Opportunities for integration of pharmacokinetics, pharmacodynamics, and toxicokinetics in rational drug development. Clin. Pharmacol. Ther. 51, 465–473 (1992).

Honig, P. K., Woosley, R. L., Zamani, K., Conner, D. P. & Cantilena, L. R. Jr. Changes in the pharmacokinetics and electrocardiographic pharmacodynamics of terfenadine with concomitant administration of erythromycin. Clin. Pharmacol. Ther. 52, 231–238 (1992).

Shah, R. R. Drugs, QT interval prolongation and ICH E14: the need to get it right. Drug Saf. 28, 115–125 (2005).

Hines, L. E., Malone, D. C. & Murphy, J. E. Recommendations for generating, evaluating, and implementing drug–drug interaction evidence. Pharmacotherapy 32, 304–313 (2012).

Leape, L. L. et al. Systems analysis of adverse drug events. ADE Prevention Study Group. JAMA 274, 35–43 (1995).

Puckett, W. H. Jr & Visconti, J. A. An epidemiological study of the clinical significance of drug–drug interactions in a private community hospital. Am. J. Hosp. Pharm. 28, 247–253 (1971).

Ford, D. R. Jr, Rivers, N. P. & Wood, G. C. A computerized detection system for potentially significant adverse drug–drug interactions. J. Am. Pharm. Assoc. 17, 354–357 (1977).

Hohl, C. M., Dankoff, J., Colacone, A. & Afilalo, M. Polypharmacy, adverse drug-related events, and potential adverse drug interactions in elderly patients presenting to an emergency department. Ann. Emerg. Med. 38, 666–671 (2001).

Hohl, C. M. et al. Emergency physician recognition of adverse drug-related events in elder patients presenting to an emergency department. Acad. Emerg. Med. 12, 197–205 (2005).

Hohl, C. M. et al. Clinical decision rules to improve the detection of adverse drug events in emergency department patients. Acad. Emerg. Med. 19, 640–649 (2012).

Cavuto, N. J., Woosley, R. L. & Sale, M. Pharmacies and prevention of potentially fatal drug interactions. JAMA 275, 1086–1087 (1996).

Hazlet, T. K., Lee, T. A., Hansten, P. D. & Horn, J. R. Performance of community pharmacy drug interaction software. J. Am. Pharm. Assoc. (Wash.) 41, 200–204 (2001).

Grizzle, A. J. et al. Reasons provided by prescribers when overriding drug–drug interaction alerts. Am. J. Manag. Care 13, 573–578 (2007).

Burkhart, G. A., Sevka, M. J., Temple, R. & Honig, P. K. Temporal decline in filling prescriptions for terfenadine closely in time with those for either ketoconazole or erythromycin. Clin. Pharmacol. Ther. 61, 93–96 (1997).

Shah, R. R. Drug-induced QT interval prolongation: regulatory perspectives and drug development. Ann. Med. 36 (Suppl. 1), 47–52 (2004).

Wilkinson, J. J., Force, R. W. & Cady, P. S. Impact of safety warnings on drug utilization: marketplace life span of cisapride and troglitazone. Pharmacotherapy 24, 978–986 (2004).

Abarca, J. et al. Concordance of severity ratings provided in four drug interaction compendia. J. Am. Pharm. Assoc. (Wash.) 44, 136–141 (2004).

Olvey, E. L., Clauschee, S. & Malone, D. C. Comparison of critical drug–drug interaction listings: the Department of Veterans Affairs medical system and standard reference compendia. Clin. Pharmacol. Ther. 87, 48–51 (2010).

Hines, L. E. et al. Evaluation of warfarin drug interaction listings in US product information for warfarin and interacting drugs. Clin. Ther. 33, 36–45 (2011).

Bertsche, T. et al. Prevention of adverse drug reactions in intensive care patients by personal intervention based on an electronic clinical decision support system. Intensive Care Med. 36, 665–672 (2010).

Isaac, T. et al. Overrides of medication alerts in ambulatory care. Arch. Intern. Med. 169, 305–311 (2009).

Weingart, S. N. et al. Clinicians' assessments of electronic medication safety alerts in ambulatory care. Arch. Intern. Med. 169, 1627–1632 (2009).

Strom, B. L. Randomized clinical trial of a customized electronic alert requiring an affirmative response compared to a control group receiving a commercial passive CPOE alert: NSAID–warfarin co-prescribing as a test case. J. Am. Med. Inform. Assoc. 17, 411–415 (2010).

Glassman, P. A., Simon, B., Belperio, P. & Lanto, A. Improving recognition of drug interactions: benefits and barriers to using automated drug alerts. Med. Care 40, 1161–1171 (2002).

Fulda, T. R., Valuck, R. J., Vander Zanden, J., Parker, S. & Byrns, P. J. Disagreement among drug compendia on inclusion and ratings of drug-drug interaction. Curr. Ther. Res. 61, 540–548 (2000).

Anthony, M. et al. Warfarin interactions with substances listed in drug information compendia and in the FDA-approved label for warfarin sodium. Clin. Pharmacol. Ther. 86, 425–429 (2009).

Agency for Healthcare Research and Quality. Evidence Report/Technology Assessment Number 211. Making health care safer II: an updated critical analysis of the evidence for patient safety practices. Executive summary [online], (2013).

Roden, D. M. Cellular basis of drug-induced torsades de pointes. Br. J. Pharmacol. 154, 1502–1507 (2008).

AZCERT. CredibleMeds.org [online], (2013).

University of Amsterdam Academic Medical Center. BrugadaDrugs.org [online], (2013).

Hill, A. B. The environment and disease: association or causation? Proc. R. Soc. Med. 58, 295–300 (1965).

Shakir, S. A. & Layton, D. Causal association in pharmacovigilance and pharmacoepidemiology: thoughts on the application of the Austin Bradford-Hill criteria. Drug Saf. 25, 467–471 (2002).

Perrio, M., Voss, S. & Shakir, S. A. Application of the Bradford-Hill criteria to assess the causality of cisapride-induced arrhythmia: a model for assessing causal association in pharmacovigilance. Drug Saf. 30, 333–346 (2007).

van der Sijs, H. et al. Clinically relevant QTc prolongation due to overridden drug–drug interaction alerts: a retrospective cohort study. Br. J. Clin. Pharmacol. 67, 347–354 (2009).

New Zealand Medicine and Medical Devices Safety Authority. Medsafe. Minutes of the 150th Medicines Adverse Reactions Committee meeting 13 September 2012 [online], (2012).

Indiana University School of Medicine. Division of Clinical Pharmacology. Drug Interactions. Defining genetic influences on pharmacologic responses [online], (2013).

Behr, E. R. & Roden, D. Drug-induced arrhythmia: pharmacogenomic prescribing? Eur. Heart J. 34, 89–95 (2012).

Pulley, J. M. et al. Operational implementation of prospective genotyping for personalized medicine: the design of the Vanderbilt PREDICT project. Clin. Pharmacol. Ther. 92, 87–95 (2012).

Schildcrout, J. S. et al. Optimizing drug outcomes through pharmacogenetics: a case for preemptive genotyping. Clin. Pharmacol. Ther. 92, 235–242 (2012).

DuMouchel, W. et al. Antipsychotics, glycemic disorders, and life-threatening diabetic events: a Bayesian data-mining analysis of the FDA adverse event reporting system (1968–2004). Ann. Clin. Psychiatry 20, 21–31 (2008).
Ethics declarations
Competing interests
The authors declare that they are uncompensated officers of the nonprofit organization AZCERT.org, which sponsors the website www.CredibleMeds.org that is mentioned in this Review. The authors declare no other competing interests.
About this article
Cite this article
Woosley, R., Romero, K. Assessing cardiovascular drug safety for clinical decision-making. Nat Rev Cardiol 10, 330–337 (2013). https://doi.org/10.1038/nrcardio.2013.57
Published:

Issue Date:

DOI: https://doi.org/10.1038/nrcardio.2013.57