Abstract
BAP1 is a deubiquitylase that is found associated with multiprotein complexes that regulate key cellular pathways, including the cell cycle, cellular differentiation, cell death, gluconeogenesis and the DNA damage response (DDR). Recent findings indicate that germline BAP1 mutations cause a novel cancer syndrome that is characterized, at least in the affected families that have been studied so far, by the onset at an early age of benign melanocytic skin tumours with mutated BAP1, and later in life by a high incidence of mesothelioma, uveal melanoma, cutaneous melanoma and possibly additional cancers.
This is a preview of subscription content
Access options
Subscribe to Journal
Get full journal access for 1 year
$59.00
only $4.92 per issue
All prices are NET prices.
VAT will be added later in the checkout.
Tax calculation will be finalised during checkout.
Buy article
Get time limited or full article access on ReadCube.
$32.00
All prices are NET prices.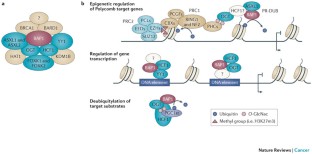 References
Carbone, M. et al. A mesothelioma epidemic in Cappadocia: scientific developments and unexpected social outcomes. Nature Rev. Cancer 7, 147–154 (2007).

Carbone, M. & Yang, H. Molecular pathways: targeting mechanisms of asbestos and erionite carcinogenesis in mesothelioma. Clin. Cancer Res. 18, 598–604 (2012).

Carbone, M. et al. Erionite exposure in North Dakota and Turkish villages with mesothelioma. Proc. Natl Acad. Sci. USA 108, 13618–13623 (2011).

Roushdy-Hammady, I., Siegel, J., Emri, S., Testa, J. R. & Carbone, M. Genetic-susceptibility factor and malignant mesothelioma in the Cappadocian region of Turkey. Lancet 357, 444–445 (2001).

Dogan, A. U. et al. Genetic predisposition to fiber carcinogenesis causes a mesothelioma epidemic in Turkey. Cancer Res. 66, 5063–5068 (2006).

Testa, J. R. et al. Germline BAP1 mutations predispose to malignant mesothelioma. Nature Genet. 43, 1022–1025 (2011).

Harbour, J. W. et al. Frequent mutation of BAP1 in metastasizing uveal melanomas. Science 330, 1410–1413 (2010).

Lu, Y. Y., Jhanwar, S. C., Cheng, J. Q. & Testa, J. R. Deletion mapping of the short arm of chromosome 3 in human malignant mesothelioma. Genes Chromosomes Cancer 9, 76–80 (1994).

Zeiger, M. A., Gnarra, J. R., Zbar, B., Linehan, W. M. & Pass, H. I. Loss of heterozygosity on the short arm of chromosome 3 in mesothelioma cell lines and solid tumors. Genes Chromosomes Cancer 11, 15–20 (1994).

Wiesner, T. et al. Germline mutations in BAP1 predispose to melanocytic tumors. Nature Genet. 43, 1018–1021 (2011).

Wiesner, T. et al. A distinct subset of atypical spitz tumors is characterized by BRAF mutation and loss of BAP1 expression. Am. J. Surg. Pathol. 36, 818–830 (2012).

Carbone, M. et al. BAP1 cancer syndrome: malignant mesothelioma, uveal and cutaneous melanoma, and MBAITs. J. Transl. Med. 1066, 179 (2012).

Njauw, C. N. et al. Germline BAP1 inactivation is preferentially associated with metastatic ocular melanoma and cutaneous-ocular melanoma families. PLoS ONE 766, e35295 (2012).

Wiesner, T. et al. Toward an improved definition of the tumor spectrum associated with BAP1 germline mutations. J. Clin. Oncol. 30, e337–e340 (2012).

Cagianut, B. Melanoma of the choroid and ciliary body, malignant meningioma and mesothelioma of the pleura (triple-malignoma) in a 63-year old female. Klin. Monbl. Augenheilkd. 161, 407–411 (1972).

Abdel-Rahman, M. H. et al. Germline BAP1 mutation predisposes to uveal melanoma, lung adenocarcinoma, meningioma, and other cancers. J. Med. Genet. 48, 856–859 (2011).

Aoude, L. G., Vajdic, C. M., Kricker, A., Armstrong, B. & Hayward, N. K. Prevalence of germline BAP1 mutation in a population-based sample of uveal melanoma cases. Pigment Cell Melanoma Res. 11 Dec 2012 (doi:10.1111/pcmr.12046).

Pena-Llopis, S. et al. BAP1 loss defines a new class of renal cell carcinoma. Nature Genet. 44, 751–759 (2012).

Wadt, K. et al. A cryptic BAP1 splice mutation in a family with uveal and cutaneous melanoma, and paraganglioma. Pigment Cell Melanoma Res. 25, 815–818 (2012).

Begg, C. B. et al. Lifetime risk of melanoma in CDKN2A mutation carriers in a population-based sample. J. Natl Cancer Inst. 97, 1507–1515 (2005).

Li, F. P. & Fraumeni, J. F. Jr. Soft-tissue sarcomas, breast cancer, and other neoplasms. A familial syndrome? Ann. Intern. Med. 71, 747–752 (1969).

Bheda, A., Shackelford, J. & Pagano, J. S. Expression and functional studies of ubiquitin C-terminal hydrolase L1 regulated genes. PLoS ONE 466, e6764 (2009).

Fang, Y., Fu, D. & Shen, X. Z. The potential role of ubiquitin c-terminal hydrolases in oncogenesis. Biochim. Biophys. Acta 1806, 1–6 (2010).

Jensen, D. E. et al. BAP1: a novel ubiquitin hydrolase which binds to the BRCA1 RING finger and enhances BRCA1-mediated cell growth suppression. Oncogene 16, 1097–1112 (1998).

Bott, M. et al. The nuclear deubiquitinase BAP1 is commonly inactivated by somatic mutations and 3p21.1 losses in malignant pleural mesothelioma. Nature Genet. 43, 668–672 (2011).

Mallery, D. L., Vandenberg, C. J. & Hiom, K. Activation of the E3 ligase function of the BRCA1/BARD1 complex by polyubiquitin chains. EMBO J. 21, 6755–6762 (2002).

Greenberg, R. A. et al. Multifactorial contributions to an acute DNA damage response by BRCA1/BARD1-containing complexes. Genes Dev. 20, 34–46 (2006).

Nishikawa, H. et al. BRCA1-associated protein 1 interferes with BRCA1/BARD1 RING heterodimer activity. Cancer Res. 69, 111–119 (2009).

Ventii, K. H. et al. BRCA1-associated protein-1 is a tumor suppressor that requires deubiquitinating activity and nuclear localization. Cancer Res. 68, 6953–6962 (2008).

Machida, Y. J., Machida, Y., Vashisht, A. A., Wohlschlegel, J. A. & Dutta, A. The deubiquitinating enzyme BAP1 regulates cell growth via interaction with HCF-1. J. Biol. Chem. 284, 34179–34188 (2009).

Misaghi, S. et al. Association of C-terminal ubiquitin hydrolase BRCA1-associated protein 1 with cell cycle regulator host cell factor 1. Mol. Cell. Biol. 29, 2181–2192 (2009).

Tyagi, S., Chabes, A. L., Wysocka, J. & Herr, W. E2F activation of S phase promoters via association with HCF-1 and the MLL family of histone H3K4 methyltransferases. Mol. Cell 27, 107–119 (2007).

Eletr, Z. M. & Wilkinson, K. D. An emerging model for BAP1's role in regulating cell cycle progression. Cell Biochem. Biophys. 60, 3–11 (2011).

Scheuermann, J. C. et al. Histone H2A deubiquitinase activity of the Polycomb repressive complex PR-DUB. Nature 465, 243–247 (2010).

Simon, J. A. & Kingston, R. E. Mechanisms of polycomb gene silencing: knowns and unknowns. Nature Rev. Mol. Cell Biol. 10, 697–708 (2009).

Gutierrez, L. et al. The role of the histone H2A ubiquitinase Sce in Polycomb repression. Development 139, 117–127 (2012).

Zhu, Q. et al. BRCA1 tumour suppression occurs via heterochromatin-mediated silencing. Nature 477, 179–184 (2011).

Kemp, C. D. et al. Polycomb repressor complex-2 is a novel target for mesothelioma therapy. Clin. Cancer Res. 18, 77–90 (2012).

Yu, H. et al. The ubiquitin carboxyl hydrolase BAP1 forms a ternary complex with YY1 and HCF-1 and is a critical regulator of gene expression. Mol. Cell. Biol. 30, 5071–5085 (2010).

Gambetta, M. C., Oktaba, K. & Muller, J. Essential role of the glycosyltransferase sxc/Ogt in polycomb repression. Science 325, 93–96 (2009).

Dey, A. et al. Loss of the tumor suppressor BAP1 causes myeloid transformation. Science 337, 1541–1546 (2012).

Ruan, H. B. et al. O-GlcNAc transferase/host cell factor C1 complex regulates gluconeogenesis by modulating PGC-1α stability. Cell Metab. 16, 226–237 (2012).

Yoshikawa, Y. et al. Frequent inactivation of the BAP1 gene in epithelioid-type malignant mesothelioma. Cancer Sci. 103, 868–874 (2012).

Jube, S. et al. Cancer cell secretion of the DAMP protein HMGB1 supports progression in malignant mesothelioma. Cancer Res 72, 3290–3301 (2012).

Celona, B. et al. Substantial histone reduction modulates genomewide nucleosomal occupancy and global transcriptional output. PLoS Biol. 966, e1001086 (2011).

Horn, E. P., Hartge, P., Shields, J. A. & Tucker, M. A. Sunlight and risk of uveal melanoma. J. Natl Cancer Inst. 86, 1476–1478 (1994).

Stokes, M. P. et al. Profiling of UV-induced ATM/ATR signaling pathways. Proc. Natl Acad. Sci. USA 104, 19855–19860 (2007).

Landreville, S. et al. Histone deacetylase inhibitors induce growth arrest and differentiation in uveal melanoma. Clin. Cancer Res. 18, 408–416 (2012).

Flores, R. M. et al. Extrapleural pneumonectomy versus pleurectomy/decortication in the surgical management of malignant pleural mesothelioma: results in 663 patients. J. Thorac. Cardiovasc. Surg. 135, 620–626.e3 (2008).
Acknowledgements
The authors thank the W and L family members for their participation in this study, and F. Baumann, E. Flores, S. Kanodia, A. Napolitano, J. D. Rowley and D. C. Ward for critical reading of this manuscript. They thank T. Wiesner for sharing MBAIT tissue specimens for their review. NCI PO1 CA 1140047 to M.C. supported this work.
Ethics declarations
Competing interests
M.C. and J.R.T. have a pending patent application on BAP1.
Glossary
Autosomal dominant

A genetic disease inherited as a result of having a single copy of the mutated gene, located on one of the 22 non-sex chromosomes.

Asbestos

Six different fibrous minerals, among about 400 present in nature, that were used commercially. Exposure to asbestos, as well as to other mineral fibres, such as erionite, can cause mesothelioma.

Uveal melanoma

(UVM). The most common primary intraocular malignancy; accounts for about 13% of melanoma deaths.

Probands

Individuals who, by seeking medical or scientific attention, allow the detection of a genetic disorder in a family.
About this article
Cite this article
Carbone, M., Yang, H., Pass, H. et al. BAP1 and cancer. Nat Rev Cancer 13, 153–159 (2013). https://doi.org/10.1038/nrc3459
Published:

Issue Date:

DOI: https://doi.org/10.1038/nrc3459