Abstract
Cells and tissues can undergo a variety of biological and structural changes in response to mechanical forces. Only a few existing techniques are available for quantification of structural changes at high resolution in response to forces applied along different directions. 3D-magnetic twisting cytometry (3D-MTC) is a technique for applying local mechanical stresses to living cells. Here we describe a protocol for interfacing 3D-MTC with confocal fluorescence microscopy. In 3D-MTC, ferromagnetic beads are bound to the cell surface via surface receptors, followed by their magnetization in any desired direction. A magnetic twisting field in a different direction is then applied to generate rotational shear stresses in any desired direction. This protocol describes how to combine magnetic-field-induced mechanical stimulation with confocal fluorescence microscopy and provides an optional extension for super-resolution imaging using stimulated emission depletion (STED) nanoscopy. This technology allows for rapid real-time acquisition of a living cell's mechanical responses to forces via specific receptors and for quantifying structural and biochemical changes in the same cell using confocal fluorescence microscopy or STED. The integrated 3D-MTC–microscopy platform takes ∼20 d to construct, and the experimental procedures require ∼4 d when carried out by a life sciences graduate student.
Relevant articles
Open Access articles citing this article.
Yijun Zheng

,

Mitchell K. L. Han

…

Aránzazu del Campo

Nature Communications Open Access 11 June 2021

Fuxiang Wei

,

Xiangyu Xu

…

Ning Wang

Nature Communications Open Access 29 September 2020

Pierre-Yves Gires

,

Mithun Thampi

&

Matthias Weiss

Scientific Reports Open Access 02 July 2020
Access options
Subscribe to Nature+
Get immediate online access to the entire Nature family of 50+ journals
Subscribe to Journal
Get full journal access for 1 year
$99.00
only $8.25 per issue
All prices are NET prices.
VAT will be added later in the checkout.
Tax calculation will be finalised during checkout.
Buy article
Get time limited or full article access on ReadCube.
$32.00
All prices are NET prices.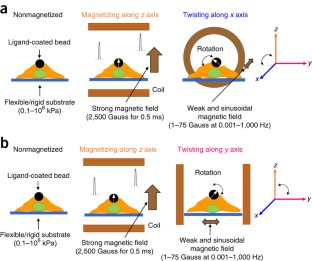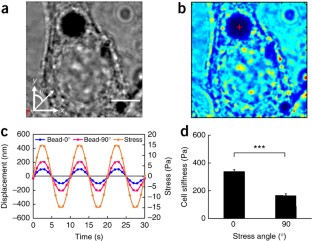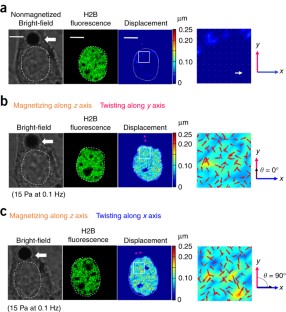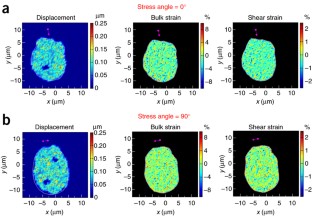 References
Discher, D.E., Mooney, D.J. & Zandstra, P.W. Growth factors, matrices, and forces combine and control stem cells. Science 324, 1673–1677 (2009).

Wang, N., Tytell, J.D. & Ingber, D.E. Mechanotransduction at a distance: mechanically coupling the extracellular matrix with the nucleus. Nat. Rev. Mol. Cell Biol. 1, 75–82 (2009).

Wozniak, M.A. & Chen, C.S. Mechanotransduction in development: a growing role for contractility. Nat. Rev. Mol. Cell Biol. 1, 34–43 (2009).

Humphrey, J.D., Dufresne, E.R. & Schwartz, M.A. Mechanotransduction and extracellular matrix homeostasis. Nat. Rev. Mol. Cell Biol. 12, 802–812 (2014).

Evans, E.A. & Hochmuth, R.M. Membrane viscoelasticity. Biophys. J. 1, 1–11 (1976).

Henderson, E., Haydon, P.G. & Sakaguchi, D.S. Actin filament dynamics in living glial cells imaged by atomic force microscopy. Science 5078, 1944–1946 (1992).

Hoh, J.H. & Schoenenberger, C.A. Surface morphology and mechanical properties of MDCK monolayers by atomic force microscopy. J. Cell Sci. 107, 1105–1114 (1994).

Matzke, R., Jacobson, K. & Radmacher, M. Direct, high-resolution measurement of furrow stiffening during division of adherent cells. Nat. Cell Biol. 6, 607–610 (2001).

Ashkin, A., Dziedzic, J.M. & Yamane, T. Optical trapping and manipulation of single cells using infrared laser beams. Nature 6150, 769–771 (1987).

Block, S.M., Goldstein, L.S. & Schnapp, B.J. Bead movement by single kinesin molecules studied with optical tweezers. Nature 6299, 348–352 (1990).

Dai, J. & Sheetz, M.P. Mechanical properties of neuronal growth cone membranes studied by tether formation with laser optical tweezers. Biophys. J. 3, 988–996 (1995).

Guck, J. et al. The optical stretcher: a novel laser tool to micromanipulate cells. Biophys. J. 2, 767–784 (2001).

Bausch, A.R., Ziemann, F., Boulbitch, A.A., Jacobson, K. & Sackmann, E. Local measurements of viscoelastic parameters of adherent cell surfaces by magnetic bead microrheometry. Biophys. J. 4, 2038–2049 (1998).

Wang, N., Butler, J.P. & Ingber, D.E. Mechanotransduction across the cell surface and through the cytoskeleton. Science 5111, 1124–1127 (1993).

Wang, N. & Ingber, D.E. Control of cytoskeletal mechanics by extracellular matrix, cell shape, and mechanical tension. Biophys. J. 66, 1281–1289 (1994).

Wang, N. & Ingber, D.E. Probing transmembrane mechanical coupling and cytomechanics using magnetic twisting cytometry. Biochem. Cell Biol. 73, 327–335 (1995).

Fabry, B. et al. Signal transduction in smooth muscle selected contribution: time course and heterogeneity of contractile responses in cultured human airway mouse melanoma B16 cells. J. Appl. Physiol. 2, 986–994 (2001).

Hu, S. et al. Mechanical anisotropy of adherent cells probed by a three dimensional magnetic twisting device. Am. J. Physiol. Cell Physiol. 287, C1184–C1191 (2004).

Tajik, A. et al. Transcription upregulation via force-induced direct stretching of chromatin. Nat. Mater. 15, 1287–1296 (2016).

Hell, S.W. & Wichmann, J. Breaking the diffraction resolution limit by stimulated emission: stimulated emission depletion microscopy. Opt. Lett. 19, 780–782 (1994).

Klar, T.A., Jakobs, S., Dyba, M., Egner, A. & Hell, S.W. Fluorescence microscopy with diffraction resolution barrier broken by stimulated emission. Proc. Natl. Acad. Sci. USA 97, 8206–8210 (2000).

Betzig, E. et al. Imaging intracellular fluorescent proteins at nanometer resolution. Science 313, 1642–1645 (2006).

Rust, M.J., Bates, M. & Zhuang, X. Sub-diffraction-limit imaging by stochastic optical reconstruction microscopy (STORM). Nat. Methods 3, 793–796 (2006).

Sahl, S.J., Leutenegger, M., Hilbert, M., Hell, S.W. & Eggeling, C. Fast molecular tracking maps nanoscale dynamics of plasma membrane lipids. Proc. Natl. Acad. Sci. USA 107, 6829–6834 (2010).

Patterson, G., Davidson, M., Manley, S. & Lippincott-Schwartz, J. Superresolution imaging using single-molecule localization. Annu. Rev. Phys. Chem. 61, 345–367 (2010).

Kittel, R.J. et al. Bruchpilot promotes active zone assembly, Ca2+ channel clustering, and vesicle release. Science 312, 1051–1054 (2006).

Balzarotti, F. et al. Nanometer resolution imaging and tracking of fluorescent molecules with minimal photon fluxes. Science. 355, 606–612 (2017).

Fabry, B. et al. Scaling the microrheology of living cells. Phys. Rev. Lett. 87, 148102 (2001).

Chowdhury, F. et al. Is cell rheology governed by nonequilibrium-to-equilibrium transition of noncovalent bonds? Biophys. J. 95, 5719–5727 (2008).

Heller, I. et al. STED nanoscopy combined with optical tweezers reveals protein dynamics on densely covered DNA. Nat. Methods 10, 910–916 (2013).

Neuman, K.C. & Block, S.M. Optical trapping. Rev. Sci. Instrum. 75, 2787–809 (2004).

Gutiérrez-Medina, B., Andreasson, J.O., Greenleaf, W.J., Laporta, A. & Block, S.M. An optical apparatus for rotation and trapping. Methods Enzymol. 475, 377–404 (2010).

Shroff, S.G., Saner, D.R. & Lal, R. Dynamic micromechanical properties of cultured rat atrial myocytes measured by atomic force microscopy. Am. J. Physiol. 269, C286–C292 (1995).

Raman, A. et al. Mapping nanomechanical properties of live cells using multi-harmonic atomic force microscopy. Nat. Nanotechnol. 6, 809–814 (2011).

Cartagena, A. & Raman, A. Local viscoelastic properties of live cells investigated using dynamic and quasi-static atomic force microscopy methods. Biophys. J. 106, 1033–1043 (2014).

Hubmayr, R.D. et al. Pharmacological activation changes stiffness of cultured human airway smooth muscle cells. Am. J. Physiol. Cell Physiol. 271, C1660–C1668 (1996).

Pourati, J. et al. Is cytoskeletal tension a major determinant of cell deformability in adherent endothelial cells? Am. J. Physiol. Cell Physiol. 274, C1283–C1289 (1998).

Wang, N. et al. Cell prestress. I. Stiffness and prestress are closely associated in adherent contractile cells. Am. J. Physiol. Cell Physiol. 282, C606–C616 (2002).

Puig-de-Morales, M. et al. Cytoskeletal mechanics in adherent human airway smooth muscle cells: probe specificity and scaling of protein-protein dynamics. Am. J. Physiol. Cell Physiol. 287, C643–C654 (2004).

An, S.S., Fabry, B., Trepat, X., Wang, N. & Fredberg, J.J. Do biophysical properties of the airway smooth muscle in culture predict airway hyperresponsiveness? Am. J. Respir. Cell Mol. Biol. 35, 55–64 (2006).

Berntsen, P. et al. Biomechanical effects of environmental and engineered particles on human airway smooth muscle cells. J. R. Soc. Interface 7, S331–S340 (2010).

Na, S. et al. Rapid signal transduction in living cells is a unique feature of mechanotransduction. Proc. Natl. Acad. Sci. USA 105, 6626–6631 (2008).

Na, S. & Wang, N. Application of fluorescence resonance energy transfer and magnetic twisting cytometry to quantify mechanochemical signaling activities in a living cell. Sci. Signal. 1, pl1 (2008).

Poh, Y.C. et al. Rapid activation of Rac GTPase in living cells by force is independent of Src. PLoS One 4, e7886 (2009).

Poh, Y.C. et al. Dynamic force-induced direct dissociation of protein complexes in a nuclear body in living cells. Nat. Commun. 3, 866 (2012).

Mijailovich, S.M., Kojic, M., Zivkovic, M., Fabry, B. & Fredberg, J.J. A finite element model of cell deformation during magnetic bead twisting. J. Appl. Physiol. 93, 1429–1436 (2002).

Craig, W.S., Cheng, S., Mullen, D.G., Blevitt, J. & Pierschbacher, M.D. Concept and progress in the development of RGD-containing peptide pharmaceuticals. Biopolymers 37, 157–175 (1995).

Tolić-Nørrelykke, I.M., Butler, J.P., Chen, J. & Wang, N. Spatial and temporal traction response in human airway smooth muscle cells. Am. J. Physiol. Cell Physiol. 283, C1254–C1266 (2002).

Hu, S., Chen, J., Butler, J.P. & Wang, N. Prestress mediates force propagation into the nucleus. Biochem. Biophys. Res. Commun. 329, 423–428 (2005).
Acknowledgements
We thank Y. Tan, S. Zhang, and H. Yi for technical assistance. This work was supported by the US National Institutes of Health (NIH) grant GM072744, Ministry of Science and Technology of China grant 2016YFA0101100, and the Fundamental Research Fund for the Central Universities (No. 2017KFQWJX002) from the Huazhong University of Science and Technology.
Ethics declarations
Competing interests
The authors declare no competing financial interests.
Integrated supplementary information
Supplementary information
Supplementary Figures 1–10 and the Supplementary Method. (PDF 1666 kb)
About this article
Cite this article
Zhang, Y., Wei, F., Poh, YC. et al. Interfacing 3D magnetic twisting cytometry with confocal fluorescence microscopy to image force responses in living cells. Nat Protoc 12, 1437–1450 (2017). https://doi.org/10.1038/nprot.2017.042
Published:

Issue Date:

DOI: https://doi.org/10.1038/nprot.2017.042
Comments
By submitting a comment you agree to abide by our Terms and Community Guidelines. If you find something abusive or that does not comply with our terms or guidelines please flag it as inappropriate.