Abstract
Duplex Sequencing (DS) is a next-generation sequencing methodology capable of detecting a single mutation among >1 × 107 wild-type nucleotides, thereby enabling the study of heterogeneous populations and very-low-frequency genetic alterations. DS can be applied to any double-stranded DNA sample, but it is ideal for small genomic regions of <1 Mb in size. The method relies on the ligation of sequencing adapters harboring random yet complementary double-stranded nucleotide sequences to the sample DNA of interest. Individually labeled strands are then PCR-amplified, creating sequence 'families' that share a common tag sequence derived from the two original complementary strands. Mutations are scored only if the variant is present in the PCR families arising from both of the two DNA strands. Here we provide a detailed protocol for efficient DS adapter synthesis, library preparation and target enrichment, as well as an overview of the data analysis workflow. The protocol typically takes 1–3 d.
Relevant articles
Open Access articles citing this article.
Maria Maco

,

Kristyna Kupcova

…

Ondrej Havranek

Annals of Hematology Open Access 08 September 2022

Danielle P. M. LeBlanc

,

Matthew Meier

…

Francesco Marchetti

BMC Genomics Open Access 28 July 2022

Yinuo Li

,

Xiuhua Xu

…

Jian-Jun Wei

Cell & Bioscience Open Access 22 July 2022
Access options
Subscribe to Journal
Get full journal access for 1 year
$99.00
only $8.25 per issue
All prices are NET prices.
VAT will be added later in the checkout.
Tax calculation will be finalised during checkout.
Buy article
Get time limited or full article access on ReadCube.
$32.00
All prices are NET prices.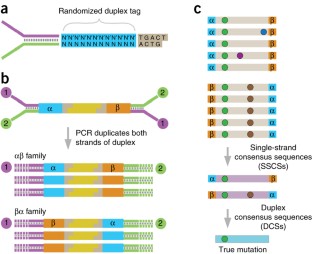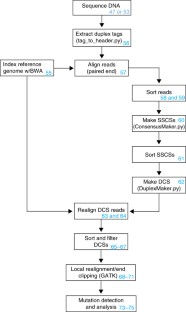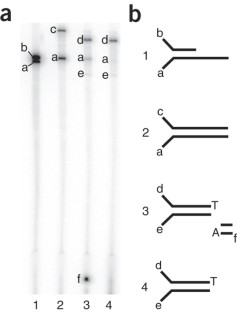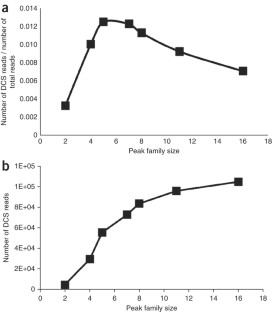 References
Glenn, T.C. Field guide to next-generation DNA sequencers. Mol. Ecol. Resour. 11, 759–769 (2011).

Loeb, L.A., Springgate, C.F. & Battula, N. Errors in DNA replication as a basis of malignant change. Cancer Res. 34, 2311–2321 (1974).

Gerlinger, M. et al. Intratumor heterogeneity and branched evolution revealed by multiregion sequencing. N. Engl. J. Med. 366, 883–892 (2012).

Navin, N. et al. Tumour evolution inferred by single-cell sequencing. Nature 472, 90–94 (2011).

Bolli, N. et al. Heterogeneity of genomic evolution and mutational profiles in multiple myeloma. Nat. Commun. 5, 2997 (2014).

Lawrence, M.S. et al. Mutational heterogeneity in cancer and the search for new cancer-associated genes. Nature 499, 214–218 (2013).

Kreso, A. et al. Variable clonal repopulation dynamics influence chemotherapy response in colorectal cancer. Science 339, 543–548 (2013).

Johnson, B.E. et al. Mutational analysis reveals the origin and therapy-driven evolution of recurrent glioma. Science 343, 189–193 (2014).

Schmitt, M.W., Prindle, M.J. & Loeb, L.A. Implications of genetic heterogeneity in cancer. Ann. NY Acad. Sci. 1267, 110–116 (2012).

Liu, Z. et al. Patterns of diversifying selection in the phytotoxin-like scr74 gene family of Phytophthora infestans. Mol. Biol. Evol. 22, 659–672 (2005).

Srivatsan, A. et al. High-precision, whole-genome sequencing of laboratory strains facilitates genetic studies. PLoS Genet. 4, e1000139 (2008).

Holt, K.E. et al. High-throughput sequencing provides insights into genome variation and evolution in Salmonella typhi. Nat. Genet. 40, 987–993 (2008).

Loh, E., Salk, J.J. & Loeb, L.A. Optimization of DNA polymerase mutation rates during bacterial evolution. Proc. Natl. Acad. Sci. USA 107, 1154–1159 (2010).

Budowle, B. & van Daal, A. Extracting evidence from forensic DNA analyses: future molecular biology directions. Biotechniques 46, 339–340, 342–350 (2009).

Hofreiter, M., Jaenicke, V., Serre, D., von Haeseler, A. & Paabo, S. DNA sequences from multiple amplifications reveal artifacts induced by cytosine deamination in ancient DNA. Nucleic Acids Res. 29, 4793–4799 (2001).

Knapp, M. & Hofreiter, M. Next-generation sequencing of ancient DNA: requirements, strategies and perspectives. Genes 1, 227–243 (2010).

Carlson, C.A. et al. Decoding cell lineage from acquired mutations using arbitrary deep sequencing. Nat. Methods 9, 78–80 (2012).

Besaratinia, A. et al. A high-throughput next-generation sequencing-based method for detecting the mutational fingerprint of carcinogens. Nucleic Acids Res. 40, e116 (2012).

Schmitt, M.W. et al. Detection of ultra-rare mutations by next-generation sequencing. Proc Natl. Acad. Sci. USA 109, 14508–14513 (2012).

Kinde, I., Wu, J., Papadopoulos, N., Kinzler, K.W. & Vogelstein, B. Detection and quantification of rare mutations with massively parallel sequencing. Proc. Natl. Acad. Sci. USA 108, 9530–9535 (2011).

Hiatt, J.B., Patwardhan, R.P., Turner, E.H., Lee, C. & Shendure, J. Parallel, tag-directed assembly of locally derived short sequence reads. Nat. Methods 7, 119–122 (2010).

McCloskey, M.L., Stoger, R., Hansen, R.S. & Laird, C.D. Encoding PCR products with batch-stamps and barcodes. Biochem. Genet. 45, 761–767 (2007).

Jabara, C.B., Jones, C.D., Roach, J., Anderson, J.A. & Swanstrom, R. Accurate sampling and deep sequencing of the HIV-1 protease gene using a primer ID. Proc. Natl. Acad. Sci. USA 108, 20166–20171 (2011).

Kivioja, T. et al. Counting absolute numbers of molecules using unique molecular identifiers. Nat. Methods 9, 72–74 (2012).

Casbon, J.A., Osborne, R.J., Brenner, S. & Lichtenstein, C.P. A method for counting PCR template molecules with application to next-generation sequencing. Nucleic Acids Res. 39, e81 (2011).

Shiroguchi, K., Jia, T.Z., Sims, P.A. & Xie, X.S. Digital RNA sequencing minimizes sequence-dependent bias and amplification noise with optimized single-molecule barcodes. Proc. Natl. Acad. Sci. USA 109, 1347–1352 (2012).

Zong, C., Lu, S., Chapman, A.R. & Xie, X.S. Genome-wide detection of single-nucleotide and copy-number variations of a single human cell. Science 338, 1622–1626 (2012).

Wang, J., Fan, H.C., Behr, B. & Quake, S.R. Genome-wide single-cell analysis of recombination activity and de novo mutation rates in human sperm. Cell 150, 402–412 (2012).

Wang, Y. et al. Clonal evolution in breast cancer revealed by single-nucleus genome sequencing. Nature 512, 155–160 (2014).

Acevedo, A., Brodsky, L. & Andino, R. Mutational and fitness landscapes of an RNA virus revealed through population sequencing. Nature 505, 686–690 (2014).

Lou, D.I. et al. High-throughput DNA sequencing errors are reduced by orders of magnitude using circle sequencing. Proc. Natl. Acad. Sci. USA 110, 19872–19877 (2013).

Diegoli, T.M., Farr, M., Cromartie, C., Coble, M.D. & Bille, T.W. An optimized protocol for forensic application of the PreCR repair mix to multiplex STR amplification of UV-damaged DNA. Forensic Sci. Int. Genet. 6, 498–503 (2012).

Kennedy, S.R., Salk, J.J., Schmitt, M.W. & Loeb, L.A. Ultra-sensitive sequencing reveals an age-related increase in somatic mitochondrial mutations that are inconsistent with oxidative damage. PLoS Genet. 9, e1003794 (2013).

Yost, S.E. et al. Identification of high-confidence somatic mutations in whole genome sequence of formalin-fixed breast cancer specimens. Nucleic Acids Res. 40, e107 (2012).

Kerick, M. et al. Targeted high throughput sequencing in clinical cancer settings: formaldehyde fixed-paraffin embedded (FFPE) tumor tissues, input amount and tumor heterogeneity. BMC Med. Genomics 4, 68 (2011).

Spencer, D.H. et al. Comparison of clinical targeted next-generation sequence data from formalin-fixed and fresh-frozen tissue specimens. J. Mol. Diagn. 15, 623–633 (2013).

Li, H. & Durbin, R. Fast and accurate short-read alignment with Burrows–Wheeler transform. Bioinformatics 25, 1754–1760 (2009).

Li, H. et al. The Sequence Alignment/Map format and SAMtools. Bioinformatics 25, 2078–2079 (2009).

McKenna, A. et al. The genome analysis toolkit: a MapReduce framework for analyzing next-generation DNA sequencing data. Genome Res. 20, 1297–1303 (2010).

DePristo, M.A. et al. A framework for variation discovery and genotyping using next-generation DNA sequencing data. Nat. Genet. 43, 491–498 (2011).
Acknowledgements
We thank D. Crispin and A. Lawrence for testing the protocol as written and for helping to clarify several important steps of the protocol. We also thank A. Herr for helpful comments and discussion. Support for this research was provided by the following US National Institutes of Health grants from the National Institute on Aging (NIA) and the National Cancer Institute (NCI): NIA P01-AG001751, NCI P01-CA77852, NCI R01-CA160674 and NCI R01-CA102029 to L.A.L. S.R.K. was further supported by the Genetic Approaches to Aging Training grant (NIA T32-AG000057).
Ethics declarations
Competing interests
The authors declare no competing financial interests.
Integrated supplementary information
Supplementary information
About this article
Cite this article
Kennedy, S., Schmitt, M., Fox, E. et al. Detecting ultralow-frequency mutations by Duplex Sequencing. Nat Protoc 9, 2586–2606 (2014). https://doi.org/10.1038/nprot.2014.170
Published:

Issue Date:

DOI: https://doi.org/10.1038/nprot.2014.170
Comments
By submitting a comment you agree to abide by our Terms and Community Guidelines. If you find something abusive or that does not comply with our terms or guidelines please flag it as inappropriate.