Abstract
This protocol describes the synthesis of modular turn-ON QCy7-based probes for the detection of biologically relevant analytes, such as hydrogen peroxide, ubiquitous sulfhydryl and β-galactosidase. The probes presented herein are prepared through a simple procedure that involves the preliminary alkylation of 4-hydroxy-isophthalaldehyde with a relevant analyte-responsive protecting group, followed by condensation of the resulting product with 2 equivalents of sulfo-indolium moieties. Evaluation of the turn-ON near-IR fluorescence response to their relevant analytes for the three different QCy7 probes is also reported. The preparation of a QCy7 diagnostic probe requires 1–2 d. Probes for other analytes can be prepared according to this modular procedure by incorporating a specific analyte-responsive group as a triggering substrate.
Relevant articles
Open Access articles citing this article.
Dabin Kim

,

Gyoungmi Kim

…

Juyoung Yoon

Scientific Reports Open Access 16 February 2015
Access options
Subscribe to Journal
Get full journal access for 1 year
$99.00
only $8.25 per issue
All prices are NET prices.
VAT will be added later in the checkout.
Tax calculation will be finalised during checkout.
Buy article
Get time limited or full article access on ReadCube.
$32.00
All prices are NET prices.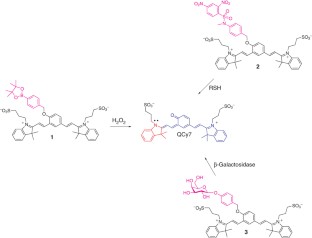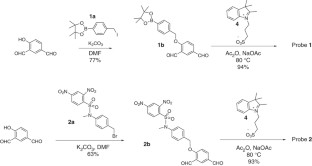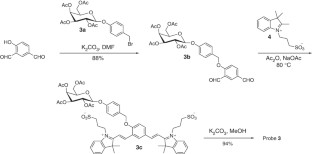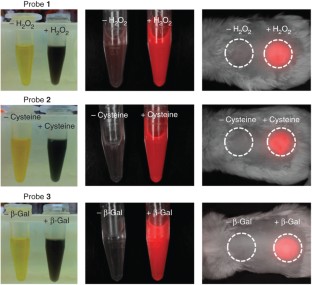 References
Chan, J., Dodani, S.C. & Chang, C.J. Reaction-based small-molecule fluorescent probes for chemoselective bioimaging. Nat. Chem. 4, 973–984 (2012).

Reymond, J.L., Fluxa, V.S. & Maillard, N. Enzyme assays. Chem. Commun. 34–46 (2009).

Yang, Y., Zhao, Q., Feng, W. & Li, F. Luminescent chemodosimeters for bioimaging. Chem. Rev. 113, 192–270 (2013).

de Silva, A.P. et al. Signaling recognition events with fluorescent sensors and switches. Chem. Rev. 97, 1515–1566 (1997).

Hangauer, M.J. & Bertozzi, C.R. A FRET-based fluorogenic phosphine for live-cell imaging with the Staudinger ligation. Angew. Chem. Int. Ed. Engl. 47, 2394–2397 (2008).

Kikuchi, K., Takakusa, H. & Nagano, T. Recent advances in the design of small molecule-based FRET sensors for cell biology. Trends Anal. Chem. 23, 407–415 (2004).

Karton-Lifshin, N. et al. A unique paradigm for a Turn-ON near-infrared cyanine-based probe: noninvasive intravital optical imaging of hydrogen peroxide. J. Am. Chem. Soc. 133, 10960–10965 (2011).

Karton-Lifshin, N., Albertazzi, L., Bendikov, M., Baran, P.S. & Shabat, D. 'Donor-two-acceptor' dye design: a distinct gateway to NIR fluorescence. J. Am. Chem. Soc. 134, 20412–20420 (2012).

Kisin-Finfer, E. & Shabat, D. New repertoire of 'donor-two-acceptor' NIR fluorogenic dyes. Bioorg. Med. Chem. 21, 3602–3608 (2013).

Weissleder, R., Tung, C.H., Mahmood, U. & Bogdanov, A. Jr. In vivo imaging of tumors with protease-activated near-infrared fluorescent probes. Nat. Biotechnol. 17, 375–378 (1999).

Yuan, L., Lin, W., Zheng, K., He, L. & Huang, W. Far-red to near infrared analyte-responsive fluorescent probes based on organic fluorophore platforms for fluorescence imaging. Chem. Soc. Rev. 42, 622–661 (2012).

Oheda, Y. et al. Elimination of abnormal sialylglycoproteins in fibroblasts with sialidosis and galactosialidosis by normal gene transfer and enzyme replacement. Glycobiology 16, 271–280 (2006).

Caciotti, A. et al. Galactosialidosis: review and analysis of CTSA gene mutations. Orphanet. J. Rare Dis. 8, 114 (2013).

Chang, M.C., Pralle, A., Isacoff, E.Y. & Chang, C.J. A selective, cell-permeable optical probe for hydrogen peroxide in living cells. J. Am. Chem. Soc. 126, 15392–15393 (2004).

Bouffard, J., Kim, Y., Swager, T.M., Weissleder, R. & Hilderbrand, S.A. A highly selective fluorescent probe for thiol bioimaging. Organic Letters 10, 37–40 (2008).

Kamiya, M. et al. J. Am. Chem. Soc. 133, 12960–12963 (2011).

Karton-Lifshin, N. et al. Enzyme-mediated nutrient release: glucose-precursor activation by β-galactosidase to induce bacterial growth. Org. Biomol. Chem. 11, 2903–2910 (2013).

Maity, D. & Govindaraju, T. A turn-on NIR fluorescence and colourimetric cyanine probe for monitoring the thiol content in serum and the glutathione reductase assisted glutathione redox process. Org. Biomol. Chem. 11, 2098–2104 (2013).

Shi, Y.M., Zhang, S.C. & Zhang, X.R. A novel near-infrared fluorescent probe for selectively sensing nitroreductase (NTR) in an aqueous medium. Analyst 138, 1952–1955 (2013).

Sella, E. & Shabat, D. Dendritic chain reaction. J. Am. Chem. Soc. 131, 9934–9936 (2009).

Mason, S.J., Hake, J.L., Nairne, J., Cummins, W.J. & Balasubramanian, S. Solid-phase methods for the synthesis of cyanine dyes. J. Org. Chem. 70, 2939–2949 (2005).
Acknowledgements
D.S. thanks the Israel Science Foundation (ISF), the Binational Science Foundation (BSF) and the German-Israeli Foundation (GIF) for financial support. This work was partially supported by grants from the Israeli National Nanotechnology Initiative (INNI), Focal Technology Area (FTA) program: Nanomedicine for Personalized Theranostics; and by The Leona M. and Harry B. Helmsley Nanotechnology Research Fund.
Ethics declarations
Competing interests
A patent related to this work has been filed by Tel Aviv University (reference no. PCT/IB2012/051255). The title of the invention is: 'Activatable Fluorogenic Compounds And Uses Thereof As Near-Infrared Probes'.
Integrated supplementary information
Supplementary information
About this article
Cite this article
Redy-Keisar, O., Kisin-Finfer, E., Ferber, S. et al. Synthesis and use of QCy7-derived modular probes for the detection and imaging of biologically relevant analytes. Nat Protoc 9, 27–36 (2014). https://doi.org/10.1038/nprot.2013.166
Published:

Issue Date:

DOI: https://doi.org/10.1038/nprot.2013.166
This article is cited by
Dabin Kim
Gyoungmi Kim
Juyoung Yoon

Scientific Reports (2015)

Jun Yin
Younghee Kwon
Juyoung Yoon

Nature Protocols (2015)
Comments
By submitting a comment you agree to abide by our Terms and Community Guidelines. If you find something abusive or that does not comply with our terms or guidelines please flag it as inappropriate.