Abstract
Epigenetic modifications such as carbon 5 methylation of the cytosine base in a CpG dinucleotide context are involved in the onset and progression of human diseases. A comprehensive understanding of the role of genome-wide DNA methylation patterns, the methylome, requires quantitative determination of the methylation states of all CpG sites in a genome. So far, analyses of the complete methylome by whole-genome bisulfite sequencing (WGBS) are rare because of the required large DNA quantities, substantial bioinformatic resources and high sequencing costs. Here we describe a detailed protocol for tagmentation-based WGBS (T-WGBS) and demonstrate its reliability in comparison with conventional WGBS. In T-WGBS, a hyperactive Tn5 transposase fragments the DNA and appends sequencing adapters in a single step. T-WGBS requires not more than 20 ng of input DNA; hence, the protocol allows the comprehensive methylome analysis of limited amounts of DNA isolated from precious biological specimens. The T-WGBS library preparation takes 2 d.
Relevant articles
Open Access articles citing this article.
Yuanyuan Chen

,

Reka Toth

…

Rocio Sotillo

Nature Communications Open Access 05 August 2022

Xiaowei Xu

,

Shoufu Duan

…

Zhiguo Zhang

Nature Communications Open Access 06 May 2022

Joschka Hey

,

Michelle Paulsen

…

Marcus A. Mall

Nature Communications Open Access 11 November 2021
Access options
Subscribe to Journal
Get full journal access for 1 year
$99.00
only $8.25 per issue
All prices are NET prices.
VAT will be added later in the checkout.
Tax calculation will be finalised during checkout.
Buy article
Get time limited or full article access on ReadCube.
$32.00
All prices are NET prices.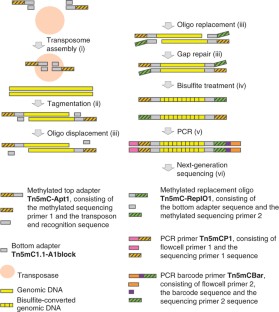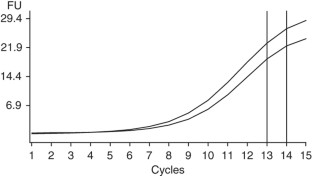 References
Lister, R. et al. Human DNA methylomes at base resolution show widespread epigenomic differences. Nature 462, 315–322 (2009).

Kobayashi, H. et al. Contribution of intragenic DNA methylation in mouse gametic DNA methylomes to establish oocyte-specific heritable marks. PLoS Genet. 8, e1002440 (2012).

Popp, C. et al. Genome-wide erasure of DNA methylation in mouse primordial germ cells is affected by AID deficiency. Nature 463, 1101–1105 (2010).

Seisenberger, S. et al. The dynamics of genome-wide DNA methylation reprogramming in mouse primordial germ cells. Mol. Cell 48, 849–862 (2012).

Gu, H. et al. Preparation of reduced representation bisulfite sequencing libraries for genome-scale DNA methylation profiling. Nat. Protoc. 6, 468–481 (2011).

Khulan, B. et al. Comparative isoschizomer profiling of cytosine methylation: the HELP assay. Genome Res. 16, 1046–1055 (2006).

Meissner, A. et al. Reduced representation bisulfite sequencing for comparative high-resolution DNA methylation analysis. Nucleic Acids Res. 33, 5868–5877 (2005).

Oda, M. et al. High-resolution genome-wide cytosine methylation profiling with simultaneous copy number analysis and optimization for limited cell numbers. Nucleic Acids Res. 37, 3829–3839 (2009).

Miura, F., Enomoto, Y., Dairiki, R. & Ito, T. Amplification-free whole-genome bisulfite sequencing by post-bisulfite adaptor tagging. Nucleic Acids Res. 40, e136 (2012).

Adey, A. & Shendure, J. Ultra-low-input, tagmentation-based whole-genome bisulfite sequencing. Genome Res. 22, 1139–1143 (2012).

Adey, A. et al. Rapid, low-input, low-bias construction of shotgun fragment libraries by high-density in vitro transposition. Genome Biol. 11, R119 (2010).

Quail, M.A. et al. A large genome center's improvements to the Illumina sequencing system. Nat. Methods 5, 1005–1010 (2008).

Weber, M. et al. Chromosome-wide and promoter-specific analyses identify sites of differential DNA methylation in normal and transformed human cells. Nat. Genet. 37, 853–862 (2005).

Taiwo, O. et al. Methylome analysis using MeDIP-seq with low DNA concentrations. Nat. Protoc. 7, 617–636 (2012).

Brinkman, A.B. et al. Whole-genome DNA methylation profiling using MethylCap-seq. Methods 52, 232–236 (2010).

Gebhard, C. et al. Genome-wide profiling of CpG methylation identifies novel targets of aberrant hypermethylation in myeloid leukemia. Cancer Res. 66, 6118–6128 (2006).

Bock, C. et al. Quantitative comparison of genome-wide DNA methylation mapping technologies. Nat. Biotechnol. 28, 1106–1114 (2010).

Harris, R.A. et al. Comparison of sequencing-based methods to profile DNA methylation and identification of monoallelic epigenetic modifications. Nat. Biotechnol. 28, 1097–1105 (2010).

Hovestadt, V. et al. Robust molecular subgrouping and copy-number profiling of medulloblastoma from small amounts of archival tumour material using high-density DNA methylation arrays. Acta Neuropathol. 125, 913–916 (2013).

Sturm, D. et al. Hotspot mutations in H3F3A and IDH1 define distinct epigenetic and biological subgroups of glioblastoma. Cancer Cell 22, 425–437 (2012).

Grunenwald, H.L, Caruccio, N., Jendrisak, J. & Dahl, G. Transposon end compositions and methods for modifying nucleic acids. US patent 20100120098A1 (2010).

Hansen, K.D., Langmead, B. & Irizarry, R.A. BSmooth: from whole genome bisulfite sequencing reads to differentially methylated regions. Genome Biol. 13, R83 (2012).
Acknowledgements
We gratefully acknowledge excellent technical support by M. Helf and helpful discussions with D. Lipka. We also acknowledge the excellent support by the sequencing core facility at DKFZ. Work in the Plass laboratory was supported by the Helmholtz Foundation and the German Federal Ministry of Education and Science in the program for medical genome research (FKZ; no. 01KU1001A). Q.W. obtained support by the Humboldt Research Fellowship for Postdoctoral Researchers. A.A. is funded by a National Science Foundation Graduate Research Fellowship.
Ethics declarations
Competing interests
A provisional US patent application has been deposited for aspects of these methods (A.A., J.S.).
Integrated supplementary information
Supplementary information
About this article
Cite this article
Wang, Q., Gu, L., Adey, A. et al. Tagmentation-based whole-genome bisulfite sequencing. Nat Protoc 8, 2022–2032 (2013). https://doi.org/10.1038/nprot.2013.118
Published:

Issue Date:

DOI: https://doi.org/10.1038/nprot.2013.118
Comments
By submitting a comment you agree to abide by our Terms and Community Guidelines. If you find something abusive or that does not comply with our terms or guidelines please flag it as inappropriate.