Abstract
This protocol describes a new approach for the preparation of stereodefined trisubstituted chiral enolate species, avoiding conventional asymmetric enolization of carbonyl compounds. This protocol was developed as a single-flask synthetic sequence and therefore does not require isolation or purification of intermediate compounds. The sequence starts from a regioselective carbocupration reaction of readily accessible chiral ynamides; this is followed by oxidation of the generated vinylcuprate with a commonly available oxidizing reagent (tert-butyl hydroperoxide) in order to generate an enolate that completely retains its configuration. This synthetic protocol has been applied to the preparation of aldol and Mannich-type adducts. The procedure reported here requires a simple reaction setup commonly available in all synthetic laboratories and takes ∼6 h for completion and 2 h for isolation and purification. Final products are valuable diastereomerically and enantiomerically enriched building blocks for organic synthesis containing all-carbon quaternary stereocenters in acyclic systems.
Access options
Subscribe to Journal
Get full journal access for 1 year
$99.00
only $8.25 per issue
All prices are NET prices.
VAT will be added later in the checkout.
Tax calculation will be finalised during checkout.
Buy article
Get time limited or full article access on ReadCube.
$32.00
All prices are NET prices.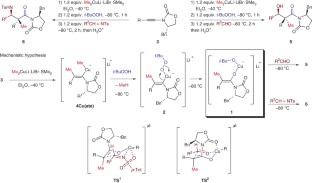 References
Hawner, C. & Alexakis, A. Metal-catalyzed asymmetric conjugate addition reaction: formation of quaternary stereocenters. Chem. Commun. 46, 7295–7306 (2010).

Das, J.P. & Marek, I. Enantioselective synthesis of all-carbon quaternary stereogenic centers in acyclic systems. Chem. Commun. 47, 4593–4623 (2011).

Wender, P.A. & Miller, B. L. Synthesis at the molecular frontier. Nature 460, 197–201 (2009).

Newhouse, T., Baran, P.S. & Hoffmann, R.W. The economies of synthesis. Chem. Soc. Rev. 38, 3010–3021 (2009).

Baran, P.S., Maimone, T.J. & Richter, J.M. Total synthesis of marine natural products without using protecting groups. Nature 446, 404–408 (2007).

Seebach, D. Organic synthesis—where now? Angew. Chem. Int. Ed. Engl. 29, 1320–1367 (1990).

Tietze, L.F. Domino reactions in organic synthesis. Chem. Rev. 96, 115–136 (1996).

Scott, H.K. & Aggarwal, V.K. Highly enantioselective synthesis of tertiary boronic esters and their stereospecific conversion to other functional groups and quaternary stereocentres. Chem. Eur. J. 17, 13124–13132 (2011).

Marek, I. A shift in retrosynthetic paradigm. Chem. Eur. J. 14, 7460–7468 (2008).

Sklute, G. & Marek, I. Multicomponent approach for the creation of chiral quaternary centers in the carbonyl allylation reactions. J. Am. Chem. Soc. 128, 4642–4649 (2006).

Dutta, B., Gilboa, N. & Marek, I. Highly diastereoselective preparation of homoallylic alcohols containing two contiguous quaternary stereocenters in acyclic systems from simple terminal alkynes. J. Am. Chem. Soc. 132, 5588–5589 (2010).

Carreira, E.M. Aldol reaction: methodology and stereochemistry. in Modern Carbonyl Chemistry (ed. Otera, J.) Ch. 8 227–248 (Wiley- VCH, 2001).

Yamago, S., Machii, D. & Nakamura, E. Simple diastereoselectivity of the aldol reaction of persubstituted enolates. Stereoselective construction of quaternary centers. J. Org. Chem. 56, 2098–2106 (1991).

Manthorpe, J.M. & Gleason, J.L. Stereoselective generation of E- and Z-disubstituted amide enolates. Reductive enolate formation from bicyclic thioglycolate lactams. J. Am. Chem. Soc. 123, 2091–2092 (2001).

Kummer, D.A., Chain, W.J., Morales, M.R., Quiroga, O. & Myers, A.G. Stereocontrolled alkylative construction of quaternary carbon centers. J. Am. Chem. Soc. 130, 13231–13233 (2008).

Morales, M.R., Mellem, K.T. & Myers, A.G. Pseudoephenamine: a practical chiral auxiliary for asymmetric synthesis. Angew. Chem. Int. Ed. 51, 4568–4571 (2012).

Medley, J.W. & Movassaghi, M. A concise and versatile double-cyclization strategy for the highly stereoselective synthesis and arylative dimerization of aspidosperma alkaloids. Angew. Chem. Int. Ed. 51, 4572–4576 (2012).

Qin, Y.-C., Stivala, C.E. & Zakarian, A. Acyclic stereocontrol in the Ireland-Claisen rearrangement of α-branched esters. Angew. Chem. Int. Ed. 46, 7466–7469 (2007).

Gu, Z., Herrmann, A.T., Stivala, C.E. & Zakarian, A. Stereoselective construction of adjacent quaternary chiral centers by the Ireland-Claisen rearrangement: stereoselection with esters of cyclic alcohols. Synlett 2010 1717–1722 (2010).

Evans, D.A., Bartroli, J. & Shih, T.L. Enantioselective aldol condensations. Erythroselective chiral aldol condensations via boron enolates. J. Am. Chem. Soc. 103, 2127–2129 (1981).

Chechik-Lankin, H., Livshin, S. & Marek, I. Regiocontrolled carbometalation reactions of ynamides. Synlett 2005, 2239–2241 (2005).

DeKorver, K.A. et al. Ynamides: a modern functional group in the new millennium. Chem. Rev. 110, 5064–5106 (2010).

Evano, G., Coste, A. & Jouvin, K. Ynamides: versatile tools in organic synthesis. Angew. Chem. Int. Ed. 49, 2840–2859 (2010).

Das, J.P., Chechik, H. & Marek, I. A unique approach to aldol products for the creation of all-carbon quaternary stereocentres. Nat. Chem. 1, 128–132 (2009).

Panek, E.J., Kaiser, L.R. & Whitesides, G.M. Vinylic radicals are intermediates in the oxidation of vinylic lithium reagents to lithium enolates by dioxygen, but not by lithium tert-butyl peroxide. J. Am. Chem. Soc. 99, 3708–3713 (1977).

Zhang, D. & Ready, J.M. Tandem carbocupration/oxygenation of terminal alkynes. Org. Lett. 7, 5681–5683 (2005).

Wendlandt, A.E., Suess, A.M. & Stahl, S.S. Copper-catalyzed aerobic oxidative C-H functionalizations: trends and mechanistic insights. Angew. Chem. Int. Ed. 50, 11062–11087 (2011).

DeBergh, J.R., Spivey, K.M. & Ready, J.M. Preparation of substituted enol derivatives from terminal alkynes and their synthetic utility. J. Am. Chem. Soc. 130, 7828–7829 (2008).

Minko, Y., Pasco, M., Lercher, L., Botoshansky, M. & Marek, I. Forming all-carbon quaternary stereogenic centres in acyclic systems from alkynes. Nature 490, 522–526 (2012).

Zhang, Y., Hsung, R.P., Tracey, M.R., Kurtz, K.C.M. & Vera, E.L. Copper sulfate-pentahydrate-1,10-phenanthroline catalyzed amidations of alkynyl bromides. synthesis of heteroaromatic amine substituted ynamides. Org. Lett. 6, 1151–1154 (2004).

Yao, P.-Y., Zhang, Y., Hsung, R.P. & Zhao, K. A sequential metal-catalyzed C-N bond formation in the synthesis of 2-amido-indoles. Org. Lett. 10, 4275–4278 (2008).

Buissonneaud, D. & Cintrat, J.C. Highly regio- and stereocontrolled synthesis of β-substituted α-tributylstannyl enamides. Tetrahedron Lett. 47, 3139–3143 (2006).

Sagamanova, I.K., Kurtz, K.C.M. & Hsung, R.P. Practical synthesis of a chiral ynamide: (R)-4-phenyl-3-(2-triisopropylsilyl-ethynyl)oxazolidin-2-one. Org. Synth. 84, 359–367 (2009).
Acknowledgements
This research was supported by the Israel Science Foundation (administered by the Israel Academy of Sciences and Humanities (140/12)) and by the Fund for Promotion of Research at the Technion. L.L. thanks the Bayer-Stiftung for financial support. I.M. is the holder of the Sir Michael and Lady Sobell Academic Chair.
Ethics declarations
Competing interests
The authors declare no competing financial interests.
About this article
Cite this article
Minko, Y., Pasco, M., Lercher, L. et al. Stereodefined trisubstituted enolates as a unique entry to all-carbon quaternary stereogenic centers in acyclic systems. Nat Protoc 8, 749–754 (2013). https://doi.org/10.1038/nprot.2013.036
Published:

Issue Date:

DOI: https://doi.org/10.1038/nprot.2013.036
This article is cited by
Alexandre Vasseur
Ilan Marek

Nature Protocols (2017)
Comments
By submitting a comment you agree to abide by our Terms and Community Guidelines. If you find something abusive or that does not comply with our terms or guidelines please flag it as inappropriate.