Abstract
We present a protocol for building and operating an automated fluidic system for continuous culture that we call the 'morbidostat'. The morbidostat is used to follow the evolution of microbial drug resistance in real time. Instead of exposing bacteria to predetermined drug environments, the morbidostat constantly measures the growth rates of evolving microbial populations and dynamically adjusts drug concentrations inside culture vials in order to maintain a constant drug-induced inhibition. The growth rate measurements are done using an optical detection system that is based on measuring the intensity of back-scattered light from bacterial cells suspended in the liquid culture. The morbidostat can additionally be used as a chemostat or a turbidostat. The whole system can be built from readily available components within 2–3 weeks by biologists with some electronics experience or engineers familiar with basic microbiology.
Relevant articles
Open Access articles citing this article.
Madhu Sudan Manna

,

Yusuf Talha Tamer

…

Erdal Toprak

Nature Communications Open Access 19 May 2021

Marta Lukačišinová

,

Booshini Fernando

&

Tobias Bollenbach

Nature Communications Open Access 19 June 2020

Zheng Lin Tan

,

Xiang Zheng

…

Chong Zhang

Microbial Cell Factories Open Access 14 May 2019
Access options
Subscribe to Journal
Get full journal access for 1 year
$99.00
only $8.25 per issue
All prices are NET prices.
VAT will be added later in the checkout.
Tax calculation will be finalised during checkout.
Buy article
Get time limited or full article access on ReadCube.
$32.00
All prices are NET prices.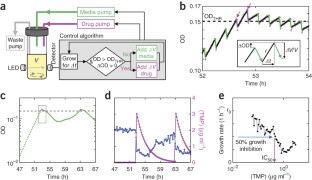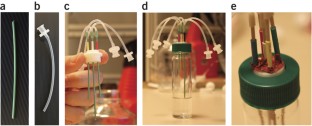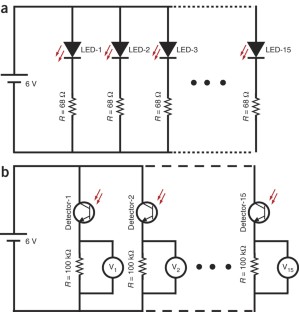 References
Alekshun, M.N. & Levy, S.B. Molecular mechanisms of antibacterial multidrug resistance. Cell 128, 1037–1050 (2007).

Taubes, G. The bacteria fight back. Science 321, 356–361 (2008).

Levy, S.B. & Marshall, B. Antibacterial resistance worldwide: causes, challenges and responses. Nat. Med. 10, S122–S129 (2004).

Lipsitch, M., Bergstrom, C.T. & Levin, B.R. The epidemiology of antibiotic resistance in hospitals: paradoxes and prescriptions. Proc. Natl. Acad. Sci. USA 97, 1938–1943 (2000).

Toprak, E. et al. Evolutionary paths to antibiotic resistance under dynamically sustained drug selection. Nat. Genet. 44, 101–105 (2012).

Lee, H.H., Molla, M.N., Cantor, C.R. & Collins, J.J. Bacterial charity work leads to population-wide resistance. Nature 467, 82–85 (2010).

Bryson, V. & Szybalski, W. Microbial selection. Science 116, 45–51 (1952).

Hegreness, M., Shoresh, N., Damian, D., Hartl, D. & Kishony, R. Accelerated evolution of resistance in multidrug environments. Proc. Natl. Acad. Sci. USA 105, 13977–13981 (2008).

Michel, J.B., Yeh, P.J., Chait, R., Moellering, R.C. Jr. & Kishony, R. Drug interactions modulate the potential for evolution of resistance. Proc. Natl. Acad. Sci. USA (2008).

Bauer, A.W., Kirby, W.M., Sherris, J.C. & Turck, M. Antibiotic susceptibility testing by a standardized single disk method. Am. J. Clin. Pathol. 45, 493–496 (1966).

Weinreich, D.M., Delaney, N.F., Depristo, M.A. & Hartl, D.L. Darwinian evolution can follow only very few mutational paths to fitter proteins. Science 312, 111–114 (2006).
Acknowledgements
The authors thank J. Horn, J. Marchionna, K. Reynolds and all members of the Kishony lab and Toprak lab for technical help and discussions. This work was supported in part by US National Institutes of Health grant no. R01 GM081617 (to R.K.), and by The New England Regional Center of Excellence for Biodefense and Emerging Infectious Diseases grant no. AI057159 (to R.K.). E.T. is supported by a Marie Curie Career Integration grant (no. 303786). J.M.P. and J.P. were supported by US National Institutes of Health grant no. R01 GM081563-04 and National Science Foundation grant no. DMS-074876-0.
Ethics declarations
Competing interests
The authors declare no competing financial interests.
Supplementary information
About this article
Cite this article
Toprak, E., Veres, A., Yildiz, S. et al. Building a morbidostat: an automated continuous-culture device for studying bacterial drug resistance under dynamically sustained drug inhibition. Nat Protoc 8, 555–567 (2013). https://doi.org/10.1038/nprot.2013.021
Published:

Issue Date:

DOI: https://doi.org/10.1038/nprot.2013.021
Comments
By submitting a comment you agree to abide by our Terms and Community Guidelines. If you find something abusive or that does not comply with our terms or guidelines please flag it as inappropriate.