Abstract
An optimized procedure for the efficient preparation of 2-heptyl-3-hydroxy-4(1H)-quinolone (Pseudomonas quinolone signal or PQS) and a diverse range of structurally related 2-alkyl-4-quinolones with biological activity is presented. The two-step synthesis begins with the formation of α-chloro ketones by the coupling of a Weinreb amide (2-chloro-N-methoxy-N-methylacetamide) and an appropriate Grignard reagent. The resulting α-chloro ketones can be reacted with commercially available anthranilic acids under microwave irradiation conditions to furnish the desired 2-alkyl-4-quinolone products. As a typical example, the synthesis of PQS, a molecule involved in quorum sensing in the pathogenic bacterium Pseudomonas aeruginosa, is described in detail. The first step of this process (α-chloro ketone formation) takes ∼10 h in total to complete from commercially available bromoheptane and 2-chloro-N-methoxy-N-methylacetamide. The second step (microwave-assisted reaction with anthranilic acid) takes ∼14 h in total to complete (the reaction typically proceeds in ∼30 min, with work-up and purification requiring ∼13 h).
Access options
Subscribe to Journal
Get full journal access for 1 year
$99.00
only $8.25 per issue
All prices are NET prices.
VAT will be added later in the checkout.
Tax calculation will be finalised during checkout.
Rent or Buy article
Get time limited or full article access on ReadCube.
from$8.99
All prices are NET prices.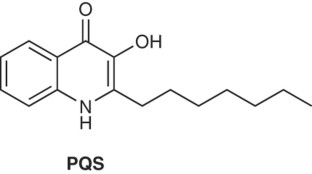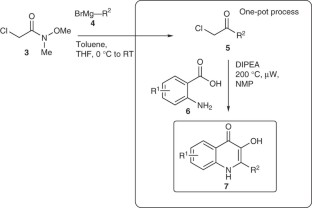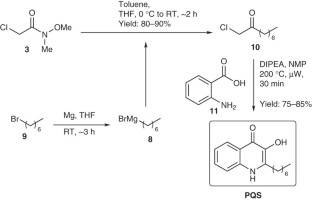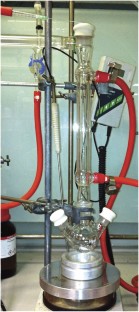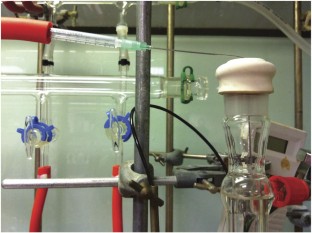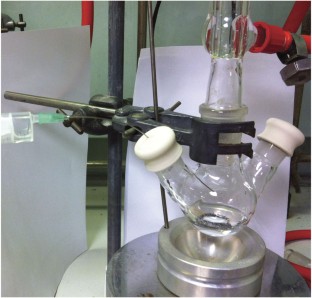 References
1

Galloway, W.R.J.D., Hodgkinson, J.T., Bowden, S.D., Welch, M. & Spring, D.R. Quorum sensing in Gram-negative bacteria: small-molecule modulation of AHL and AI-2 quorum sensing pathways. Chem. Rev. 111, 28–67 (2011).

2

Hodgkinson, J., Bowden, S.D., Galloway, W.R.J.D., Spring, D.R. & Welch, M. Structure-activity analysis of the Pseudomonas quinolone signal molecule. J. Bacteriol. 192, 3833–3837 (2010).

3

Hodgkinson, J.T. et al. Microwave and flow syntheses of Pseudomonas quinolone signal (PQS) and analogues. Org. Biomol. Chem. 9, 57–61 (2011).

4

Popat, R., Crusz, S.A. & Diggle, S.P. The social behaviours of bacterial pathogens. Br. Med. Bull. 87, 63–75 (2008).

5

Diggle, S.P. et al. The Pseudomonas aeruginosa quinolone signal molecule overcomes the cell density-dependency of the quorum sensing hierarchy, regulates rhl-dependent genes at the onset of stationary phase and can be produced in the absence of LasR. Mol. Microbiol. 50, 29–43 (2003).

6

Deziel, E. et al. The contribution of MvfR to Pseudomonas aeruginosa pathogenesis and quorum sensing circuitry regulation: multiple quorum sensing-regulated genes are modulated without affecting lasRI, rhlRI or the production of N-acyl-L-homoserine lactones. Mol. Microbiol. 55, 998–1014 (2005).

7

Collier, D.N. et al. A bacterial cell to cell signal in the lungs of cystic fibrosis patients. FEMS Microbiol. Lett. 215, 41–46 (2002).

8

Pitt, T.L., Sparrow, M., Warner, M. & Stefanidou, M. Survey of resistance of Pseudomonas aeruginosa from UK patients with cystic fibrosis to six commonly prescribed antimicrobial agents. Thorax 58, 794–796 (2003).

9

Pesci, E.C. et al. Quinolone signaling in the cell-to-cell communication system of Pseudomonas aeruginosa. Proc. Natl. Acad. Sci. USA 96, 11229–11234 (1999).

10

Pritchard, D.I., Bycroft, B.W., Chhabra, S.R. & Hooi, D. Substituted 4-quinolones. PCT international patent WO/2002/047686 (2002).

11

Hradil, P., Hlavac, J. & Lemr, K. Preparation of 1,2-disubstituted-3-hydroxy-4(1H)-quinolinines and the influence of substitution on the course of cyclization. J. Heterocycl. Chem. 36, 141–144 (1999).

12

Galloway, W.R.J.D., Isidro-Llobet, A. & Spring, D.R. Diversity-oriented synthesis as a tool for the discovery of novel biologically active small molecules. Nat. Commun. 1, 1–13 (2010).
Acknowledgements
We gratefully acknowledge financial support from the Engineering and Physical Sciences Research Council, the Biotechnology and Biological Sciences Research Council, the Medical Research Council and the Newman Trust.
Ethics declarations
Competing interests
The authors declare no competing financial interests.
About this article
Cite this article
Hodgkinson, J., Galloway, W., Welch, M. et al. Microwave-assisted preparation of the quorum-sensing molecule 2-heptyl-3-hydroxy-4(1H)-quinolone and structurally related analogs. Nat Protoc 7, 1184–1192 (2012). https://doi.org/10.1038/nprot.2012.054
Comments
By submitting a comment you agree to abide by our Terms and Community Guidelines. If you find something abusive or that does not comply with our terms or guidelines please flag it as inappropriate.