Abstract
This protocol describes an improved and optimized approach to develop rapid and high-sensitivity ELISAs by covalently immobilizing antibody on chemically modified polymeric surfaces. The method involves initial surface activation with KOH and an O2 plasma, and then amine functionalization with 3-aminopropyltriethoxysilane. The second step requires covalent antibody immobilization on the aminated surface, followed by ELISA. The ELISA procedure developed is 16-fold more sensitive than established methods. This protocol could be used generally as a quantitative analytical approach to perform high-sensitivity and rapid assays in clinical situations, and would provide a faster approach to screen phage-displayed libraries in antibody development facilities. The antibody immobilization procedure is of ∼3 h duration and facilitates rapid ELISAs. This method can be used to perform assays on a wide range of commercially relevant solid support matrices (including those that are chemically inert) with various biosensor formats.
Relevant articles
Open Access articles citing this article.
Maria João Oliveira

,

Ana Dalot

…

Hugo Águas

Discover Materials Open Access 15 December 2022

Tania García-Maceira

,

Fé I. García-Maceira

…

Elier Paz-Rojas

BMC Biotechnology Open Access 19 August 2020

Weixiao Liu

,

Xuri Liu

…

Wujun Jin

Biotechnology Letters Open Access 05 March 2020
Access options
Subscribe to this journal
Receive 12 print issues and online access
$259.00 per year
only $21.58 per issue
Rent or buy this article
Prices vary by article type
from$1.95
to$39.95
Prices may be subject to local taxes which are calculated during checkout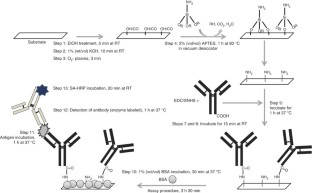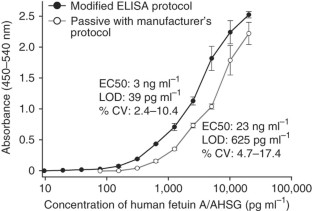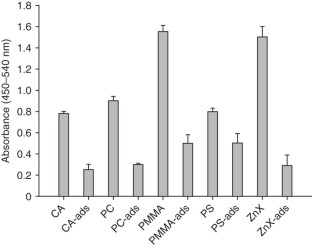 References
Jia, C.-P. et al. Nano-ELISA for highly sensitive protein detection. Biosens. Bioelectron. 24, 2836–2841 (2009).

Andrade, G., Barbosa-Stancioli, E.F., Mansur, A.A.P., Vasconcelos, W.L. & Mansur, H.S. Design of novel hybrid organic–inorganic nanostructured biomaterials for immunoassay applications. Biomed. Mater. 1, 221–234 (2006).

Ball, V., Huetz, P., Elaissari, A., Cazenava, J.P., Voegel, J.C. & Schaaf, P. Kinetics of exchange processes in the adsorption of proteins on solid surfaces. Proc. Natl Acad. Sci. USA 91, 7330–7334 (1994).

Huetz, P., Ball, V., Voegel, J.C. & Schaaf, P. Exchange kinetics for a heterogeneous protein system on a solid surface. Langmuir 11, 3145–3152 (1995).

Essa, H., Magner, E., Cooney, J. & Hodnett, B.K. Influence of pH and ionic strength on the adsorption, leaching and activity of myoglobin immobilized onto ordered mesoporous silicates. J. Mol. Catal. B 49, 61–68 (2007).

Wang, X., Wang, Y., Xu, H., Shan, H. & Lu, J.R. Dynamic adsorption of monoclonal antibody layers on hydrophilic silica surface: a combined study by spectroscopic ellipsometry and AFM. J. Colloid Interface Sci. 323, 18–25 (2008).

Kaur, J., Boro, R.C., Wangoo, N., Singh, K.R. & Suri, C.R. Direct hapten-coated immunoassay format for the detection of atrazine and 2,4-dichlorophenoxyacetic acid herbicides. Anal. Chim. Acta. 607, 92–99 (2008).

Mansur, H., Palhares, R., Andrade, G., Piscitelli-Mansur, A. & Barbosa-Stancioli, E. Improvement of viral recombinant protein-based immunoassays using nanostructured hybrids as solid support. J. Mater. Sci. Mater. Med. 20, 513–519 (2009).

Gomez-Serrano, V., Acedo-Ramos, M., Valenzuela-Calahorro, C. & Lopez-Peinado, A.J. Regeneration of activated carbon after contact with sulfuric acid solution. J. Chem. Technol. Biotechnol. 75, 835–839 (2000).

Vasconcellos, A.S., Oliveira, J.A.P. & Baumhardt-Neto, R. Adhesion of polypropylene treated with nitric and sulfuric acid. Eur. Polym. J. 33, 1731–1734 (1997).

Dixit, C.K., Vashist, S.K., O'Neill, F.T., O'Reilly, B., MacCraith, B.D. & O'Kennedy, R. Development of a high sensitivity rapid sandwich ELISA procedure and its comparison with the conventional approach. Anal. Chem. 82, 7049–7052 (2010).

Patel, G.N. & Bolikal, D. Single step pre-swelling and etching of plastics for plating. US patent no. 5,049,230 (1991).

Patel, G.N. & Patel, S.H. Etching plastics with nitrosyls. US patent no. 5,591,354 (1997).

Park, S. & Jung, W. Effect of KOH activation on the formation of oxygen structure in activated carbons synthesized from polymeric precursor. J. Colloid Interface. Sci. 250, 93–98 (2002).

Vijayendran, R.A. & Leckband, D.E. A quantitative assessment of heterogeneity for surface-immobilized proteins. Anal. Chem. 73, 471–480 (2001).

Park, S., Seo, M., Ma, T. & Lee, D. Effect of chemical treatment of Kevlar fibers on mechanical interfacial properties of composites. J. Colloid Interface Sci. 252, 249–255 (2002).

Svarnas, P., Spyrou, N. & Held, B. Polystyrene thin films treatment under DC point-to-plane low-pressure discharge in nitrogen for improving wettability. Eur. Phys. J. Appl. Phys. 28, 105–112 (2004).

Laib, S. & MacCraith, B.D. Immobilization of biomolecules on cycloolefin polymer supports. Anal. Chem. 79, 6264–6270 (2007).

Raj, J. et al. Surface immobilisation of antibody on cyclic olefin copolymer for sandwich immunoassay. Biosen. Bioelectron. 24, 2654–2658 (2009).

Boulares-Pender, A., Prager-Duschke, A., Elsner, C. & Buchmeiser, M.R. Surface-functionalization of plasma-treated polystyrene by hyperbranched polymers and use in biological applications. J. Appl. Polym. Sci. 112, 2701–2709 (2009).

North, S.H., Lock, E.H., Cooper, C.J., Franek, J.B., Taitt, C.R. & Walton, S.G. Plasma-based surface modification of polystyrene microtitre plates for covalent immobilization of biomolecules. Appl. Mater. Interface 2, 2884–2891 (2010).

Kaur, J., Singh, K.V., Raje, M., Varshney, G.C. & Suri, C.R. Strategies for direct attachment of hapten to a polystyrene support for applications in enzyme-linked immunosorbent assay (ELISA). Anal. Chim. Acta. 506, 133–135 (2004).

Lacy, A. et al. Rapid analysis of coumarins using surface plasmon resonance. J. AOAC Int. 89, 884–892 (2006).

Vashist, S.K., O'Sullivan, S.A., O'Neill, F., Holthofer, H., O'Reilly, B. & Dixit, C.K. A multiwell plate for biological assays. WIPO, Publication no. WO2010/044083 (2010).

Song, Y., Hildebrand, H. & Schmuki, P. Optimized monolayer grafting of 3-aminopropyltriethoxysilane onto amorphous, anatase and rutile TiO2 . Surf. Sci. 604, 346–353 (2010).

Cass, T. & Ligler, F.S. Immobilized Biomolecules in Analysis: A Practical Approach (Oxford University Press, 1998).

Armbruster, D.A., Schwarzhoff, R.H., Hubster, E.C. & Liserio, M.K. Enzyme immunoassay, kinetic microparticle immunoassay, radioimmunoassay, and fluorescence polarization immunoassay compared for drugs-of-abuse screening. Clin. Chem. 39, 2137–2146 (1993).

Armbruster, D.A., Tillman, M.D. & Hubbs, L.M. Limit of detection (LOD)/limit of quantitation (LOQ): comparison of the empirical and the statistical methods exemplified with GC-MS assays of abused drugs. Clin. Chem. 40, 1233–1238 (1994).
Acknowledgements
We acknowledge Bristol-Myers Squibb (BMS), Syracuse, USA and Industrial Development Agency, Ireland for the financial support under the Centre for Bioanalytical Sciences (CBAS) project code 116294. This material is based on work supported in part by the Science Foundation Ireland under grant 05/CE3/B754.
Ethics declarations
Competing interests
The authors declare no competing financial interests.
Supplementary information
About this article
Cite this article
Dixit, C., Vashist, S., MacCraith, B. et al. Multisubstrate-compatible ELISA procedures for rapid and high-sensitivity immunoassays. Nat Protoc 6, 439–445 (2011). https://doi.org/10.1038/nprot.2011.304
Published:

Issue Date:

DOI: https://doi.org/10.1038/nprot.2011.304
Comments
By submitting a comment you agree to abide by our Terms and Community Guidelines. If you find something abusive or that does not comply with our terms or guidelines please flag it as inappropriate.