Abstract
Genome-wide mapping of 5-methylcytosine is of broad interest to many fields of biology and medicine. A variety of methods have been developed, and several have recently been advanced to genome-wide scale using arrays and next-generation sequencing approaches. We have previously reported reduced representation bisulfite sequencing (RRBS), a bisulfite-based protocol that enriches CG-rich parts of the genome, thereby reducing the amount of sequencing required while capturing the majority of promoters and other relevant genomic regions. The approach provides single-nucleotide resolution, is highly sensitive and provides quantitative DNA methylation measurements. This protocol should enable any standard molecular biology laboratory to generate RRBS libraries of high quality. Briefly, purified genomic DNA is digested by the methylation-insensitive restriction enzyme MspI to generate short fragments that contain CpG dinucleotides at the ends. After end-repair, A-tailing and ligation to methylated Illumina adapters, the CpG-rich DNA fragments (40–220 bp) are size selected, subjected to bisulfite conversion, PCR amplified and end sequenced on an Illumina Genome Analyzer. Note that alignment and analysis of RRBS sequencing reads are not covered in this protocol. The extremely low input requirements (10–300 ng), the applicability of the protocol to formalin-fixed and paraffin-embedded samples, and the technique's single-nucleotide resolution extends RRBS to a wide range of biological and clinical samples and research applications. The entire process of RRBS library construction takes ∼9 d.
Relevant articles
Open Access articles citing this article.
Christophe Papin

,

Abdulkhaleg Ibrahim

…

Ali Hamiche

Journal of Experimental & Clinical Cancer Research Open Access 14 November 2023

Yuhua Hu

,

Feng Shen

…

Qing Guo

Clinical Epigenetics Open Access 11 October 2023

Jeffrey C. Y. Yu

,

Yixiao Zeng

…

Marie Hudson

Clinical Epigenetics Open Access 03 June 2023
Access options
Subscribe to this journal
Receive 12 print issues and online access
$259.00 per year
only $21.58 per issue
Rent or buy this article
Prices vary by article type
from$1.95
to$39.95
Prices may be subject to local taxes which are calculated during checkout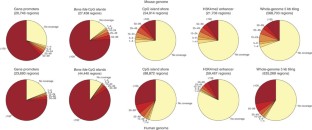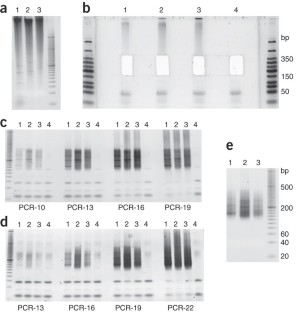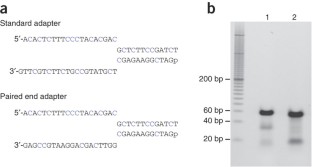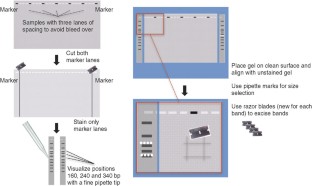 References
Bird, A. DNA methylation patterns and epigenetic memory. Genes Dev. 16, 6–21 (2002).

Meissner, A. et al. Genome-scale DNA methylation maps of pluripotent and differentiated cells. Nature 454, 766–770 (2008).

Illingworth, R. et al. A novel CpG island set identifies tissue-specific methylation at developmental gene loci. PLoS Biol. 6, e22 (2008).

Mohn, F. et al. Lineage-specific polycomb targets and de novo DNA methylation define restriction and potential of neuronal progenitors. Mol. cell. 30, 755–766 (2008).

Weber, M. et al. Distribution, silencing potential and evolutionary impact of promoter DNA methylation in the human genome. Nat. Genet. 39, 457–466 (2007).

Laurent, L. et al. Dynamic changes in the human methylome during differentiation. Genome Res. 30, 320–331 (2010).

Cokus, S.J. et al. Shotgun bisulphite sequencing of the Arabidopsis genome reveals DNA methylation patterning. Nature 452, 215–219 (2008).

Lister, R. et al. Highly integrated single-base resolution maps of the epigenome in Arabidopsis. Cell 133, 523–536 (2008).

Lister, R. et al. Human DNA methylomes at base resolution show widespread epigenomic differences. Nature 462, 296–297 (2009).

Gu, H. et al. Genome-scale DNA methylation mapping of clinical samples at single-nucleotide resolution. Nat. Methods 7, 133–136 (2010).

Frommer, M. et al. A genomic sequencing protocol that yields a positive display of 5-methylcytosine residues in individual DNA strands. Proc. Natl. Acad. Sci. USA 89, 1827–1831 (1992).

Bibikova, M. et al. Genome-wide DNA methylation profiling using Infinium assay. Epigenomics 1, 177–200 (2009).

Eckhardt, F. et al. DNA methylation profiling of human chromosomes 6, 20 and 22. Nat. Genet. 38, 1378–1385 (2006).

Khulan, B. et al. Comparative isoschizomer profiling of cytosine methylation: the HELP assay. Genome Res. 16, 1046–1055 (2006).

Brunner, A.L. et al. Distinct DNA methylation patterns characterize differentiated human embryonic stem cells and developing human fetal liver. Genome Res. 19, 1044–1056 (2009).

Irizarry, R.A. et al. Comprehensive high-throughput arrays for relative methylation (CHARM). Genome Res. 18, 780–790 (2008).

Oda, M. et al. High-resolution genome-wide cytosine methylation profiling with simultaneous copy number analysis and optimization for limited cell numbers. Nucleic Acids Res. 37, 3829–3839 (2009).

Down, T.A. et al. A Bayesian deconvolution strategy for immunoprecipitation-based DNA methylome analysis. Nat. Biotechnol. 26, 779–785 (2008).

Weber, M. et al. Chromosome-wide and promoter-specific analyses identify sites of differential DNA methylation in normal and transformed human cells. Nat. Genet. 37, 853–862 (2005).

Brinkman, A.B. et al. Whole-genome DNA methylation profiling using MethylCap-seq. Methods 52, 232–236 (2010).

Rauch, T. & Pfeifer, G.P. Methylated-CpG island recovery assay: a new technique for the rapid detection of methylated-CpG islands in cancer. Lab. Invest. 85, 1172–1180 (2005).

Serre, D., Lee, B.H. & Ting, A.H. MBD-isolated Genome Sequencing provides a high-throughput and comprehensive survey of DNA methylation in the human genome. Nucleic Acids Res. 38, 391–399 (2009).

Bock, C. et al. Quantitative comparison of genome-wide DNA methylation mapping technologies. Nat. Biotechnol 28, 1106–1114 (2010).

Baranzini, S.E., et al. Genome, epigenome and RNA sequences of monozygotic twins discordant for multiple sclerosis. Nature 464, 1351–1356 (2010).

Meissner, A. et al. Reduced representation bisulfite sequencing for comparative high-resolution DNA methylation analysis. Nucleic Acids Res. 33, 5868–5877 (2005).

Ramsahoye, B.H. et al. Non-CpG methylation is prevalent in embryonic stem cells and may be mediated by DNA methyltransferase 3a. Proc. Natl. Acad. Sci. USA 97, 5237–5242 (2000).

Li, H., Ruan, J. & Durbin, R. Mapping short DNA sequencing reads and calling variants using mapping quality scores. Genome Res. 18, 1851–1858 (2008).

Chen, P.Y., Cokus, S.J. & Pellegrini, M. BS Seeker: precise mapping for bisulfite sequencing. BMC Bioinformatics 11, 203 (2010).

Xi, Y. & Li, W. BSMAP: whole genome bisulfite sequence MAPping program. BMC Bioinformatics 10, 232 (2009).

Karolchik, D. et al. The UCSC Genome Browser Database. Nucleic Acids Res. 31, 51–54 (2003).

Beck, S. Taking the measure of the methylome. Nat. Biotechnol. 28, 1016–1028 (2010).
Acknowledgements
We thank all the members of Meissner and Gnirke labs, C. Epstein and all the members of the Sequencing Platform at the Broad Institute. C.B. is supported by a Feodor Lynen Fellowship from the Alexander von Humboldt Foundation. A.M. is supported by the Massachusetts Life Science Center, the Pew Charitable Trusts and the NIH Roadmap Initiative on Epigenomics (U01ES017155).
Ethics declarations
Competing interests
The authors declare no competing financial interests.
About this article
Cite this article
Gu, H., Smith, Z., Bock, C. et al. Preparation of reduced representation bisulfite sequencing libraries for genome-scale DNA methylation profiling. Nat Protoc 6, 468–481 (2011). https://doi.org/10.1038/nprot.2010.190
Published:

Issue Date:

DOI: https://doi.org/10.1038/nprot.2010.190
Comments
By submitting a comment you agree to abide by our Terms and Community Guidelines. If you find something abusive or that does not comply with our terms or guidelines please flag it as inappropriate.