Abstract
The application of a targeted mass spectrometric workflow to the sensitive identification of post-translational modifications is described. This protocol employs multiple reaction monitoring (MRM) to search for all putative peptides specifically modified in a target protein. Positive MRMs trigger an MS/MS experiment to confirm the nature and site of the modification. This approach, termed MIDAS (MRM-initiated detection and sequencing), is more sensitive than approaches using neutral loss scanning or precursor ion scanning methodologies, due to a more efficient use of duty cycle along with a decreased background signal associated with MRM. We describe the use of MIDAS for the identification of phosphorylation, with a typical experiment taking just a couple of hours from obtaining a peptide sample. With minor modifications, the MIDAS method can be applied to other protein modifications or unmodified peptides can be used as a MIDAS target.
Relevant articles
Open Access articles citing this article.
Stefan Meyer

,

Adam Stevens

…

Anthony D Whetton

Cell Death & Disease Open Access 15 June 2017

Arnulf H. Koeppen

,

R. Liane Ramirez

…

Joseph E. Mazurkiewicz

Acta Neuropathologica Communications Open Access 03 May 2016

Magnus Berle

,

Ann C Kroksveen

…

Frode S Berven

Fluids and Barriers of the CNS Open Access 20 May 2011
Access options
Subscribe to this journal
Receive 12 print issues and online access
$259.00 per year
only $21.58 per issue
Rent or buy this article
Prices vary by article type
from$1.95
to$39.95
Prices may be subject to local taxes which are calculated during checkout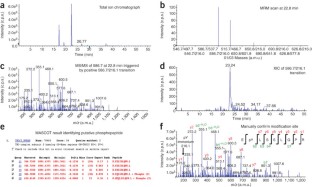 References
Walsh, C.T. Posttranslational Modifications of Proteins: Expanding Nature's Inventory (Roberts and Co., Greenwood, CO, 2006).

Andon, N.L., Eckert, D., Yates, J.R. III. & Haynes, P.A. High-throughput functional affinity purification of mannose binding proteins from Oryza sativa . Proteomics 3, 1270–1278 (2003).

Iwabata, H., Yoshida, M. & Komatsu, Y. Proteomic analysis of organ-specific post-translational lysine-acetylation and -methylation in mice by use of anti-acetyllysine and -methyllysine mouse monoclonal antibodies. Proteomics 5, 4653–4664 (2005).

Posewitz, M.C. & Tempst, P. Immobilized gallium (III) affinity chromatography of phosphopeptides. Anal. Chem. 71, 2883–2892 (1999).

Montagnoli, A. et al. Identification of Mcm2 phosphorylation sites by S-phase-regulating kinases. J. Biol. Chem. 281, 10281–10290 (2006).

Schlosser, A., Pipkorn, R., Bossemeyer, D. & Lehmann, W.D. Analysis of protein phosphorylation by a combination of elastase digestion and neutral loss tandem mass spectrometry. Anal. Chem. 73, 170–176 (2001).

Steen, H., Kuster, B., Fernandez, M., Pandey, A. & Mann, M. Detection of tyrosine phosphorylated peptides by precursor ion scanning quadrupole TOF mass spectrometry in positive ion mode. Anal. Chem. 73, 1440–1448 (2001).

Unwin, R.D. et al. Multiple reaction monitoring to identify sites of protein phosphorylation with high sensitivity. Mol. Cell Proteomics 4, 1134–1144 (2005).

Griffiths, J.R. et al. The application of a hypothesis-driven strategy to the sensitive detection and location of acetylated lysine residues. J. Am. Soc. Mass Spectrom. 18, 1423–1428 (2007).

Mollah, S. et al. Targeted mass spectrometric strategy for global mapping of ubiquitination on proteins. Rapid Commun. Mass Spectrom. 21, 3357–3364 (2007).

Ciccimaro, E., Hevko, J. & Blair, I.A. Analysis of phosphorylation sites on focal adhesion kinase using nanospray liquid chromatography/multiple reaction monitoring mass spectrometry. Rapid Commun. Mass Spectrom 20, 3681–3692 (2006).

Welman, A., Griffiths, J.R., Whetton, A.D. & Dive, C. Protein kinase C delta is phosphorylated on five novel Ser/Thr sites following inducible overexpression in human colorectal cancer cells. Protein Sci. 16, 2711–2715 (2007).

Pierce, A. et al. THOC5 spliceosome protein: a target for leukaemogenic tyrosine kinases that affects inositol lipid turnover. Br. J. Haematol. 141, 641–650 (2008).

Traweger, A. et al. Protein phosphatase 1 regulates the phosphorylation state of the polarity scaffold Par-3. Proc. Natl Acad. Sci. USA 105, 10402–10407 (2008).

McCoy, C.E. et al. Identification of novel phosphorylation sites in MSK1 by precursor ion scanning MS. Biochem. J. 402, 491–501 (2007).

Anderson, L. & Hunter, C.L. Quantitative mass spectrometric multiple reaction monitoring assays for major plasma proteins. Mol. Cell Proteomics 5, 573–588 (2006).

Shevchenko, A., Tomas, H., Havlis, J., Olsen, J.V. & Mann, M. In-gel digestion for mass spectrometric characterization of proteins and proteomes. Nat. Protoc. 1, 2856–2860 (2006).

Unwin, R.D. et al. Global effects of BCR/ABL and TEL/PDGFRâ expression on the proteome and phosphoproteome: identification of the Rho pathway as a target of BCR/ABL. J. Biol. Chem. 280, 6316–6326 (2005).
Acknowledgements
This study was supported by Leukaemia Research UK and BBSRC.
About this article
Cite this article
Unwin, R., Griffiths, J. & Whetton, A. A sensitive mass spectrometric method for hypothesis-driven detection of peptide post-translational modifications: multiple reaction monitoring-initiated detection and sequencing (MIDAS). Nat Protoc 4, 870–877 (2009). https://doi.org/10.1038/nprot.2009.57
Published:

Issue Date:

DOI: https://doi.org/10.1038/nprot.2009.57
Comments
By submitting a comment you agree to abide by our Terms and Community Guidelines. If you find something abusive or that does not comply with our terms or guidelines please flag it as inappropriate.