Abstract
The neutrophil serine proteases (NSPs) elastase, proteinase 3 and cathepsin G are multifunctional proteases involved in pathogen destruction and the modulation of inflammatory processes. A fraction of secreted NSPs remains bound to the external plasma membrane, where they remain enzymatically active. This protocol describes the spectrofluorometric measurement of NSP activities on neutrophil surfaces using highly sensitive Abz-peptidyl-EDDnp fluorescence resonance energy transfer (FRET) substrates that fully discriminate between the three human NSPs. We describe FRET substrate synthesis, neutrophil purification and handling, and kinetic experiments on quiescent and activated cells. These are used to measure subnanomolar concentrations of membrane-bound or free NSPs in low-binding microplates and to quantify the activities of individual proteases in biological fluids like expectorations and bronchoalveolar lavages. The whole procedure, including neutrophil purification and kinetic measurements, can be done in 4–5 h and should not be longer because of the lifetime of neutrophils. Using this protocol will help identify the contributions of individual NSPs to the development of inflammatory diseases and may reveal these proteases to be targets for therapeutic inhibitors.
Relevant articles
Open Access articles citing this article.
Tai-Ying Chu

,

Céline Zheng-Gérard

…

Hsi-Hsien Lin

Nature Communications Open Access 27 October 2022

Mario Navarrete

,

Brice Korkmaz

…

John A. Wilkins

Clinical Proteomics Open Access 16 June 2020

Shan Huang

,

Kristina A. Thomsson

…

Thomas Eisler

Scientific Reports Open Access 06 March 2020
Access options
Subscribe to this journal
Receive 12 print issues and online access
$259.00 per year
only $21.58 per issue
Rent or buy this article
Prices vary by article type
from$1.95
to$39.95
Prices may be subject to local taxes which are calculated during checkout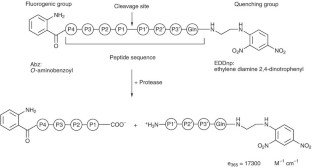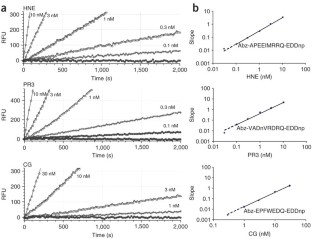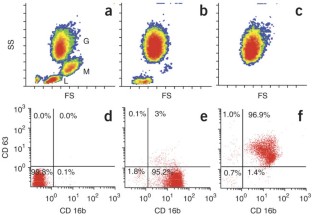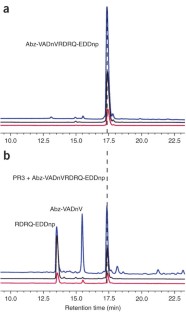 References
Pham, C.T. Neutrophil serine proteases: specific regulators of inflammation. Nat. Rev. Immunol. 6, 541–550 (2006).

Korkmaz, B., Moreau, T. & Gauthier, F. Neutrophil elastase, protease 3 and cathepsin G. Physicochemical properties, activity and pathophysiological functions. Biochimie 90, 227–242 (2008).

Weiss, S.J. Tissue destruction by neutrophils. N. Engl. J. Med. 320, 365–376 (1989).

Witko-Sarsat, V., Rieu, P., Descamps-Latscha, B., Lesavre, P. & Halbwachs-Mecarelli, L. Neutrophils: molecules, functions and pathophysiological aspects. Lab. Invest. 80, 617–653 (2000).

Bank, U. & Ansorge, S. More than destructive: neutrophil-derived serine proteases in cytokine bioactivity control. J. Leukoc. Biol. 69, 197–206 (2001).

Wiedow, O. & Meyer-Hoffert, U. Neutrophil serine proteases: potential key regulators of cell signalling during inflammation. J. Intern. Med. 257, 319–328 (2005).

Sugawara, S. Immune functions of proteinase 3. Crit. Rev. Immunol. 25, 343–360 (2005).

Owen, C.A. & Campbell, E.J. The cell biology of leukocyte-mediated proteolysis. J. Leukoc. Biol. 65, 137–150 (1999).

Sarraf, P. & Sneller, M.C. Pathogenesis of Wegener's granulomatosis: current concepts. Expert. Rev. Mol. Med. 7, 1–19 (2005).

Kallenberg, C.G., Heeringa, P. & Stegeman, C.A. Mechanisms of disease: pathogenesis and treatment of ANCA-associated vasculitides. Nat. Clin. Pract. Rheumatol. 2, 661–670 (2006).

Attucci, S. et al. Measurement of free and membrane-bound cathepsin G in human neutrophils using new sensitive fluorogenic substrates. Biochem. J. 366, 965–970 (2002).

Korkmaz, B. et al. Discriminating between the activities of human neutrophil elastase and proteinase 3 using serpin-derived fluorogenic substrates. J. Biol. Chem. 277, 39074–39081 (2002).

Koehl, C., Knight, C.G. & Bieth, J.G. Compared action of neutrophil proteinase 3 and elastase on model substrates. Favorable effect of S′–P′ interactions on proteinase 3 catalysts. J. Biol. Chem. 278, 12609–12612 (2003).

Korkmaz, B., Attucci, S., Jourdan, M.L., Juliano, L. & Gauthier, F. Inhibition of neutrophil elastase by alpha1-protease inhibitor at the surface of human polymorphonuclear neutrophils. J. Immunol. 175, 3329–3338 (2005).

Korkmaz, B. et al. Competition between elastase and related proteases from human neutrophil for binding to alpha1-protease inhibitor. Am. J. Respir. Cell. Mol. Biol. 32, 553–559 (2005).

Korkmaz, B. et al. Influence of charge distribution at the active site surface on the substrate specificity of human neutrophil protease 3 and elastase. A kinetic and molecular modeling analysis. J. Biol. Chem. 282, 1989–1997 (2007).

Janoff, A. Alanine P-nitrophenyl esterase activity of human leucocyte granules. Biochem. J. 114, 157–159 (1969).

Nakajima, K., Powers, J.C., Ashe, B.M. & Zimmerman, M. Mapping the extended substrate binding site of cathepsin G and human leukocyte elastase. Studies with peptide substrates related to the alpha 1-protease inhibitor reactive site. J. Biol. Chem. 254, 4027–4032 (1979).

Janoff, A., Raju, L. & Dearing, R. Levels of elastase activity in bronchoalveolar lavage fluids of healthy smokers and nonsmokers. Am. Rev. Respir. Dis. 127, 540–544 (1983).

Hedstrom, L. Serine protease mechanism and specificity. Chem. Rev. 102, 4501–4523 (2002).

Kam, C.M. et al. Substrate and inhibitor studies on proteinase 3. FEBS Lett. 297, 119–123 (1992).

Korkmaz, B. et al. Design and use of highly specific substrates of neutrophil elastase and proteinase 3. Am. J. Respir. Cell. Mol. Biol. 30, 801–807 (2004).

Yaron, A., Carmel, A. & Katchalski-Katzir, E. Intramolecularly quenched fluorogenic substrates for hydrolytic enzymes. Anal. Biochem. 95, 228–235 (1979).

Réhault, S. et al. New, sensitive fluorogenic substrates for human cathepsin G based on the sequence of serpin-reactive site loops. J. Biol. Chem. 274, 13810–13817 (1999).

Rao, N.V. et al. Characterization of proteinase-3 (PR-3), a neutrophil serine proteinase. Structural and functional properties. J. Biol. Chem. 266, 9540–9548 (1991).

Owen, C.A., Campbell, M.A., Sannes, P.L., Boukedes, S.S. & Campbell, E.J. Cell surface-bound elastase and cathepsin G on human neutrophils: a novel, non-oxidative mechanism by which neutrophils focus and preserve catalytic activity of serine proteinases. J. Cell. Biol. 131, 775–789 (1995).

Owen, C.A., Campbell, M.A., Boukedes, S.S. & Campbell, E.J. Inducible binding of bioactive cathepsin G to the cell surface of neutrophils. A novel mechanism for mediating extracellular catalytic activity of cathepsin G. J. Immunol. 155, 5803–5810 (1995).

Campbell, E.J., Campbell, M.A. & Owen, C.A. Bioactive proteinase 3 on the cell surface of human neutrophils: quantification, catalytic activity, and susceptibility to inhibition. J. Immunol. 165, 3366–3374 (2000).

Chagas, J.R., Juliano, L. & Prado, E.S. Intramolecularly quenched fluorogenic tetrapeptide substrates for tissue and plasma kallikreins. Anal. Biochem. 192, 419–425 (1991).

Hirata, I.Y., Cezari, M.H.S., Nakaie, C.R., Boschcov, P., Ito, A.S. & Juliano, M.A. Internally quenched fluorogenic protease substrates: solid phase synthesis and fluorescence spectroscopy of peptides containing ortho-aminobenzoyl/dinitrophenyl groups as donor–acceptor pairs. Lett. Pept. Sci. 1, 299–308 (1994).

de Souza, E.S., Hirata, I.Y., Juliano, L. & Ito, A.S. End-to-end distance distribution in bradykinin observed by Forster resonance energy transfer. Biochim. Biophys. Acta. 1474, 251–261 (2000).

Pimenta, D.C. et al. Interaction of heparin with internally quenched fluorogenic peptides derived from heparin-binding consensus sequences, kallistatin and anti-thrombin III. Biochem. J. 366, 435–446 (2002).

Ito, A.S. et al. Fluorescent properties of amino acids labeled with ortho-aminobenzoic acid. Biospectroscopy 4, 395–402 (1998).

Attucci, S. et al. EPI-hNE4, a proteolysis-resistant inhibitor of human neutrophil elastase and potential anti-inflammatory drug for treating cystic fibrosis. J. Pharmacol. Exp. Ther. 318, 803–809 (2006).

Kaiser, E., Colescott, R.L., Bossinger, C.D. & Cook, P.I. Color test for detection of free terminal amino groups in the solid-phase synthesis of peptides. Anal. Biochem. 34, 595–598 (1970).

Coin, I., Beyermann, M. & Bienert, M. Solid-phase peptide synthesis: from standard procedures to the synthesis of difficult sequences. Nat. Protoc. 2, 3247–3256 (2007).

Carmona, A.K., Schwager, S.L., Juliano, M.A., Juliano, L. & Sturrock, E.D. A continuous fluorescence resonance energy transfer angiotensin I-converting enzyme assay. Nat. Protoc. 1, 1971–1976 (2006).

Chase, T. Jr. & Shaw, E. P-nitrophenyl-P′-guanidinobenzoate HCl: a new active site titrant for trypsin. Biochem. Biophys. Res. Commun. 29, 508–514 (1967).
Acknowledgements
B.K. was funded by the Alexander von Humboldt Foundation and the German Research Council. This work was supported in France by Vaincre la Mucoviscidose and in Brazil by Fundação de Amparo a Pesquisa do Estado de São Paulo (FAPESP) and Conselho Nacional de Desenvolvimento Científico e Tecnológico (CNPq-PADCT). The authors thank Owen Parkes for editing the English text.
About this article
Cite this article
Korkmaz, B., Attucci, S., Juliano, M. et al. Measuring elastase, proteinase 3 and cathepsin G activities at the surface of human neutrophils with fluorescence resonance energy transfer substrates. Nat Protoc 3, 991–1000 (2008). https://doi.org/10.1038/nprot.2008.63
Published:

Issue Date:

DOI: https://doi.org/10.1038/nprot.2008.63
Comments
By submitting a comment you agree to abide by our Terms and Community Guidelines. If you find something abusive or that does not comply with our terms or guidelines please flag it as inappropriate.