Abstract
This protocol describes a method for the one-tube preparative-scale assembly of a specific DNA molecule, the enzymatic ligation assisted by nucleases (ELAN) technique. DNA fragments in ligation reactions are capable of combining to produce numerous products. The ELAN method uses judicious choice of restriction enzyme sites coupled with simultaneous digestion and ligation reactions to create just one product, by converting off-pathway products back into substrate. The experimental parameters critical for a successful ELAN reaction are discussed, and the ordered, one-tube assembly of four DNA fragments in the presence of eight restriction enzymes is demonstrated. This technique will be useful to those performing gene construction, DNA computing, biophysics and even standard molecular cloning. Starting with reactant fragments, the protocol takes 4–16 h to produce nanogram to microgram yields, depending on the complexity of the reaction.
Access options
Subscribe to Journal
Get full journal access for 1 year
$99.00
only $8.25 per issue
All prices are NET prices.
VAT will be added later in the checkout.
Tax calculation will be finalised during checkout.
Buy article
Get time limited or full article access on ReadCube.
$32.00
All prices are NET prices.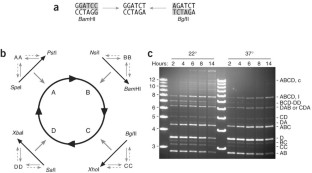 References
Cost, G.J. & Cozzarelli, N.R. Directed assembly of DNA molecules via simultaneous ligation and digestion. Biotechniques 42, 84–89 (2007).

Bustamante, C., Bryant, Z. & Smith, S.B. Ten years of tension: single-molecule DNA mechanics. Nature 421, 423–427 (2003).

Kodumal, S.J. et al. Total synthesis of long DNA sequences: synthesis of a contiguous 32-kb polyketide synthase gene cluster. Proc. Natl. Acad. Sci. USA 101, 15573–15578 (2004).
Acknowledgements
This work was funded in part by the grant GM31657 to Nicholas R. Cozzarelli from the National Institutes of Health. G.J.C. was the Amgen Fellow of the Damon Runyon Cancer Research Foundation (grant 1702-02), and was supported by a Kirschstein National Research Service award from the National Institutes of Health (F32 GM075645-01).
Ethics declarations
Competing interests
The author declares no competing financial interests.
About this article
Cite this article
Cost, G. Enzymatic ligation assisted by nucleases: simultaneous ligation and digestion promote the ordered assembly of DNA. Nat Protoc 2, 2198–2202 (2007). https://doi.org/10.1038/nprot.2007.325
Published:

Issue Date:

DOI: https://doi.org/10.1038/nprot.2007.325
This article is cited by
Nature Genetics (2018)

Eric J Tomko
James Fishburn
Eric A Galburt

Nature Structural & Molecular Biology (2017)

Xiaoou Jiang
Han Yu
Volker Patzel

Molecular Therapy (2016)
Comments
By submitting a comment you agree to abide by our Terms and Community Guidelines. If you find something abusive or that does not comply with our terms or guidelines please flag it as inappropriate.