Abstract
Histone post-translational modifications have been recently intensely studied owing to their role in regulating gene expression. Here, we describe protocols for the characterization of histone modifications in both qualitative and semiquantitative manners using chemical derivatization and tandem mass spectrometry. In these procedures, extracted histones are first derivatized using propionic anhydride to neutralize charge and block lysine residues, and are subsequently digested using trypsin, which, under these conditions, cleaves only the arginine residues. The generated peptides can be easily analyzed using online LC-electrospray ionization-tandem mass spectrometry to identify the modification site. In addition, a stable isotope-labeling step can be included to modify carboxylic acid groups allowing for relative quantification of histone modifications. This methodology has the advantage of producing a small number of predicted peptides from highly modified proteins. The protocol should take approximately 15–19 h to complete, including all chemical reactions, enzymatic digestion and mass spectrometry experiments.
Access options
Access options
Subscribe to Journal
Get full journal access for 1 year
$495.00
only $41.25 per issue
All prices are NET prices.
VAT will be added later in the checkout.
Rent or Buy article
Get time limited or full article access on ReadCube.
from$8.99
All prices are NET prices.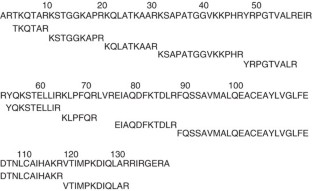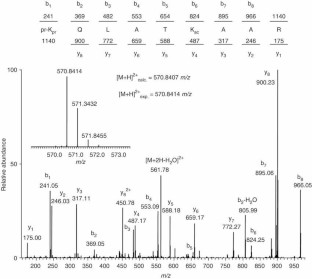 References
1

Turner, B.M. Cellular memory and the histone code. Cell 111, 285–291 (2002).

2

Berger, S.L. Histone modifications in transcriptional regulation. Curr. Opin. Genet. Dev. 12, 142–148 (2002).

3

Jenuwein, T. & Allis, C.D. Translating the histone code. Science 293, 1074–1080 (2001).

4

Zhang, K. et al. Identification of acetylation and methylation sites of histone H3 from chicken erythrocytes by high-accuracy matrix-assisted laser desorption ionization-time-of-flight, matrix-assisted laser desorption ionization-postsource decay, and nanoelectrospray ionization tandem mass spectrometry. Anal. Biochem. 306, 259–269 (2002).

5

Strahl, B.D. et al. Methylation of histone H4 at arginine 3 occurs in vivo and is mediated by the nuclear receptor coactivator PRMT1. Curr. Biol. 11, 996–1000 (2001).

6

Zhang, L., Eugeni, E.E., Parthun, M.R. & Freitas, M.A. Identification of novel histone post-translational modifications by peptide mass fingerprinting. Chromosoma 112, 77–86 (2004).

7

Pesavento, J.J., Kim, Y.B., Taylor, G.K. & Kelleher, N.L. Shotgun annotation of histone modifications: a new approach for streamlined characterization of proteins by top down mass spectrometry. J. Am. Chem. Soc. 126, 3386–3387 (2004).

8

McKittrick, E., Gafken, P.R., Ahmad, K. & Henikoff, S. Histone H3.3 is enriched in covalent modifications associated with active chromatin. Proc. Natl. Acad. Sci. USA. 101, 1525–1530 (2004).

9

Mollah, S. et al. New approach for mapping of post-translational modifications of histones. 50th American Society for Mass Spectrometry Conference Proceedings. Orlando, Fl (2002).

10

Peters, A.H. et al. Partitioning and plasticity of repressive histone methylation states in mammalian chromatin. Mol. Cell 12, 1577–1589 (2003).

11

Bonaldi, T., Imhof, A. & Regula, J.T. A combination of different mass spectroscopic techniques for the analysis of dynamic changes of histone modifications. Proteomics 4, 1382–1396 (2004).

12

Loyola, A., Bonaldi, T., Roche, D., Imhof, A. & Almouzni, G. PTMs on H3 variants before chromatin assembly potentiate their final epigenetic state. Mol. Cell. 24, 309–316 (2006).

13

Syka, J.E. et al. Novel linear quadrupole ion trap/FT mass spectrometer: performance characterization and use in the comparative analysis of histone H3 post-translational modifications. J. Proteome Res. 3, 621–626 (2004).

14

Johnson, L. et al. Mass spectrometry analysis of Arabidopsis histone H3 reveals distinct combinations of post-translational modifications. Nucleic Acids Res. 32, 6511–6518 (2004).

15

Garcia, B.A., Busby, S.A., Shabanowitz, J., Hunt, D.F. & Mishra, N. Resetting the epigenetic histone code in the MRL-lpr/lpr mouse model of lupus by histone deacetylase inhibition. J. Proteome Res. 4, 2032–2042 (2005).

16

Hake, S.B. et al. Expression patterns and post-translational modifications associated with mammalian histone H3 variants. J. Biol. Chem. 281, 559–568 (2006).

17

Garcia, B.A. et al. Comprehensive phosphoprotein analysis of linker histone H1 from Tetrahymena thermophila. Mol. Cell Proteomics. 5, 1593–1609 (2006).
Acknowledgements
Funding from the National Institutes of Health (GM 37537) to D.F.H. and the Ford Foundation to B.A.G is gratefully acknowledged.
Ethics declarations
Competing interests
The authors declare no competing financial interests.
Comments
By submitting a comment you agree to abide by our Terms and Community Guidelines. If you find something abusive or that does not comply with our terms or guidelines please flag it as inappropriate.