Abstract
Alterations of normal gene expression patterns are a hallmark of human cancers. It is now clear that the dysregulation of epigenetic modifications of the DNA and surrounding histones contributes to aberrant gene silencing, thus being major participants not only in the progression but also the initiation of the disease phenotype. The best-studied epigenetic modification is DNA methylation, which converts cytosine to 5-methylcytosine. Aberrant hypermethylation of the promoter is frequently observed in cancer and is generally associated with gene silencing. Currently, accurate and reproducible quantification of DNA methylation remains challenging. Here, we describe Bio-COBRA, a modified protocol for Combined Bisulfite Restriction Analysis (COBRA), that incorporates an electrophoresis step in microfluidics chips. Microfluidics technology involves the handling of small amounts of liquid in miniaturized systems. In the life sciences, microfluidics usually entails the scaling down of at least one application, such as electrophoresis, to chip format, which often results in increased efficiency and reliability. Bio-COBRA provides a platform for the rapid and quantitative assessment of DNA methylation patterns in large sample sets. Its sensitivity and reproducibility also makes it a tool for the analysis of DNA methylation in clinical samples. The Bio-COBRA assay can be performed on 12 samples in less than 1 h. If the protocol is started at the DNA isolation step, however, approximately 48 h would be required to complete the entire procedure.
Relevant articles
Open Access articles citing this article.
Egyptian Journal of Forensic Sciences Open Access 24 January 2018
Access options
Subscribe to Journal
Get full journal access for 1 year
$99.00
only $8.25 per issue
All prices are NET prices.
VAT will be added later in the checkout.
Tax calculation will be finalised during checkout.
Buy article
Get time limited or full article access on ReadCube.
$32.00
All prices are NET prices.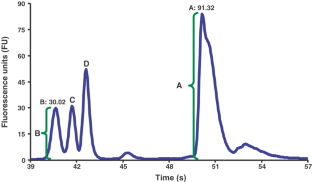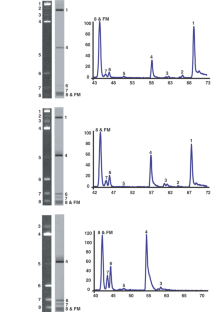 References
Baylin, S.B. et al. Abnormal patterns of DNA methylation in human neoplasia: potential consequences for tumor progression. Cancer Cells 3, 383–390 (1991).

Esteller, M. Cancer epigenetics: DNA methylation and chromatin alterations in human cancer. Adv. Exp. Med. Biol. 532, 39–49 (2003).

Costello, J.F. et al. Aberrant CpG-island methylation has non-random and tumour-type-specific patterns. Nat. Genet. 24, 132–138 (2000).

Jones, P.A. & Laird, P.W. Cancer epigenetics comes of age. Nat. Genet. 21, 163–167 (1999).

Jones, P.A. & Baylin, S.B. The fundamental role of epigenetic events in cancer. Nat. Rev. Genet. 3, 415–428 (2002).

Fischle, W., Wang, Y. & Allis, C.D. Histone and chromatin cross-talk. Curr. Opin. Cell Biol. 15, 172–183 (2003).

Clark, S.J., Harrison, J. & Frommer, M. CpNpG methylation in mammalian cells. Nat. Genet. 10, 20–27 (1995).

Franchina, M. & Kay, P.H. Evidence that cytosine residues within 5′-CCTGG-3′ pentanucleotides can be methylated in human DNA independently of the methylating system that modifies 5′-CG-3′ dinucleotides. DNA Cell Biol. 19, 521–526 (2000).

Jabbari, K. & Bernardi, G. Cytosine methylation and CpG, TpG (CpA) and TpA frequencies. Gene 333, 143–149 (2004).

Brena, R.M., Huang, T.H. & Plass, C. Quantitative assessment of DNA methylation: potential applications for disease diagnosis, classification, and prognosis in clinical settings. J. Mol. Med. 84, 1–13 (2006).

Clark, S.J., Harrison, J., Paul, C.L. & Frommer, M. High sensitivity mapping of methylated cytosines. Nucleic Acids Res. 22, 2990–2997 (1994).

Xiong, Z. & Laird, P.W. COBRA: a sensitive and quantitative DNA methylation assay. Nucleic Acids Res. 25, 2532–2534 (1997).

Brena, R.M. et al. Accurate quantification of DNA methylation using combined bisulfite restriction analysis coupled with the Agilent 2100 Bioanalyzer platform. Nucleic Acids Res. 34, e17 (2006).

Li, L.C. & Dahiya, R. MethPrimer: designing primers for methylation PCRs. Bioinformatics 18, 1427–1431 (2002).

Tusnady, G.E., Simon, I., Varadi, A. & Aranyi, T. BiSearch: primer-design and search tool for PCR on bisulfite-treated genomes. Nucleic Acids Res. 33, e9 (2005).
Ethics declarations
Competing interests
The authors declare no competing financial interests.
About this article
Cite this article
Brena, R., Auer, H., Kornacker, K. et al. Quantification of DNA methylation in electrofluidics chips (Bio-COBRA). Nat Protoc 1, 52–58 (2006). https://doi.org/10.1038/nprot.2006.8
Published:

Issue Date:

DOI: https://doi.org/10.1038/nprot.2006.8
This article is cited by
Egyptian Journal of Forensic Sciences (2018)

Tetsuhiro Yokonishi
Takuya Sato
Takehiko Ogawa

Nature Communications (2014)

Chih-Hung Wang
Hsien-Chih Lai
Gwo-Bin Lee

Microfluidics and Nanofluidics (2013)
Comments
By submitting a comment you agree to abide by our Terms and Community Guidelines. If you find something abusive or that does not comply with our terms or guidelines please flag it as inappropriate.