Abstract
Aptamers are single-stranded DNA or RNA molecules that can bind target molecules with high affinity and specificity. The conformation of an aptamer usually changes upon binding to its target analyte, and this property has been used in a wide variety of sensing applications, including detection based on fluorescence intensity, polarization, energy transfer, electrochemistry or color change. Colorimetric sensors are particularly important because they minimize or eliminate the necessity of using expensive and complicated instruments. Among the many colorimetric sensing strategies, metallic nanoparticle-based detection is desirable because of the high extinction coefficients and strong distance-dependent optical properties of the nanoparticles. Here, we describe a protocol for the preparation of aptamer-linked gold nanoparticle purple aggregates that undergo fast disassembly into red dispersed nanoparticles upon binding of target analytes. This method has proved to be generally applicable for colorimetric sensing of a broad range of analytes. The time range for the entire protocol is ∼5 d, including synthesis and functionalization of nanoparticles, preparation of nanoparticle aggregates and sensing.
Relevant articles
Open Access articles citing this article.
Rongjun Yu

,

Jian Xue

…

Jianjiang Xue

Journal of Nanobiotechnology Open Access 09 March 2022

Mengqi Huang

,

Erhu Xiong

…

Xiaoming Zhou

Nature Communications Open Access 18 February 2022

Sangam Srikanth

,

Sohan Dudala

…

Sanket Goel

Scientific Reports Open Access 07 May 2021
Access options
Subscribe to Journal
Get full journal access for 1 year
$99.00
only $8.25 per issue
All prices are NET prices.
VAT will be added later in the checkout.
Tax calculation will be finalised during checkout.
Buy article
Get time limited or full article access on ReadCube.
$32.00
All prices are NET prices.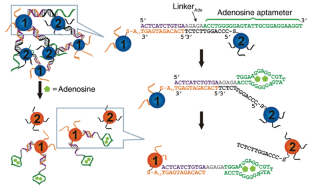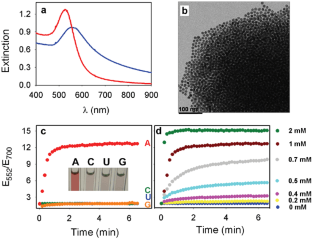 References
Ellington, A.D. & Szostak, J.W. In vitro selection of RNA molecules that bind specific ligands. Nature 346, 818–822 (1990).

Tuerk, C. & Gold, L. Systematic evolution of ligands by exponential enrichment: RNA ligands to bacteriophage T4 DNA polymerase. Science 249, 505–510 (1990).

Wilson, D.S. & Szostak, J.W. In vitro selection of functional nucleic acids. Annu. Rev. Biochem. 68, 611–647 (1999).

Famulok, M. Oligonucleotide aptamers that recognize small molecules. Curr. Opin. Struct. Biol. 9, 324–329 (1999).

Conrad, R.C., Giver, L., Tian, Y. & Ellington, A.D. In vitro selection of nucleic acid aptamers that bind proteins. Methods Enzymol. 267, 336–367 (1996).

Cox, J.C. & Ellington, A.D. Automated selection of anti-protein aptamers. Bioorg. Med. Chem. 9, 2525–2531 (2001).

Mendonsa, S.D. & Bowser, M.T. In vitro evolution of functional DNA using capillary electrophoresis. J. Am. Chem. Soc. 126, 20–21 (2004).

Berezovski, M. et al. Nonequilibrium capillary electrophoresis of equilibrium mixtures: a universal tool for development of aptamers. J. Am. Chem. Soc. 127, 3165–3171 (2005).

Nutiu, R. & Li, Y. Structure-switching signaling aptamers. J. Am. Chem. Soc. 125, 4771–4778 (2003).

Levy, M., Cater, S.F. & Ellington, A.D. Quantum-dot aptamer beacons for the detection of proteins. ChemBioChem 6, 2163 (2005).

Famulok, M., Mayer, G. & Blind, M. Nucleic acid aptamers—from selection in vitro to applications in vivo. Acc. Chem. Res. 33, 591–599 (2000).

Liu, J. & Lu, Y. Fast colorimetric sensing of adenosine and cocaine based on a general sensor design involving aptamers and nanoparticles. Angew. Chem. Int. Ed. Engl. 45, 90 (2006).

Stojanovic, M.N. & Landry, D.W. Aptamer-based colorimetric probe for cocaine. J. Am. Chem. Soc. 124, 9678–9679 (2002).

Pavlov, V., Xiao, Y., Shlyahovsky, B. & Willner, I. Aptamer-functionalized Au nanoparticles for the amplified optical detection of thrombin. J. Am. Chem. Soc. 126, 11768–11769 (2004).

Huang, C.-C., Huang, Y.-F., Cao, Z., Tan, W. & Chang, H.-T. Aptamer-modified gold nanoparticles for colorimetric determination of platelet-derived growth factors and their receptors. Anal. Chem. 77, 5735–5741 (2005).

Liu, J. & Lu, Y. A colorimetric lead biosensor using DNAzyme-directed assembly of gold nanoparticles. J. Am. Chem. Soc. 125, 6642–6643 (2003).

Liu, J. & Lu, Y. Stimuli-responsive disassembly of nanoparticle aggregates for light-up colorimetric sensing. J. Am. Chem. Soc. 127, 12677–12683 (2005).

Mirkin, C.A., Letsinger, R.L., Mucic, R.C. & Storhoff, J.J. A DNA-based method for rationally assembling nanoparticles into macroscopic materials. Nature 382, 607–609 (1996).

Hermann, T. & Patel, D.J. Adaptive recognition by nucleic acid aptamers. Science 287, 820–825 (2000).

Nutiu, R. & Li, Y. Structure-switching signaling aptamers: transducing molecular recognition into fluorescence signaling. Chem. Eur. J. 10, 1868–1876 (2004).

Storhoff, J.J., Elghanian, R., Mucic, R.C., Mirkin, C.A. & Letsinger, R.L. One-pot colorimetric differentiation of polynucleotides with single base imperfections using gold nanoparticle probes. J. Am. Chem. Soc. 120, 1959–1964 (1998).

Handley, D.A. Methods for synthesis of colloidal gold. in Colloidal Gold Principles, Methods, and Applications, Vol. 1 (ed. Hayat, M.A.) 13–32 (Academic Press, San Diego, 1989).

Zuker, M. Mfold web server for nucleic acid folding and hybridization prediction. Nucleic Acids Res. 31, 3406–3415 (2003).
Acknowledgements
We wish to thank the reviewers for their critical review of the protocol and for their helpful suggestions. This material is based on work supported by the U.S. Army Research Laboratory and the U.S. Army Research Office under grant number DAAD19-03-1-0227, by the National Science Foundation through the Science and Technology Center of Advanced Materials for Purification of Water with Systems (WaterCAMPWS)(CTS-0120978) and the Nanoscale Science and Engineering Center (NSEC) program (DMR-0117792).
Ethics declarations
Competing interests
The authors declare no competing financial interests.
About this article
Cite this article
Liu, J., Lu, Y. Preparation of aptamer-linked gold nanoparticle purple aggregates for colorimetric sensing of analytes. Nat Protoc 1, 246–252 (2006). https://doi.org/10.1038/nprot.2006.38
Published:

Issue Date:

DOI: https://doi.org/10.1038/nprot.2006.38
Comments
By submitting a comment you agree to abide by our Terms and Community Guidelines. If you find something abusive or that does not comply with our terms or guidelines please flag it as inappropriate.