Abstract
The Benton Visual Retention Test (BVRT) is a widely used test for the evaluation of visuospatial memory. Alternate forms and various types of administration are available. Whereas most of the formats are visuoconstructional tasks, the forms F and G involve visual recognition. There are several reasons to use multiple-choice formats when studying age-related memory changes. Its procedure involving immediate recognition of geometric designs allows assessment of visuospatial working memory—a memory system particularly vulnerable to aging. The administration is rapid —it can be completed in 5 min—and is easily standardized. The multiple-choice format, relative to the drawing-response formats, also has the advantage of eliminating the influence of visuomotor and manual dexterity problems common in the elderly. Another advantage is the possibility of referring to recent geriatric norms, which can help clinicians or researchers identify individuals with low scores and potentially at risk for dementia.
Access options
Access options
Subscribe to Journal
Get full journal access for 1 year
$495.00
only $41.25 per issue
All prices are NET prices.
VAT will be added later in the checkout.
Rent or Buy article
Get time limited or full article access on ReadCube.
from$8.99
All prices are NET prices.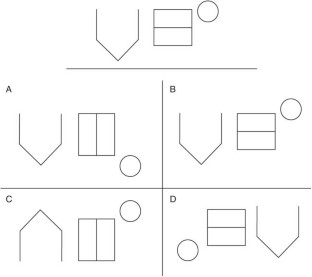 References
1

Sivan, A.B. Benton Visual Retention Test 5th edition. (The Psychological Corporation, San Antonio, TX, 1992).

2

Benton, A.L. The Visual Retention Test (The Psychological Corporation, New York, 1955).

3

Craik, F.I.M. & Jennings, J.M. Human memory. In The Handbook of Aging and Cognition (eds. Craik, F.I.M., & Salthouse, T.A.) 51–110 (Lawrence Erlbaum Associates, Hillsdale, New Jersey, 1992).

4

Hultsch, D.F., Hertzog, C., Dixon, R.A. & Small, B.J. Memory Change in the Aged (Cambridge University Press, New York, 1998).

5

Benton, A.L., Hamsher, K., De, S., Varney, N. & Spreen, O. Contributions to Neuropsychological Assessment: A Clinical Manual (Oxford University Press, New York, 1983).

6

Lechevallier-Michel, N., Fabrigoule, C., Lafont, S., Letenneur, L. & Dartigues, J.F. Normative data for the MMSE, the Benton visual retention test, the Isaacs's set test, the digit symbol substitution test and the Zazzo's cancellation task in subjects over the age 70: results from the PAQUID Study. Rev. Neurol. 160, 1059–1070 (2004).

7

Tuokko, H. & Woodward, T.S. Development and validation of a demographic correction system for neuropsychological measures used in the Canadian Study of Health and Aging. J. Clin. Exp. Neuropsychol. 18, 479–616 (1996).

8

Coman, E. et al. Geriatric performance on the Benton Visual Retention Test: Demographic and diagnostic considerations. Clin. Neuropsychol. 13, 66–77 (1999).

9

Le Carret et al. The effect of education on cognitive performances and its implication for the constitution of the 'cognitive reserve'. Dev. Neuropsychol. 23, 317–337 (2003).

10

Giambra, L.M., Arenberg, D., Kawas, C., Zonderman, A.B. & Costa, P.T. Adult life span changes in immediate visual memory and verbal intelligence. Psychol. Aging 10, 123–139 (1995).

11

Le Carret, N. et al. Influence of education on the Benton visual retention test performance as mediated by a strategic search component. Brain Cognition 53, 408–411 (2003).

12

Byrd, D.A., Jacobs, D.M., Hilton, H.J., Stern, Y. & Manly, J.J. Sources of errors on visuoperceptual tasks: role of education, literacy, and search strategy. Brain Cognition 58, 251–257 (2005).

13

Benton, A.L. Manuel du Test de Rétention Visuelle (Les Editions du Centre de Psychologie Appliquée, Paris, 1965).

14

Benton Sivan, A. & Spreen, O. Der Benton Test (Hand, Bern, Switzerland, 1996).

15

Lezak, M. Neuropsychological Assessment (Oxford University Press, New York, 2004).

16

Amieva, H., et al. The 9-year cognitive decline before dementia of the Alzheimer type: a prospective population-based study. Brain 128, 1093–1101 (2005).

17

Jacqmin-Gadda, H., Fabrigoule, C., Commenges, D., Letenneur, L. & Dartigues, J.F. A cognitive screening battery for dementia in the elderly. J. Clin. Epidemiol. 53, 980–987 (2000).

18

Commenges, D. et al. Improving screening for dementia in the elderly using Mini-Mental State Examination subscores, Benton's Visual Retention Test, and Isaacs' Set Test. Epidemiology 3, 185–188 (1992).
Ethics declarations
Competing interests
The authors declare no competing financial interests.
Further reading
Buse M. Urgen

,

Yasemin Topac

,

F. Seyhun Ustun

,

Pinar Demirayak

,

Kader K. Oguz

,

Tulay Kansu

,

Serap Saygi

,

Tayfun Ozcelik

,

Huseyin Boyaci

&

Katja Doerschner

NeuroImage (2019)

Yohko MAKI

,

Hiroshi YOSHIDA

&

Haruyasu YAMAGUCHI

Psychogeriatrics (2010)

Hélène Amieva

,

Mélanie Le Goff

,

Xavier Millet

,

Jean Marc Orgogozo

,

Karine Pérès

,

Pascale Barberger-Gateau

,

Hélène Jacqmin-Gadda

&

Jean François Dartigues

Annals of Neurology (2008)
Comments
By submitting a comment you agree to abide by our Terms and Community Guidelines. If you find something abusive or that does not comply with our terms or guidelines please flag it as inappropriate.