Abstract
An important goal in drug development is to engineer inhibitors and ligands that have high binding affinities for their target molecules. In optimizing these interactions, the precise determination of the binding affinity becomes progressively difficult once it approaches and surpasses the nanomolar level. Isothermal titration calorimetry (ITC) can be used to determine the complete binding thermodynamics of a ligand down to the picomolar range by using an experimental mode called displacement titration. In a displacement titration, the association constant of a high-affinity ligand that cannot be measured directly is artificially lowered to a measurable level by premixing the protein with a weaker competitive ligand. To perform this protocol, two titrations must be carried out: a direct titration of the weak ligand to the target macromolecule and a displacement titration of the high-affinity ligand to the weak ligand—target macromolecule complex. This protocol takes approximately 5 h.
Relevant articles
Open Access articles citing this article.
Manuel Iglesias-Bexiga

,

Andrés Palencia

…

Irene Luque

Scientific Reports Open Access 21 October 2019
Access options
Subscribe to Journal
Get full journal access for 1 year
$99.00
only $8.25 per issue
All prices are NET prices.
VAT will be added later in the checkout.
Tax calculation will be finalised during checkout.
Buy article
Get time limited or full article access on ReadCube.
$32.00
All prices are NET prices.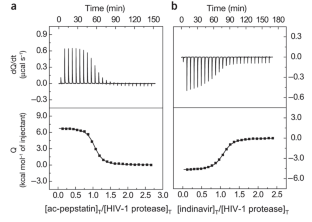 References
Sigurskjold, B.W. Exact analysis of competition ligand binding by displacement isothermal titration calorimetry. Anal. Biochem. 277, 260–266 (2000).

Velazquez-Campoy, A. & Freire E. ITC in the post-genomic era...? Priceless. Biophys. Chem. 115, 115–124 (2005).

Velazquez-Campoy, A. & Freire, E. Incorporating target heterogeneity in drug design. J. Cell. Biochem. S37, 82–88 (2001).

Velazquez-Campoy, A., Kiso, Y. & Freire, E. The binding energetics of first- and second-generation HIV-1 protease inhibitors: implications for drug design. Arch. Biochem. Biophys. 390, 169–175 (2001).

Ohtaka, H., Velazquez-Campoy, A., Xie, D. & Freire, E. Overcoming drug resistance in HIV-1 chemotherapy: The binding thermodynamics of amprenavir and TMC-126 to wild-type and drug-resistant mutants of the HIV-1 protease. Protein Sci. 11, 1908–1916 (2002).

Velazquez-Campoy, A., Vega, S. & Freire, E. Amplification of the effects of drug resistance mutations by background polymorphisms in HIV-1 protease from African subtypes. Biochemistry 41, 8613–8619 (2002).

Bradshaw, J.M., Mitaxov, V. & Waksman, G. Investigation of phosphotyrosine recognition by the SH2 domain of the Src kinase. J. Mol. Biol. 293, 971–985 (1999).

Zhang, Y.-L. & Zhang Z.-Y. Low-affinity binding determined by titration calorimetry using a high-affinity coupling ligand: A thermodynamic study of ligand binding to tyrosine phosphatase 1B. Anal. Biochem. 261, 139–148 (1998).

Todd, M.J., Semo, N. & Freire, E. The structural stability of the HIV-1 protease. J. Mol. Biol. 283, 475–488 (1998).
Acknowledgements
This work was supported by US National Institutes of Health grants GM 57144 and GM 56550. We thank S. Vega for protease purification and A. Schön for indinavir purification.
Ethics declarations
Competing interests
The authors declare no competing financial interests.
About this article
Cite this article
Velazquez-Campoy, A., Freire, E. Isothermal titration calorimetry to determine association constants for high-affinity ligands. Nat Protoc 1, 186–191 (2006). https://doi.org/10.1038/nprot.2006.28
Published:

Issue Date:

DOI: https://doi.org/10.1038/nprot.2006.28
Comments
By submitting a comment you agree to abide by our Terms and Community Guidelines. If you find something abusive or that does not comply with our terms or guidelines please flag it as inappropriate.