Global demand for coffee is constantly rising while the security of its production is increasingly threatened by disease and a changing climate. Is the genetic diversity of coffee in Ethiopia, its site of origin, robust enough to provide solutions to these challenges?
This is a preview of subscription content
Access options
Subscribe to Journal
Get full journal access for 1 year
$119.00
only $9.92 per issue
All prices are NET prices.
VAT will be added later in the checkout.
Tax calculation will be finalised during checkout.
Rent or Buy article
Get time limited or full article access on ReadCube.
from$8.99
All prices are NET prices.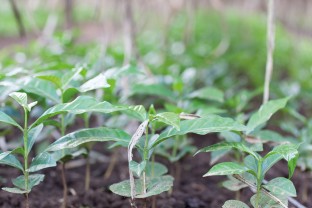 References
1

Coffee: World Markets and Trade (USDA Foreign Agricultural Service, 2016); https://apps.fas.usda.gov/psdonline/circulars/coffee.pdf

2

Historial Data on the Global Coffee Trade (International Coffee Organization, 2016); http://www.ico.org/new_historical.asp

3

Lashermes, P., Combes, M.-C., Hueber, Y., Severac, D. & Dereeper, A. Plant J. 78, 674–685 (2014).

4

Cenci, A. et al. Plant Mol. Bio. 78, 135–145 (2012).

5

Avelino. J. et al. Food Sec. 7, 303–321 (2015).

6

Bunn, C. et al. Clim. Change 128, 89–101 (2015).

7

Betrand, B. et al. Euphytica 181, 147–158 (2011).

8

Perfecto, I. & Vandermeer, J. Coffee Agroecology: A New Approach to Understanding Agricultural Biodiversity, Ecosystem Services and Sustainable Development (Routledge, 2015).

9

Hylander, K. et al. Conserv. Biol. 27, 1031–1040 (2013).

10

von Braun, J. & Gatzweiler, F. W. Marginality: Addressing the Nexus of Poverty Exclusion and Ecology (Springer, 2014).

11

Labouisse, J. P. et al. Genet. Resour. Crop Ev. 55, 1079 (2008).

12

Aerts, R. et al. Science 347, 139 (2015).

13

Berecha, G. et al. Biol. J. Linn. Soc. 112, 76 (2014).

14

Aerts, R. et al. Evol. App. 6, 243–252 (2013).

15

Gole, T. W. Vegetation of the Yayu Forest in SW Ethiopia: Impacts of Human Use and Implications for In Situ Conservation of Wild Coffea arabica L. Populations PhD thesis, Univ. Bonn (2003).

16

Hundera, K. et al. Environ. Manag. 5, 801–809 (2013).

17

Davis, A. et al. PLoS ONE 7, e47981 (2012).
About this article
Cite this article
Mehrabi, Z., Lashermes, P. Protecting the origins of coffee to safeguard its future. Nature Plants 3, 16209 (2017). https://doi.org/10.1038/nplants.2016.209
Further reading
Yanna Karoline Santos da Costa
Nagilla Moraes Ribeiro
Leonardo Bianco de Carvalho

Scientific Reports (2021)

Esther Sebuliba
J. G. Mwanjalolo Majaliwa
Adipala Ekwamu

Agroforestry Systems (2021)