The tremendous gains in crop yields seen over the twentieth century were underpinned by fertilizer use and manipulation of the aboveground parts of the plant. To meet the food demands of the twenty-first century, plant scientists must turn their attention belowground.
Access options
Subscribe to Journal
Get full journal access for 1 year
$119.00
only $9.92 per issue
All prices are NET prices.
VAT will be added later in the checkout.
Tax calculation will be finalised during checkout.
Rent or Buy article
Get time limited or full article access on ReadCube.
from$8.99
All prices are NET prices.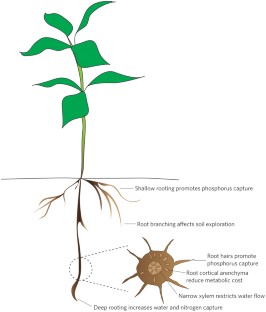 References
1

The State of Food Insecurity in the World (FAO, 2014)

2

How to Feed the World 2050 (FAO, 2009).

3

Holden, S. & Lunduka, R. Impacts of the Fertilizer Subsidy Programme in Malawi: Targeting, Household Perceptions and Preferences (Noragric, 2010)

4

Wissuwa M, Mazzola M & Picard C. Plant Soil 321, 409–430 (2009)

5

Rogers E D. & Benfey P N. Curr. Opin. Biotechnol. 32, 93–98 (2015)

6

Uga Y et al. Nature Genet. 45, 1097–1102 (2013)

7

Richards R A & Passioura J B Aust. J. Agr. Res. 40, 943–950 (1989)

8

Postma J A & Lynch J P. Plant Physiol. 156, 1190–1201 (2011)

9

Saengwilai P et al. Plant Physiol. 166, 726–735 (2014)

10

Miguel M A, Postma J A. & Lynch J P. Plant Physiol. 167, 1430–1439 (2015)

11

Ho M D, McCannon B C. & Lynch J P. J. Theor. Biol. 226, 331–340 (2004)

12

Sander J D. & Joung J K. Nature Biotechnol. 32, 347–355 (2014)
About this article
Cite this article
Bishopp, A., Lynch, J. The hidden half of crop yields. Nature Plants 1, 15117 (2015). https://doi.org/10.1038/nplants.2015.117