The revival of interest in lunar and planetary exploration is prompting astronomers to re-evaluate the advantages of observatories on the Moon. But the debate is much more than one of science versus money, and goes to the inspirational heart of space exploration.
Access options
Subscribe to Journal
Get full journal access for 1 year
$99.00
only $8.25 per issue
All prices are NET prices.
VAT will be added later in the checkout.
Tax calculation will be finalised during checkout.
Buy article
Get time limited or full article access on ReadCube.
$32.00
All prices are NET prices.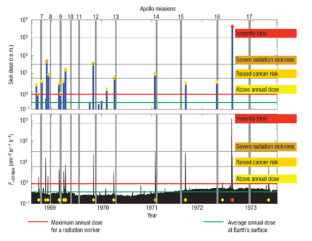 References
Lowman, P. D. Jr & Lester, D. F. Phys. Today 59, 50–54 (2006).

Lester, D. F., Yorke, H. W. & Mather, J. C. Space Policy 20, 99–107 (2004).

Tifft, W. G. Astronaut. Aeronaut. 4, 40–53 (1966).

Lawson, P. R. in Aerospace Conf. IEEE Proc. Vol. 4, 2005–2011 (IEEE, 2001).

Bely, P. Y. et al. Proc. SPIE 2807, 59–73 (1996).

Hapgood, M. A. Annales Geophys. (in the press).

Stubbs, T. J., Vondrak, R. R. & Farrell, W. R. Adv. Space Res. 37, 59–66 (2006).

Friedman, E., Ebbets, D. & Kilston, S. in Workshop On Science Associated With The Lunar Exploration Architecture (Tempe, Arizona, February, 2007); available via <http://tinyurl.com/yu5t76>.

Mutel, R. L. Gurnett, D. A. & Christopher I. W. Ann. Geophys. 22, 2625–2632 (2004).

Takahashi, Y. D. New Astronomy from the Moon: A Lunar Based Very Low Frequency Radio Array Thesis, Univ. Glasgow (2003); available at <http://www.astro.gla.ac.uk/users/yuki/thesis/YukiThesis.pdf>.

Janhunen, P., Olsson, A., Karlsson, R. & Griessmeier, J.-M. Preprint available at <http://arxiv.org/abs/astro-ph/0305458> (2003).

Close, F., Dudeney, J. R. & Pounds, K. W. The Scientific Case for Human Space Exploration (Royal Astronomical Society, London, 2005); available via <http://tinyurl.com/2hvbc5>.
About this article
Cite this article
Lockwood, M. Fly me to the Moon?. Nature Phys 3, 669–671 (2007). https://doi.org/10.1038/nphys733
Issue Date:

DOI: https://doi.org/10.1038/nphys733