That the unit cell of a metamaterial can't be considered vanishingly small like in ordinary crystals has long been deemed more burden than opportunity. The emergence of a characteristic length scale in metamaterial chains may change that trend.
Access options
Subscribe to Journal
Get full journal access for 1 year
$187.00
only $15.58 per issue
All prices are NET prices.
VAT will be added later in the checkout.
Rent or Buy article
Get time limited or full article access on ReadCube.
from$8.99
All prices are NET prices.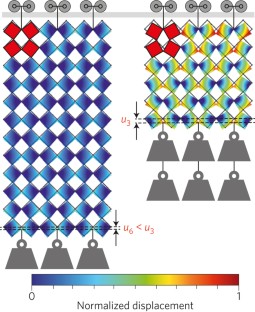 References
1

Coulais, C., Kettenis, C. & van Hecke, M. Nat. Phys. 14, 40–44 (2018).

2

Sommerfeld, A. Mechanics of Deformable Bodies: Lectures on Theoretical Physics Vol. 2 (Academic, 1950).

3

Shelby, R. A., Smith, D. R. & Schultz, S. Science 292, 77–79 (2001).

4

Milton, G. W. The Theory of Composites (Cambridge Univ. Press, 2002).

5

Eringen, A. C. Microcontinuum Field Theories: I. Foundations and Solids (Springer, 1999).

6

Lakes, R. S. J. Biomech. Eng. 104, 6–11 (1982).

7

Kadic, M., Bückmann, T., Schittny, R. & Wegener, M. Rep. Prog. Phys. 76, 126501 (2013).

8

Christensen, J., Kadic, M., Kraft, O. & Wegener, M. MRS Commun. 5, 453–462 (2015).

9

Cummer, S. A., Christensen, J. & Alù, A. Nat. Rev. Mater. 1, 16001 (2016).
About this article
Cite this article
Kadic, M., Frenzel, T. & Wegener, M. When size matters. Nature Phys 14, 8–9 (2018). https://doi.org/10.1038/nphys4287