Jammed states in growing yeast populations share intriguing similarities with amorphous solids, despite being generated through self-replication. The impact this behaviour has on cell division highlights one way that physical forces regulate biological function.
Access options
Subscribe to Journal
Get full journal access for 1 year
$99.00
only $8.25 per issue
All prices are NET prices.
VAT will be added later in the checkout.
Tax calculation will be finalised during checkout.
Buy article
Get time limited or full article access on ReadCube.
$32.00
All prices are NET prices.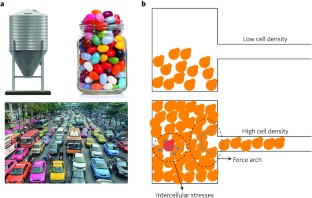 References
Liu, A. J. & Nagel, S. R. Nature 396, 21–22 (1998).

Delarue, M. et al. Nature Phys. http://dx.doi.org/10.1038/nphys3741 (2016).

Zuriguel, I., Garcimartín, A., Maza, D., Pugnaloni, L. A. & Pastor, J. M. Phys. Rev. E 71, 051303 (2005).

Majmudar, T. S. & Behringer, R. P. Nature 435, 1079–1082 (2005).

Angelini, T. E. et al. Proc. Natl Acad. Sci. USA 108, 4714–4719 (2011).

Park, J. A. et al. Nature Mater. 14, 1040–1048 (2015).

Bi, D., Lopez, J. H., Schwarz, J. M. & Manning, M. L. Nature Phys. 11, 1074–1079 (2015).

Garcia, S. et al. Proc. Natl Acad. Sci. USA 112, 15314–15319 (2015).

Marchetti, M. C. et al. Rev. Mod. Phys. 85, 1143–1189 (2013).

Sanchez, T., Chen, D. T., DeCamp, S. J., Heymann, M. & Dogic, Z. Nature 491, 431–434 (2012).
About this article
Cite this article
Gokhale, S., Gore, J. Life in a jam. Nature Phys 12, 726–727 (2016). https://doi.org/10.1038/nphys3777
Published:

Issue Date:

DOI: https://doi.org/10.1038/nphys3777