Ferroelectric polarization vortices close to a ferroelectric transition turn out to be striking models of the cosmos in which strings are thought to have condensed out of the rapid expansion of the early Universe.
Access options
Subscribe to Journal
Get full journal access for 1 year
$187.00
only $15.58 per issue
All prices are NET prices.
VAT will be added later in the checkout.
Rent or Buy article
Get time limited or full article access on ReadCube.
from$8.99
All prices are NET prices.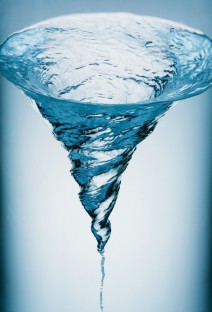 References
1

Lin, S-Z. Nature Phys. 10, 970–977 (2014).

2

Kibble, T. Phys. Today 60 (9), 47–52 (2007).

3

Kleinert, H. Gauge Fields in Condensed Matter (World Scientific, 1988).

4

Kleinert, H. in Lev Davidovich Landau and his Impact on Contemporary Theoretical Physics Vol. 264 (eds Sakaji, A. & Licata, I.) Ch. 6, 77–86 (Horizons in World Physics, 2009).

5

José, J. V., Kadanoff, L. P., Kirkpatrick, S. & Nelson, D. R. Phys. Rev. B 16, 1217–1241 (1977).

6

Khmelnitskii, D. E. & Shneerson, V. L. Sov. Phys. JETP 37, 164–170 (1973).

7

Dawber, M., Gruverman, A. & Scott, J. F. J Phys. Condens. Mat. 18, L71–L79 (2006).

8

Rowley, S. E. et al. Nature Phys. 10, 367–372 (2014).

9

Chaikin, P. M. & Lubensky, T. C. Principles of Condensed Matter Physics (Cambridge Univ. Press, 2000).

10

Wen, X-G. Quantum Field Theory of Many-Body Systems : From the Origin of Sound to an Origin of Light and Electrons (Oxford Univ. Press, 2007).
About this article
Cite this article
Rowley, S., Lonzarich, G. Ferroelectrics in a twist. Nature Phys 10, 907–908 (2014). https://doi.org/10.1038/nphys3179