It is commonly believed that solids with spatial inversion symmetry do not display spin–orbit effects. However, first-principles calculations now reveal unexpected spin structure for centrosymmetric crystals.
Access options
Subscribe to Journal
Get full journal access for 1 year
$187.00
only $15.58 per issue
All prices are NET prices.
VAT will be added later in the checkout.
Rent or Buy article
Get time limited or full article access on ReadCube.
from$8.99
All prices are NET prices.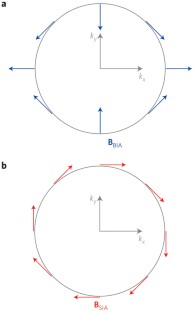 References
1

Zhang, X., Liu, Q., Luo, J.-W., Freeman, A. J. & Zunger, A. Nature Phys. 10, 387–393 (2014).

2

Dresselhaus, G. Phys. Rev. 100, 580–586 (1955).

3

Rashba, E. I. Sov. Phys. Solid State 2, 1109–1122 (1960).

4

Ishizaka, K. et al. Nature Mater. 10, 521–526 (2011).

5

Di Sante, D., Barone, P., Bertacco, R. & Picozzi, S. Adv. Mater. 25, 509–513 (2013).
About this article
Cite this article
Partoens, B. Hide and seek. Nature Phys 10, 333–334 (2014). https://doi.org/10.1038/nphys2956