What happens if the 'weak link' between two superconductors in a Josephson junction is a carbon nanotube, with a limited number of states available for electron transport? A supercurrent flows, but in a unique fashion.
Access options
Access options
Subscribe to Journal
Get full journal access for 1 year
$187.00
only $15.58 per issue
All prices are NET prices.
VAT will be added later in the checkout.
Rent or Buy article
Get time limited or full article access on ReadCube.
from$8.99
All prices are NET prices.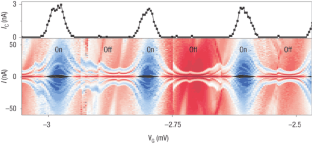 References
1

Kociak, M. et al. Phys. Rev. Lett. 86, 2416–2419 (2001).

2

Tang, Z. K. et al. Science 292, 2462–2465 (2001).

3

Morpurgo, A. F., Kong, J., Marcus, C. M. & Dai, H. Science 286, 263–265 (1999).

4

Herrero-Jarillo, P., van Dam, J. A. & Kouwenhoven, L. P. Nature 439, 953–956 (2006).
Further reading
Olena M Yakymchuk

,

Olena M Perepelytsina

,

Alexey V Dobrydnev

&

Mychailo V Sydorenko

Nanoscale Research Letters (2015)

Jason S. Ross

,

Sanfeng Wu

,

Hongyi Yu

,

Nirmal J. Ghimire

,

Aaron M. Jones

,

Grant Aivazian

,

Jiaqiang Yan

,

David G. Mandrus

,

Di Xiao

,

Wang Yao

&

Xiaodong Xu

Nature Communications (2013)