With continuing improvements in X-ray optics, conventional techniques for measuring their performance are finding it hard to keep up. Iterative phase-retrieval algorithms for reconstructing an optical field at the focus of an optical element could not only solve this problem, but remove the need for such optics altogether.
Access options
Subscribe to Journal
Get full journal access for 1 year
$187.00
only $15.58 per issue
All prices are NET prices.
VAT will be added later in the checkout.
Rent or Buy article
Get time limited or full article access on ReadCube.
from$8.99
All prices are NET prices.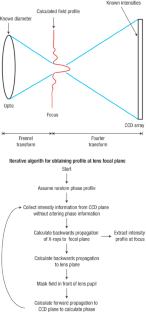 References
1

Goldberg, K. A. et al. J. Vac. Sci. Technol. B 22, 2956–2961 (2004).

2

Quiney, H. M., Peele, A. G., Cai, Z., Paterson, D. & Nugent, K. A. Nature Phys. 2, 101–104 (2006).

3

Susini, J., Joyeux, D. & Polack, F. J. Physique IV 104, v (2003).

4

Jacobsen, C. et al. Opt. Comm. 86, 351–364 (1991).

5

Chao, W., Harteneck, B. D., Liddle, J. A., Anderson, E. H. & Attwood, D. T. Nature 435, 1210–1213 (2005).

6

Gerchberg, R. W. & Saxton, W. O. Optik 35, 237–246 (1972).

7

Fienup, J. R. Appl. Opt. 21, 2758–2769 (1982).

8

Fienup, J. R., Marron, J. C., Schulz, T. J. & Seldin, J. H. Appl. Opt. 32, 1747–1767 (1993).

9

Sayre, D. in Imaging Processes and Coherence in Physics (eds Schlenker, J. et al.) 229–235 (Springer, Berlin, 1980).

10

Miao, J., Charalambous, P., Kirz, J. & Sayre, D. Nature 400, 342–344 (1999).

11

Shapiro, D. et al. Proc. Natl Acad. Sci. 102, 15343–15346 (2005).

12

Chapman, H. N. et al. J. Opt. Soc. Am. A (in the press).
About this article
Cite this article
Jacobsen, C. Imaging at arm's length. Nature Phys 2, 71–72 (2006). https://doi.org/10.1038/nphys230