Rotating black holes twist photons emitted nearby, a peculiar effect in general relativity that is now demonstrated by numerical experiments. This twisted light and its orbital angular momentum could reveal the physics of black holes in more detail than deemed possible before.
This is a preview of subscription content
Access options
Subscribe to Journal
Get full journal access for 1 year
$99.00
only $8.25 per issue
All prices are NET prices.
VAT will be added later in the checkout.
Tax calculation will be finalised during checkout.
Rent or Buy article
Get time limited or full article access on ReadCube.
from$8.99
All prices are NET prices.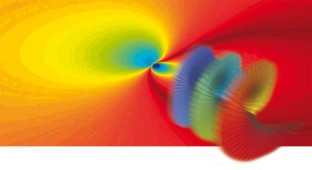 References
1

Chwolson, O. Astron. Nachr. 221, 329 (1924).

2

Einstein, A. Science 84, 506–507 (1936).

3

Shapiro, I. I. Phys. Rev. Lett. 13, 789–791 (1964).

4

LIGO and Virgo Collaborations. Nature 460, 990–994 (2009).

5

Demorest, P. B., Pennucci, T., Ransom, S. M., Roberts, M. S. E. & Hessels, J. W. T. Nature 467, 1081–1083 (2010).

6

Tamburini, F., Thidé, B., Molina-Terriza, G. & Anzolin, G. Nature Phys. 7, 195–197 (2011).

7

Kerr, R. P. Phys. Rev. Lett. 11, 237–238 (1963).

8

Molina-Terriza, G., Torres, J. P. & Torner, L. Nature Phys. 3, 305–310 (2007).
About this article
Cite this article
Bojowald, M. A twist on relativistic astrophysics. Nature Phys 7, 188–189 (2011). https://doi.org/10.1038/nphys1938