The spin of a photoluminescent nitrogen centre in diamond has a long life-time that could be useful as a qubit, for example. It's difficult enough to image such a single spin — imagine using that bright spin to detect nearby invisible 'dark' spins.
This is a preview of subscription content
Access options
Subscribe to Journal
Get full journal access for 1 year
$99.00
only $8.25 per issue
All prices are NET prices.
VAT will be added later in the checkout.
Tax calculation will be finalised during checkout.
Rent or Buy article
Get time limited or full article access on ReadCube.
from$8.99
All prices are NET prices.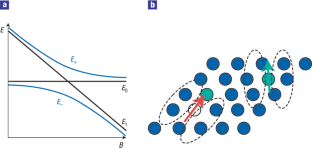 References
1

Epstein, R. J., Mendoza, F. M., Kato, Y. K. & Awschalom, D. D. Nature Phys. 1, 94–98 (2005).

2

Yablonovitch, E. et al. Proc. IEEE 91, 761–780 (2003).

3

Jelezko, F. et al. Appl. Phys. Lett. 81, 2160–2162 (2002).

4

van Wyk, J. A., Reynhardt, E. C, High, G. L. & Kiflawi, I. J. Phys D 30, 1790–1793 (1997).

5

Kane, B. E. Nature 393, 133–137 (1998).

6

Meijer, J. et al. Preprint at <http://arxiv.org/abs/cond-mat/0505063> (2005).
About this article
Cite this article
Kennedy, T. Dark spins come to light. Nature Phys 1, 79–80 (2005). https://doi.org/10.1038/nphys159