Abstract
The d.c. Josephson effect refers to the dissipationless electrical current—the supercurrent—that can be sustained across a weak link connecting two bulk superconductors. This effect probes the nature of the superconducting state, which depends crucially on spatial dimensionality. For bulk (that is, three-dimensional) superconductors, the superconductivity is most robust and the Josephson effect is sustained even at non-zero temperature. However, in wires and thin films, thermal and quantum fluctuations play a crucial role. In superconducting wires, these effects qualitatively modify the electrical transport across a weak link. Despite several experiments involving weak links between thin-film superconductors, little theoretical attention has been paid to the electrical conduction in such systems. Here, we analyse the case of two superconducting thin films connected by a point contact. Remarkably, the Josephson effect is absent at non-zero temperature. The point-contact resistance is non-zero and varies with temperature in a nearly activated fashion, with a universal energy barrier set by the superfluid stiffness characterizing the films. This behaviour reflects the subtle nature of thin-film superconductors and should be observable in future experiments.
Relevant articles
Open Access articles citing this article.
Efrén Navarro-Moratalla

,

Joshua O. Island

…

Eugenio Coronado

Nature Communications Open Access 17 March 2016
Access options
Subscribe to Journal
Get full journal access for 1 year
$99.00
only $8.25 per issue
All prices are NET prices.
VAT will be added later in the checkout.
Tax calculation will be finalised during checkout.
Buy article
Get time limited or full article access on ReadCube.
$32.00
All prices are NET prices.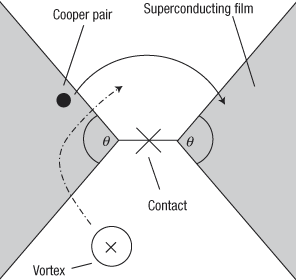 References
Bardeen, J., Cooper, L. N. & Schrieffer, J. R. Theory of superconductivity. Phys. Rev. 108, 1175–1204 (1957).

Josephson, B. D. Possible new effects in superconductive tunnelling. Phys. Lett. 1, 251–253 (1962).

Giaever, I. & Megerle, K. Study of superconductors by electron tunneling. Phys. Rev. 122, 1101–1111 (1961).

Giaever, I. Electron tunneling and superconductivity. Rev. Mod. Phys. 46, 245–250 (1974).

Vion, D. et al. Manipulating the quantum state of an electrical circuit. Science 296, 886–889 (2002).

McDermott, R. et al. Simultaneous state measurement of coupled josephson phase qubits. Science 307, 1299–1302 (2005).

Bezryadin, A., Lau, C. N. & Tinkham, M. Quantum suppression of superconducitvity in ultrathin nanowires. Nature 404, 971–974 (2000).

Lau, C. N., Markovic, N., Bockrath, M., Bezryadin, A. & Tinkham, M. Quantum phase slips in superconducting nanowires. Phys. Rev. Lett. 87, 217003 (2001).

Chu, S. L., Bollinger, A. T. & Bezryadin, A. Phase slips in superconducting films with constrictions. Phys. Rev. B 70, 214506 (2004).

Naaman, O., Teizer, W. & Dynes, R. C. Fluctuation dominated josephson tunneling with a scanning tunneling microscope. Phys. Rev. Lett. 87, 097004 (2001).

Langer, J. & Ambegaokar, V. Intrinsic resistive transition in narrow superconducting channels. Phys. Rev. 164, 498–510 (1967).

McCumber, D. & Halperin, B. I. Time scale of intrinsic resistive fluctuations in thin superconducting wires. Phys. Rev. B 1, 1054–1070 (1970).

Kane, C. L. & Fisher, M. P. A. Transport in a one-channel luttinger liquid. Phys. Rev. Lett. 68, 1220–1223 (1992).

Kim, Y. B. & Wen, X. -G. Effects of collective modes on pair tunneling into superconductors. Phys. Rev. B 48, 6319–6329 (1993).

Fiory, A. T., Hebard, A. F. & Glaberson, W. I. Superconducting phase transitions in indium/indium-oxide thin-film composites. Phys. Rev. B 28, 5075–5087 (1983).

Villain, J. Theory of one- and two-dimensional magnets with an easy magnetization plane. ii. The planar, classical, two-dimensional magnet. J. Phys. 36, 581–590 (1975).

Tinkham, M. Introduction to Superconductivity 2nd edn (McGraw-Hill, New York, 1996).

Schön, G. & Zaikin, A. D. Quantum coherent effects, phase transitions, and the dissipative dynamics of ultra small tunnel junctions. Phys. Rep. 198, 238–412 (1990).

Caldeira, A. O. & Leggett, A. J. Influence of dissipation on quantum tunneling in macroscopic systems. Phys. Rev. Lett. 46, 211–214 (1981).

Ambegaokar, V., Eckern, U. & Schön, G. Quantum dynamics of tunneling between superconductors. Phys. Rev. Lett. 48, 1745–1748 (1982).
Acknowledgements
We gratefully acknowledge discussions with L. Balents, A. Bezryadin, A. Paramekanti and X.-G. Wen. This research is funded by the US Department of Defense NDSEG program (M.H.), the US National Science Foundation (G.R. and M.P.A.F.) and the US Department of Energy, Division of Material Sciences (through the Frederick Seitz Materials Research Laboratory at UIUC) (P.G.).
Ethics declarations
Competing interests
The authors declare no competing financial interests.
Supplementary information
About this article
Cite this article
Hermele, M., Refael, G., Fisher, M. et al. Fate of the Josephson effect in thin-film superconductors. Nature Phys 1, 117–121 (2005). https://doi.org/10.1038/nphys154
Received:

Accepted:

Published:

Issue Date:

DOI: https://doi.org/10.1038/nphys154