Abstract
Axions are weakly interacting particles of low mass, and were postulated more than 30 years ago in the framework of the Standard Model of particle physics. Their existence could explain the missing dark matter of the Universe. However, despite intensive searches, axions have yet to be observed. Here we show that magnetic fluctuations of topological insulators couple to the electromagnetic fields exactly like the axions, and propose several experiments to detect this dynamical axion field. In particular, we show that the axion coupling enables a nonlinear modulation of the electromagnetic field, leading to attenuated total reflection. We propose a new optical-modulator device based on this principle.
Relevant articles
Open Access articles citing this article.
F. Michael Bartram

,

Yu-Chen Leng

…

Luyi Yang

npj Quantum Materials Open Access 29 August 2022

Wenli Bi

,

Trenton Culverhouse

…

Yogesh K. Vohra

npj Quantum Materials Open Access 19 April 2022

Aiyun Luo

,

Zhida Song

&

Gang Xu

npj Computational Materials Open Access 02 February 2022
Access options
Subscribe to Journal
Get full journal access for 1 year
$99.00
only $8.25 per issue
All prices are NET prices.
VAT will be added later in the checkout.
Tax calculation will be finalised during checkout.
Buy article
Get time limited or full article access on ReadCube.
$32.00
All prices are NET prices.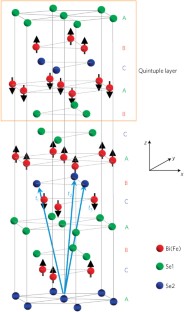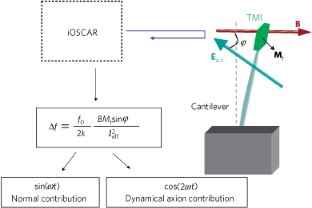 References
Wilczek, F. Two applications of axion electrodynamics. Phys. Rev. Lett. 58, 1799–1802 (1987).

Qi, X.-L., Hughes, T. & Zhang, S.-C. Topological field theory of time-reversal invariant insulators. Phys. Rev. B 78, 195424 (2008).

Essin, A. M., Moore, J. E. & Vanderbilt, D. Magnetoelectric polarizability and axion electrodynamics in crystalline insulators. Phys. Rev. Lett. 102, 146805 (2009).

Qi, X., Li, R., Zang, J. & Zhang, S. Seeing the magnetic monopole through the mirror of topological surface states. Science 323, 1184–1187 (2009).

Wilczek, F. A theoretical physicist examines exotic particles lurking in new materials. Nature 458, 129 (2009).

Zhou, Z., Žabèík, M., Lošták, P. & Uher, C. Magnetic and transport properties of Sb2−xFexTe3(0<x<0.02) single crystals. J. Appl. Phys. 99, 043901 (2006).

Larson, P. & Lambrecht, W. R. L. Electronic structure and magnetism in Bi2Te3, Bi2Se3, Sb2Te3 doped with transition metals (Ti–Zn). Phys. Rev. B 78, 195207 (2008).

Shitade, A. et al. Quantum spin Hall effect in a transition metal oxide Na2IrO3 . Phys. Rev. Lett. 102, 256403 (2009).

Kim, B. J. et al. Phase-sensitive observation of a spin–orbital Mott state in Sr2IrO4 . Science 323, 1329–1332 (2009).

Pesin, D. A. & Balents, L. Nature Phys. 10.1038/nphys1606 (2010).

Guo, H.-M. & Franz, M. Three-dimensional topological insulators on the pyrochlore lattice. Phys. Rev. Lett. 103, 206805 (2009).

Zhang, H. et al. Topological insulators in Bi2Se3, Bi2Te3 and Sb2Te3 with a single Dirac cone on the surface. Nature Phys. 5, 438–442 (2009).

Maiani, L., Petronzio, R. & Zavattini, E. Effects of nearly massless, spin-zero particles on light propagation in a magnetic field. Phys. Lett. B 175, 359–363 (1986).

Mills, D. L. & Burstein, E. Polaritons: The electromagnetic modes of media. Rep. Prog. Phys. 37, 817–926 (1974).

Raffelt, G. & Stodolsky, L. Mixing of the photon with low-mass particles. Phys. Rev. D 37, 1237–1249 (1988).

Cameron, R. et al. Search for nearly massless, weakly coupled particles by optical techniques. Phys. Rev. D 47, 3707–3725 (1993).

Lohndorf, M., Moreland, J., Kabos, P. & Rizzo, N. Microcantilever torque magnetometry of thin magnetic films. J. Appl. Phys. 87, 5995–5997 (2000).

Mamin, H. J., Budakian, R., Chui, B. W. & Rugar, D. Detection and manipulation polarization in small spin ensembles. Phys. Rev. Lett. 91, 207604 (2003).

Budakian, R., Mamin, H. J., Chui, B. W. & Rugar, D. Creating order from random fluctuations in small spin ensembles. Science 307, 408–411 (2005).
Acknowledgements
We wish to thank T. L. Hughes, S. B. Chung, S. Raghu, J. Maciejko, R. B. Liu and B. F. Zhu for insightful discussions. We thank M. Franz for pointing out a typographical error in the equations. This work is supported by the US Department of Energy, Office of Basic Energy Sciences under contract DE-AC03-76SF00515. J.W. acknowledges the support of the China Scholarship Council, NSF of China (Grant No.10774086) and the Program of Basic Research Development of China (Grant No. 2006CB921500).
Ethics declarations
Competing interests
The authors declare no competing financial interests.
About this article
Cite this article
Li, R., Wang, J., Qi, XL. et al. Dynamical axion field in topological magnetic insulators. Nature Phys 6, 284–288 (2010). https://doi.org/10.1038/nphys1534
Received:

Accepted:

Published:

Issue Date:

DOI: https://doi.org/10.1038/nphys1534