Abstract
If identical photons meet at a semi-transparent mirror they seem to leave in the same direction, an effect called 'two-photon interference'. It has been known for some time that this effect should occur for photons generated by dissimilar sources with no common history, provided the measurement cannot distinguish between the photons1. Here, we report a technique for observing such interference with isolated, unsynchronized sources for which the coherence times differ by several orders of magnitude. In an experiment we cause photons generated by different physical processes, with different photon statistics, to interfere. One of the sources is stimulated emission from a tunable laser, which has Poissonian statistics and a nanoelectronvolt bandwidth. The other is spontaneous emission from a quantum dot in a p–i–n diode2,3 with a few-microelectronvolt linewidth. We develop a theory to explain the visibility of interference, which is primarily limited by the timing resolution of our detectors.
Access options
Subscribe to Journal
Get full journal access for 1 year
$187.00
only $15.58 per issue
All prices are NET prices.
VAT will be added later in the checkout.
Rent or Buy article
Get time limited or full article access on ReadCube.
from$8.99
All prices are NET prices.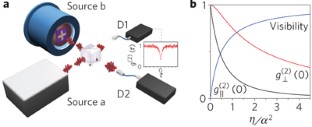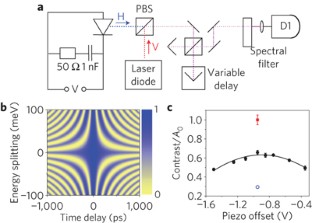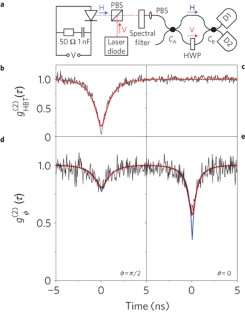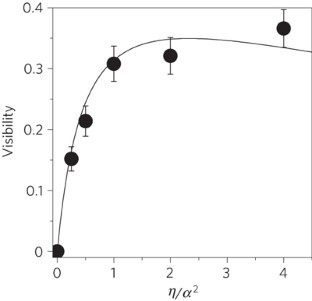 References
1

Mandel, L. Photon interference and correlation effects produced by independent quantum sources. Phys. Rev. A 28, 929–943 (1983).

2

Yuan, Z. L. et al. Electrically driven single-photon source. Science 295, 102–105 (2002).

3

Bennett, A. J. et al. Microcavity single-photon-emitting diode. Appl. Phys. Lett. 86, 181102 (2005).

4

Hong, C. K., Ou, Z. Y. & Mandel, L. Measurement of subpicosecond time intervals between two photons by interference. Phys. Rev. Lett. 59, 2044–2046 (1987).

5

Rarity, J. G., Tapster, P. R. & Loudon, R. Non-classical interference between independent sources. J. Opt. B 7, 171–175 (2005).

6

Wasilewski, W., Kolenderski, P. & Frankowski, R. Spectral density matrix of a single photon measured. Phys. Rev. Lett. 99, 123601 (2007).

7

Kaltenbaek, R. et al. Experimental interference of independent photons. Phys. Rev. Lett. 96, 240502 (2006).

8

Halder, M. et al. Entangling independent photons by time measurement. Nature Phys. 3, 692–695 (2007).

9

Lounis, B. & Orrit, M. Single-photon sources. Rep. Prog. Phys. 68, 1129–1179 (2005).

10

Santori, C., Fattal, D., Vučković, J., Solomon, G. S. & Yamamoto, Y. Indistinguishable photons from a single-photon device. Nature 419, 594–597 (2002).

11

Legero, T., Wilk, T., Hennrich, M., Rempe, G. & Kuhn, A. Quantum beat of two single photons. Phys. Rev. Lett. 93, 070503 (2004).

12

Beugnon, J. et al. Quantum interference between two single photons emitted by independently trapped atoms. Nature 440, 779–782 (2006).

13

Maunz, P. et al. Quantum interference of photon pairs from two remote trapped atomic ions. Nature Phys. 3, 538–541 (2007).

14

Chaneliere, T. et al. Quantum interference of electromagnetic fields from remote quantum memories. Phys. Rev. Lett. 98, 113602 (2007).

15

Sanaka, K., Pawlis, A., Ladd, T., Lischka, K. & Yamamoto, Y. Indistinguishable photons from independent semiconductor nanostructures. Phys. Rev. Lett. 103, 053601 (2009).

16

Lim, Y. L., Beige, A. & Kwek, Y. C. Repeat-until-success linear optics distributed quantum computing. Phys. Rev. Lett. 95, 030505 (2005).

17

Kammerer, C. et al. Interferometric correlation spectroscopy in single quantum dots. Appl. Phys. Lett. 81, 2737–2739 (2002).

18

Patel, R. B. et al. Postselective two-photon interference from a continuous nonclassical stream of photons emitted by a quantum dot. Phys. Rev. Lett. 100, 207405 (2008).

19

Michler, P. et al. Quantum correlation among photons from a single quantum dot at room temperature. Nature 406, 968–970 (2000).
Acknowledgements
This work was partly supported by the EU through the IST FP6 Integrated Project Qubit Applications (QAP: contract number 015848). EPSRC provided support for R.B.P. and QIPIRC for C.A.N.
Supplementary information
About this article
Cite this article
Bennett, A., Patel, R., Nicoll, C. et al. Interference of dissimilar photon sources. Nature Phys 5, 715–717 (2009). https://doi.org/10.1038/nphys1373
Received:

Accepted:

Published:

Issue Date: