Abstract
Owing to their electromagnetic properties, tunability and biocompatibility, gold nanorods are being investigated as multifunctional probes for a range of biomedical applications. However, detection beyond the reach of traditional fluorescence and two-photon approaches and quantitation of their concentration in biological tissue remain challenging tasks in microscopy. Here, we show how the size and aspect ratio that impart gold nanorods with their plasmonic properties also make them a source of entropy. We report on how depolarization can be exploited as a strategy to visualize gold nanorod diffusion and distribution in biologically relevant scenarios ex vivo, in vitro and in vivo. We identify a deterministic relation between depolarization and nanoparticle concentration. As a result, some of the most stringent experimental conditions can be relaxed, and susceptibility to artefacts is reduced, enabling microscopic and macroscopic applications.
Access options
Subscribe to Journal
Get full journal access for 1 year
$169.00
only $14.08 per issue
All prices are NET prices.
VAT will be added later in the checkout.
Rent or Buy article
Get time limited or full article access on ReadCube.
from$8.99
All prices are NET prices.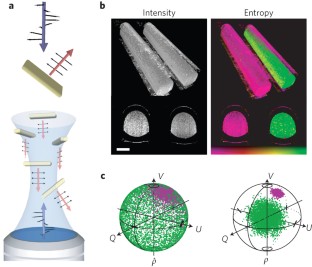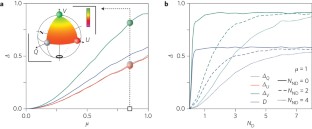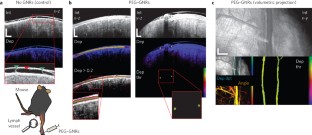 References
1

Yu, Y., Chang, S., Lee, C. & Wang, C. R. C. Gold nanorods: electrochemical synthesis and optical properties. J. Phys. Chem. B 101, 6661–6664 (1997).

2

Huang, X. H., Neretina, S. & El-Sayed, M. A. Gold nanorods: from synthesis and properties to biological and biomedical applications. Adv. Mater. 21, 4880–4910 (2009).

3

Mieszawska, A. J., Mulder, W. J. M., Fayad, Z. A. & Cormode, D. P. Multifunctional gold nanoparticles for diagnosis and therapy of disease. Mol. Pharm. 10, 831–847 (2013).

4

Pissuwan, D., Valenzuela, S. M., Cortie, M. B. Therapeutic possibilities of plasmonically heated gold nanoparticles. Trends Biotechnol. 24, 62–67 (2006).

5

Maltzahn, G. et al. Computationally guided photothermal tumor therapy using long-circulating gold nanorod antennas. Cancer Res. 69, 3892–3900 (2009).

6

Lin, K. Y. et al. Gold nanorod photothermal therapy in a genetically engineered mouse model of soft tissue sarcoma. Nano LIFE 1, 277–287 (2010).

7

Bagley, A. F., Hill, S., Rogers, G. S. & Bhatia, S. N. Plasmonic photothermal heating of intraperitoneal tumors through the use of an implanted near-infrared source. ACS Nano 7, 8089–8097 (2013).

8

Dickerson, E. B. et al. Gold nanorod assisted near-infrared plasmonic photothermal therapy (PPTT) of squamous cell carcinoma in mice. Cancer Lett. 269, 57–66 (2008).

9

Wang, H. et al. In vitro and in vivo two-photon luminescence imaging of single gold nanorods. Proc. Natl Acad. Sci. USA 102, 15752–15756 (2005).

10

Bouhelier, A. et al. Surface plasmon characteristics of tunable photoluminescence in single gold nanorods. Phys. Rev. Lett. 95, 267405 (2005).

11

Soennichsen, C., Reinhard, B. M., Liphardt, J. & Alivisatos, A. P. A molecular ruler based on plasmon coupling of single gold and silver nanoparticles. Nat. Biotechnol. 23, 741–750 (2005).

12

Jain, P. K., Eustis, S. & El-Sayed, M. A. Plasmon coupling in nanorod assemblies: optical absorption, discrete dipole approximation simulation, and exciton-coupling model. J. Phys. Chem. B 110, 18243–18253 (2006).

13

Jain, P., Huang, W. & El-Sayed, M. A. On the universal scaling behavior of the distance decay of plasmon coupling in metal nanoparticle pairs: a plasmon ruler equation. Nano Lett. 7, 2080–2088 (2007).

14

Nie, S. & Emory, S. R. Probing single molecules and single nanoparticles by surface-enhanced Raman scattering. Science 275, 1102–1106 (1997).

15

Quian, X. et al. In vivo tumor targeting and spectroscopic detection with surface-enhanced Raman nanoparticle tags. Nat. Biotechnol. 26, 83–90 (2008).

16

Sönnichsen, C., Franzl, T., Wilk, T., von Plessen, G. & Feldmann, J. Drastic reduction of plasmon damping in gold nanorods. Phys. Rev. Lett. 88, 077402 (2002).

17

Murphy, C. J. et al. Gold nanoparticles in biology: beyond toxicity to cellular imaging. Acc. Chem. Res. 41, 1721–1730 (2008).

18

Eisebitt, S. et al. Lensless imaging of magnetic nanostructures by X-ray spectroholography. Nature 432, 885–888 (2004).

19

Thibault, P. & Menzel, A. Reconstructing state mixtures from diffraction measurements. Nature 494, 68–71 (2013).

20

Goodman, J. W. Statistical Optics (Wiley, 2000).

21

Mishchenko, M. I. & Hovenier, J. W. Depolarization of light backscattered by randomly oriented nonspherical particles. Opt. Lett. 20, 1356–1358 (1995).

22

Khlebtsov, N. G., Mel'nikov, A. G., Bogatyrev, V. A., Alekseeva, A. V. & Khlebtsov, B. N. Depolarization of light scattered by gold nanospheres and nanorods. Opt. Spectrosc. 100, 448–455 (2006).

23

Khlebtsov, B., Khanadeev, V. & Khlebtsov, N. Tunable depolarized light scattering from gold and gold/silver nanorods. Phys. Chem. Chem. Phys. 12, 3210–3218 (2010).

24

Swami, M. K. et al. Effect of gold nanoparticles on depolarization characteristics of intralipid tissue phantom. Opt. Lett. 38, 2855–2857 (2013).

25

Eickhoff, W. & Ulrich, R. Optical frequency domain reflectometry in single-mode fiber. Appl. Phys. Lett. 39, 693–695 (1981).

26

Yun, S. H., Tearney, G. J., de Boer, J. F., Iftimia, N. & Bouma, B. E. High-speed optical frequency-domain imaging. Opt. Express 11, 2953–2963 (2003).

27

Oh, W. Y. et al. High-speed polarization sensitive optical frequency domain imaging with frequency multiplexing. Opt. Express 16, 1096–1103 (2008).

28

Lu, S. & Chipman, R. A. Interpretation of Mueller matrices based on polar decomposition. J. Opt. Soc. Am. A 13, 1106–1113 (1996).

29

Lancaster, M. A. et al. Cerebral organoids model human brain development and microcephaly. Nature 501, 373–379 (2013).

30

Chung, K. et al. Structural and molecular interrogation of intact biological systems. Nature 497, 332–337 (2013).

31

Albanese, A., Lam, A. K., Sykes, E. A., Rocheleau, J. V. & Chan, W. C. W. Tumour-on-a-chip provides an optical window into nanoparticle tissue transport. Nat. Commun. 4, 2718 (2013).

32

Yun, S. H. et al. Comprehensive volumetric optical microscopy in vivo. Nat. Med. 12, 1429–1433 (2006).

33

Wessels, R. et al. Optical biopsy of epithelial cancers by optical coherence tomography (OCT). Lasers Med. Sci. 29, 1297–1305 (2014).

34

Vakoc, B. J. et al. Three-dimensional microscopy of the tumor microenvironment in vivo using optical frequency domain imaging. Nat. Med. 15, 1219–1223 (2009).

35

Lippok, N., Villiger, M., Jun, C. & Bouma, B. E. Single input state, single-mode fiber-based polarization-sensitive optical frequency domain imaging by eigenpolarization referencing. Opt. Lett. 40, 2025–2028 (2015).

36

Liao, S. et al. Impaired lymphatic contraction associated with immunosuppression. Proc. Natl Acad. Sci. USA 108, 18784–18789 (2011).
Acknowledgements
This work was supported in part by National Institutes of Health (NIH) grant P41EB-015903, Koch Institute Support Grant P30-CA14051 from the National Cancer Institute (Swanson Biotechnology Center), and a Core Center Grant P30-ES002109 from the National Institute of Environmental Health Sciences. S.N.B. is a Howard Hughes Medical Institute Investigator. A.A. was supported by the Natural Sciences and Engineering Research Council of Canada and the Canadian Institutes of Health Research. T.P.P. was supported by NIH R01CA214913 and NIH R01HL128168. K.C. was supported by Burroughs Wellcome Fund Career Awards at the Scientific Interface, the Searle Scholars Program, Packard award in Science and Engineering, NARSAD Young Investigator Award, and NCSOFT Cultural Foundation.
Ethics declarations
Competing interests
The authors declare no competing financial interests.
Supplementary information
About this article
Cite this article
Lippok, N., Villiger, M., Albanese, A. et al. Depolarization signatures map gold nanorods within biological tissue. Nature Photon 11, 583–588 (2017). https://doi.org/10.1038/nphoton.2017.128
Received:

Accepted:

Published:

Issue Date: