Abstract
The ultrafast coherent manipulation of electrons using waveform-controlled laser pulses1,2,3,4,5,6,7,8,9 is a key issue in the development of modern electronics10,11. Developing such an approach for a tunnel junction will provide a new platform for governing ultrafast currents on an even smaller scale, which will be indispensable for the advancement of next-generation quantum nanocircuits12,13,14,15 and plasmonic devices16,17,18. Here, we demonstrate that carrier-envelope-phase-controlled single-cycle terahertz electric fields can coherently drive electron tunnelling either from a nanotip to a sample or vice versa. Spatially confined electric fields of more than 10 V nm–1 strongly modulate the potential barrier at a nanogap in a scanning tunnelling microscope (STM) on the subpicosecond timescale and can steer a large number of electrons in an extremely nonlinear regime, which is not possible using a conventional STM. Our results are expected to pave the way for the future development of nanoscale science and technologies.
Access options
Subscribe to Journal
Get full journal access for 1 year
$99.00
only $8.25 per issue
All prices are NET prices.
VAT will be added later in the checkout.
Tax calculation will be finalised during checkout.
Rent or Buy article
Get time limited or full article access on ReadCube.
from$8.99
All prices are NET prices.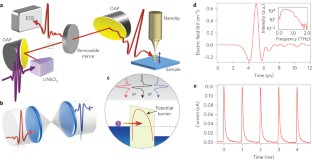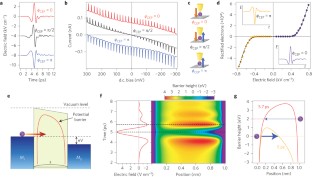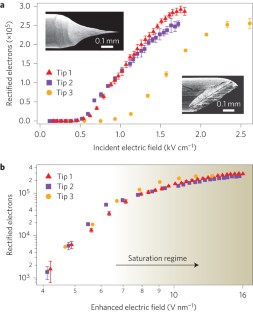 References
1

Paulus, G. G. et al. Measurement of the phase of few-cycle laser pulses. Phys. Rev. Lett. 91, 253004 (2003).

2

Corkum, P. B. & Krausz, F. Attosecond science. Nat. Phys. 3, 381–387 (2007).

3

Schiffrin, A. et al. Optical-field-induced current in dielectrics. Nature 493, 70–74 (2013).

4

Paasch-Colberg, T. et al. Solid-state light-phase detector. Nat. Photon. 8, 214–218 (2014).

5

Luu, T. T. et al. Extreme ultraviolet high-harmonic spectroscopy of solids. Nature 521, 498–502 (2015).

6

Hohenleutner, M. et al. Real-time observation of interfering crystal electrons in high-harmonic generation. Nature 523, 572–575 (2015).

7

Krüger, M., Schenk, M. & Hommelhoff, P. Attosecond control of electrons emitted from a nanoscale metal tip. Nature 475, 78–81 (2011).

8

Wimmer, L. et al. Terahertz control of nanotip photoemission. Nat. Phys. 10, 432–436 (2014).

9

Piglosiewicz, B. et al. Carrier-envelope phase effects on the strong-field photoemission of electrons from metallic nanostructures. Nat. Photon. 8, 37–42 (2014).

10

Caulfield, H. J. & Dolev, S. Why future supercomputing requires optics. Nat. Photon. 4, 261–263 (2010).

11

Krausz, F. & Stockman, M. I. Attosecond metrology: from electron capture to future signal processing. Nat. Photon. 8, 205–213 (2014).

12

Ward, D. R., Hüser, F., Pauly, F., Cuevas, J. C. & Natelson, D. Optical rectification and field enhancement in a plasmonic nanogap. Nat. Nanotech. 5, 732–736 (2010).

13

Vincent, R., Klyatskaya, S., Ruben, M., Wernsdorfer, W. & Balestro, F. Electronic read-out of a single nuclear spin using a molecular spin transistor. Nature 488, 357–360 (2012).

14

Yoshida, K., Shibata, K. & Hirakawa, K. Terahertz field enhancement and photon-assisted tunneling in single-molecule transistors. Phys. Rev. Lett. 115, 138302 (2015).

15

Sharma, A., Singh, V., Bougher, T. L. & Cola, B. A. A carbon nanotube optical rectenna. Nat. Nanotech. 10, 1027–1032 (2015).

16

Savage, K. J. et al. Revealing the quantum regime in tunnelling plasmonics. Nature 491, 574–577 (2012).

17

Tan, S. F. et al. Quantum plasmon resonances controlled by molecular tunnel junctions. Science 343, 1496–1499 (2014).

18

Bahk, Y.-M. et al. Electromagnetic saturation of angstrom-sized quantum barriers at terahertz frequencies. Phys. Rev. Lett. 115, 125501 (2015).

19

Cocker, T. L. et al. An ultrafast terahertz scanning tunnelling microscope. Nat. Photon. 7, 620–625 (2013).

20

Grafström, S. Photoassisted scanning tunneling microscopy. J. Appl. Phys. 91, 1717–1753 (2002).

21

Hirori, H., Doi, A., Blanchard, F. & Tanaka, K. Single-cycle terahertz pulses with amplitudes exceeding 1 MV/cm generated by optical rectification in LiNbO3 . Appl. Phys. Lett. 98, 091106 (2011).

22

Kampfrath, T., Tanaka, K. & Nelson, K. A. Resonant and nonresonant control over matter and light by intense terahertz transients. Nat. Photon. 7, 680–690 (2013).

23

Yoshioka, K. et al. Terahertz-field-induced nonlinear electron delocalization in Au nanostructures. Nano Lett. 15, 1036–1040 (2015).

24

Terada, Y., Yoshida, S., Takeuchi, O. & Shigekawa, H. Real-space imaging of transient carrier dynamics by nanoscale pump–probe microscopy. Nat. Photon. 4, 869–874 (2010).

25

Yoshida, S. et al. Probing ultrafast spin dynamics with optical pump–probe scanning tunnelling microscopy. Nat. Nanotech. 9, 588–593 (2014).

26

Feng, S. & Winful, H. G. Physical origin of the Gouy phase shift. Opt. Lett. 26, 485–487 (2001).

27

Higuchi, T., Maisenbacher, L., Liehl, A., Dombi, P. & Hommelhoff, P. A nanoscale vacuum-tube diode triggered by few-cycle laser pulses. Appl. Phys. Lett. 106, 051109 (2015).

28

Simmons, J. G. Generalized formula for the electric tunnel effect between similar electrodes separated by a thin insulating film. J. Appl. Phys. 34, 1793–1803 (1963).

29

Zhang, P. Scaling for quantum tunneling current in nano- and subnano-scale plasmonic junctions. Sci. Rep. 5, 9826 (2015).

30

Shalaby, M. & Hauri, C. P. Demonstration of a low-frequency three-dimensional terahertz bullet with extreme brightness. Nat. Commun. 6, 5976 (2015).
Acknowledgements
This work was supported in part by the Grants-in-Aid for Scientific Research (numbers 15H05734, 16H03820, 16H04001 and 16H06010) from the Japan Society for the Promotion of Science and the Ministry of Education, Culture, Sports, Science and Technology, and by the Strategic Information and Communications R&D Promotion Programme (SCOPE #145003103) of Japan Ministry of Internal Affairs and Communications.
Ethics declarations
Competing interests
The authors declare no competing financial interests.
Supplementary information
About this article
Cite this article
Yoshioka, K., Katayama, I., Minami, Y. et al. Real-space coherent manipulation of electrons in a single tunnel junction by single-cycle terahertz electric fields. Nature Photon 10, 762–765 (2016). https://doi.org/10.1038/nphoton.2016.205
Received:

Accepted:

Published:

Issue Date: