Abstract
Plasmonic nanoparticles provide the basis for a multitude of applications in chemistry, health care and optics because of their unique properties. Nanoparticle-based techniques have evolved into powerful tools for studying molecular interactions with single-molecule resolution. Here we show that this sensing capability can be used to detect single atomic ions in aqueous medium. We monitored interactions of single zinc and mercury ions with plasmonic gold nanorods (NRs) resonantly coupled to our whispering gallery mode sensor. Our system's ability to discern permanent binding and transient interaction allows us to study the different interaction kinetics of both ion species. The detection of transient interactions enables us to confirm statistically that the sensor signals originate from single ions. Furthermore, we reveal how the ion–NR interactions evolve with respect to the medium's ionic strength as mercury ions amalgamate with gold and zinc ions eventually turn into probes of highly localized surface potentials.
Your institute does not have access to this article
Relevant articles
Open Access articles citing this article.
Scientific Reports Open Access 29 March 2022

Larnii S. Booth

,

Eloise V. Browne

…

Warwick P. Bowen

Scientific Reports Open Access 07 February 2022

Larissa Kohler

,

Matthias Mader

…

David Hunger

Nature Communications Open Access 04 November 2021
Access options
Subscribe to Journal
Get full journal access for 1 year
$99.00
only $8.25 per issue
All prices are NET prices.
VAT will be added later in the checkout.
Tax calculation will be finalised during checkout.
Buy article
Get time limited or full article access on ReadCube.
$32.00
All prices are NET prices.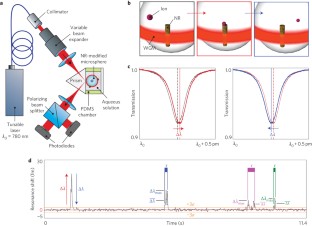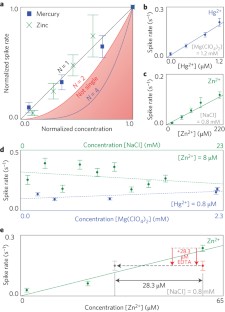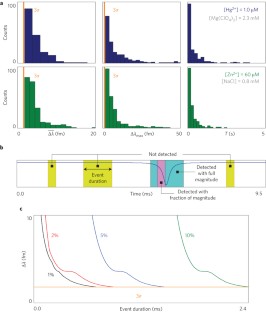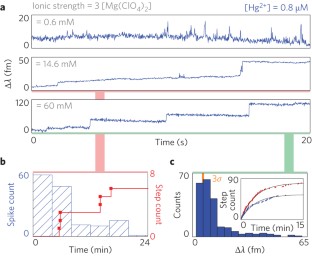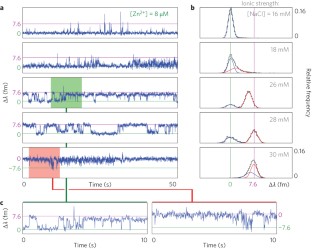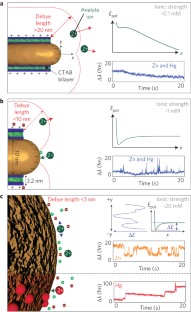 References
Jackson, J. B. & Halas, N. J. Surface-enhanced Raman scattering on tunable plasmonic nanoparticle substrates. Proc. Natl Acad. Sci. USA 101, 17930–17935 (2004).

Zamarion, V. M., Timm, R. A., Araki, K. & Toma, H. E. Ultrasensitive SERS nanoprobes for hazardous metal ions based on trimercaptotriazine-modified gold nanoparticles. Inorg. Chem. 47, 2934–2936 (2008).

Sonnefraud, Y. et al. Experimental proof of concept of nanoparticle assisted STED. Nano Lett. 14, 4449–4453 (2014).

Huang, X., El-Sayed, I. H., Qian, W. & El-Sayed, M. A. Cancer cell imaging and photothermal therapy in the near-infrared region by using gold nanorods. J. Am. Chem. Soc. 128, 2115–2120 (2006).

El-Sayed, I. H., Huang, X. & El-Sayed, M. A. Selective laser photo-thermal therapy of epithelial carcinoma using anti-EGFR antibody conjugated gold nanoparticles. Cancer Lett. 239, 129–135 (2006).

Han, G., Ghosh, P. & Rotello, V. M. Functionalized gold nanoparticles for drug delivery. Nanomedicine 2, 113–123 (2007).

Kauranen, M. & Zayats, A. V. Nonlinear plasmonics. Nat. Photon. 6, 737–748 (2012).

Mukherjee, S. et al. Hot electrons do the impossible: plasmon-induced dissociation of H2 on Au. Nano Lett. 13, 240–247 (2012).

Wang, F. et al. Plasmonic harvesting of light energy for Suzuki coupling reactions. J. Am. Chem. Soc. 135, 5588–5601 (2013).

Frens, G. Controlled nucleation for the regulation of the particle size in monodisperse gold suspensions. Nat. Phys. Sci. 241, 20–22 (1973).

Ha, T. H., Koo, H.-J. & Chung, B. H. Shape controlled syntheses of gold nanoprism and nanorod influenced by specific adsorption of halide ions. J. Phys. Chem. C 111, 1123–1130 (2007).

Busbee, B. D., Obare, S. O. & Murphy, C. J. An improved synthesis of high-aspect-ratio gold nanorods. Adv. Mater. 15, 414–416 (2003).

Nikoobakht, B. & El-Sayed, M. A. Preparation and growth mechanism of gold nanorods (NRs) using seed-mediated growth method. Chem. Mater. 15, 1957–1962 (2003).

Kumar, P. S., Pastoriza-Santos, I., Rodriguez-Gonzalez, B., Javier Garcia de Abajo, F. & Liz-Marzan, L. M. High-yield synthesis and optical response of gold nanostars. Nanotechnology 19, 015606 (2008).

Haes, A. J., Chang, L., Klein, W. L. & Van Duyne, R. P. Detection of a biomarker for Alzheimer's disease from synthetic and clinical samples using a nanoscale optical biosensor. J. Am. Chem. Soc. 127, 2264–2271 (2005).

Anker, J. N. et al. Biosensing with plasmonic nanosensors. Nat. Mater. 7, 442–453 (2008).

Ament, I., Prasad, J., Henkel, A., Schmachtel, S. & Sönnichsen, C. Single unlabeled protein detection on individual plasmonic nanoparticles. Nano Lett. 12, 1092–1095 (2012).

Zijlstra, P., Paulo, P. M. R. & Orrit, M. Optical detection of single non-absorbing molecules using the surface plasmon resonance of a gold nanorod. Nat. Nanotechnol. 7, 379–382 (2012).

Beuwer, M. A., Prins, M. W. J. & Zijlstra, P. Stochastic protein interactions monitored by hundreds of single-molecule plasmonic biosensors. Nano Lett. 15, 3507–3511 (2015).

Baaske, M. D., Foreman, M. R. & Vollmer, F. Single-molecule nucleic acid interactions monitored on a label-free microcavity biosensor platform. Nat. Nanotechnol. 9, 933–939 (2014).

Baaske, M. & Vollmer, F. Optical resonator biosensors: molecular diagnostic and nanoparticle detection on an integrated platform. ChemPhysChem 13, 427–436 (2012).

Foreman, M., Swaim, J. & Vollmer, F. Whispering gallery mode sensors. Adv. Opt. Photon. 7, 168–168 (2015).

Vollmer, F., Arnold, S. & Keng, D. Single virus detection from the reactive shift of a whispering-gallery mode. Proc. Natl Acad. Sci. USA 105, 20701–20704 (2008).

He, L., Ozdemir, S. K., Zhu, J., Kim, W. & Yang, L. Detecting single viruses and nanoparticles using whispering gallery microlasers. Nat. Nanotechnol. 6, 428–432 (2011).

Lu, T. et al. High sensitivity nanoparticle detection using optical microcavities. Proc. Natl Acad. Sci. USA 108, 5976–5979 (2011).

Foreman, M. R., Jin, W.-L. & Vollmer, F. Optimizing detection limits in whispering gallery mode biosensing. Opt. Express 22, 5491–5511 (2014).

Vollmer, F. et al. Protein detection by optical shift of a resonant microcavity. Appl. Phys. Lett. 80, 4057–4059 (2002).

Washburn, A. L., Gunn, L. C. & Bailey, R. C. Label-free quantitation of a cancer biomarker in complex media using silicon photonic microring resonators. Anal. Chem. 81, 9499–9506 (2009).

Wu, Y., Zhang, D. Y., Yin, P. & Vollmer, F. Ultraspecific and highly sensitive nucleic acid detection by integrating a DNA catalytic network with a label-free microcavity. Small 10, 2067–2076 (2014).

Hanumegowda, N. M., White, I. M. & Fan, X. Aqueous mercuric ion detection with microsphere optical ring resonator sensors. Sens. Actuat. B 120, 207–212 (2006).

Panich, S. et al. Label-free Pb(II) whispering gallery mode sensing using self- assembled glutathione-modified gold nanoparticles on an optical microcavity. Anal. Chem. 86, 6299–6306 (2014).

Kukanskis, K. et al. Detection of DNA hybridization using the TISPR-1 surface plasmon resonance biosensor. Anal. Biochem. 274, 7–17 (1999).

Haynes, W. M. CRC Handbook of Chemistry and Physics, 96th edn (Taylor & Francis, 2015).

Rex, M., Hernandez, F. E. & Campiglia, A. D. Pushing the limits of mercury sensors with gold nanorods. Anal. Chem. 78, 445–451 (2006).

Lee, S. J., Piorek, B. D., Meinhart, C. D. & Moskovits, M. Photoreduction at a distance: facile, nonlocal photoreduction of Ag ions in solution by plasmon-mediated photoemitted electrons. Nano Lett. 10, 1329–1334 (2010).

Duval, J. F. L., Huijs, G. K., Threels, W. F., Lyklema, J. & Van Leeuwen, H. P. Faradaic depolarization in the electrokinetics of the metal–electrolyte solution interface. J. Colloid Interface Sci. 260, 95–106 (2003).

Barten, D. et al. Double layer of a gold electrode probed by AFM force measurements. Langmuir 19, 1133–1139 (2003).

Pashley, R. M. & Israelachvili, J. N. A comparison of surface forces and interfacial properties of mica in purified surfactant solutions. Colloids Surf. 2, 169–187 (1981).

Pashley, R. M., McGuiggan, P. M., Horn, R. G. & Ninham, B. W. Forces between bilayers of cetyltrimethylammonium bromide in micellar solutions. J. Colloid Interface Sci. 126, 569–578 (1988).
Acknowledgements
The authors acknowledge financial support for this work from the Max Planck Society. M.D.B. thanks M. R. Foreman and E. Kim for their feedback on the manuscript.
Ethics declarations
Competing interests
The authors declare no competing financial interests.
Supplementary information
About this article
Cite this article
Baaske, M., Vollmer, F. Optical observation of single atomic ions interacting with plasmonic nanorods in aqueous solution. Nature Photon 10, 733–739 (2016). https://doi.org/10.1038/nphoton.2016.177
Received:

Accepted:

Published:

Issue Date:

DOI: https://doi.org/10.1038/nphoton.2016.177