By making use of the spin angular momentum of light, rotational frequency shifts of harmonic waves generated by spinning nonlinear media have been observed.
Access options
Subscribe to Journal
Get full journal access for 1 year
$59.00
only $4.92 per issue
All prices are NET prices.
VAT will be added later in the checkout.
Tax calculation will be finalised during checkout.
Rent or Buy article
Get time limited or full article access on ReadCube.
from$8.99
All prices are NET prices.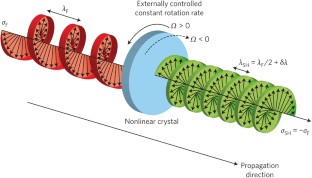 References
1

Allen, P. J. Am. J. Phys. 34, 1185–1192 (1966).

2

Courtial, J., Dholakia, K., Robertson, D. A., Allen, L. & Padgett, M. J. Phys. Rev. Lett. 80, 3217–3219 (1998).

3

Li, G., Zentgraf, T. & Zhang, S. Nature Phys. http://dx.doi.org/10.1038/nphys3699 (2016).

4

Santamato, E., Daino, B., Romagnoli, M., Settembre, M. & Shen, Y. R. Phys. Rev. Lett. 57, 2423–2426 (1986).

5

Bliokh, K. Y., Rodriguez-Fortuno, F. J., Nori, F. & Zayats, A. V. Nature Photon. 9, 796–808 (2015).

6

Belyi, V. N., Khilo, N. A., Forbes, A. & Ryzhevich, A. A. Proc. SPIE 7430, 74300F (2009).
About this article
Cite this article
Brasselet, E. Harmonic angular Doppler effect. Nature Photon 10, 362–364 (2016). https://doi.org/10.1038/nphoton.2016.106