Last year the common notion that signal disturbance has to be monitored in a quantum cryptographic link to guarantee secrecy was challenged by a new protocol. The formidable task of demonstrating it experimentally has now been achieved.
Access options
Subscribe to Journal
Get full journal access for 1 year
$99.00
only $8.25 per issue
All prices are NET prices.
VAT will be added later in the checkout.
Tax calculation will be finalised during checkout.
Buy article
Get time limited or full article access on ReadCube.
$32.00
All prices are NET prices.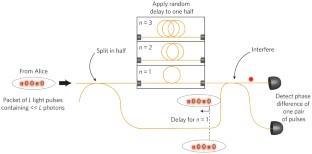 References
Bennett, C. H. & Brassard, G. in Proc. IEEE Int. Conf. Comp. Syst. Signal Process. 175–179 (IEEE, 1984).

Heisenberg, W. Z. Phys. 43, 172–198 (1927).

Sasaki, T., Yamamoto, Y. & Koashi, M. Nature 509, 475–478 (2014).

Wang, S. et al. Nature Photon. 9, 832–836 (2015).

Takesue, H. et al. Nature Photon. 9, 827–831 (2015).

Guan, J.-Y. et al. Phys. Rev. Lett. 104, 180502 (2015).

Vernam, G. J. Am. Inst. Electr. Eng. 45, 109–115 (1926).

Scarani, V. et al. Rev. Mod. Phys. 81, 1301 (2009).

Dixon, A. R., Yuan, Z. L., Dynes, J. F., Sharpe. A. W. & Shields, A. J. Opt. Express 16, 18790–18979 (2008).

Qiu, J. Nature 508, 441–442 (2014).
About this article
Cite this article
Fröhlich, B., Yuan, Z. Round-robin with photons. Nature Photon 9, 781–782 (2015). https://doi.org/10.1038/nphoton.2015.230
Published:

Issue Date:

DOI: https://doi.org/10.1038/nphoton.2015.230