Abstract
Powerful coherent light with a spectrum spanning the mid-infrared (MIR) spectral range is crucial for a number of applications in natural as well as life sciences, but so far has only been available from large-scale synchrotron sources1. Here we present a compact apparatus that generates pulses with a sub-two-cycle duration and with an average power of 0.1 W and a spectral coverage of 6.8–16.4 μm (at −30 dB). The demonstrated source combines, for the first time in this spectral region, a high power, a high repetition rate and phase coherence. The MIR pulses emerge via difference-frequency generation (DFG) driven by the nonlinearly compressed pulses of a Kerr-lens mode-locked ytterbium-doped yttrium–aluminium–garnet (Yb:YAG) thin-disc oscillator. The resultant 100 MHz MIR pulse train is hundreds to thousands of times more powerful than state-of-the-art frequency combs that emit in this range2,3,4, and offers a high dynamic range for spectroscopy in the molecular fingerprint region4,5,6,7 and an ideal prerequisite for hyperspectral imaging8 as well as for the time-domain coherent control of vibrational dynamics9,10,11.
Access options
Subscribe to Journal
Get full journal access for 1 year
$169.00
only $14.08 per issue
All prices are NET prices.
VAT will be added later in the checkout.
Rent or Buy article
Get time limited or full article access on ReadCube.
from$8.99
All prices are NET prices.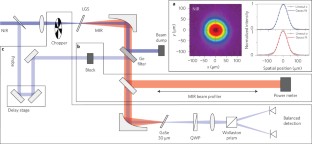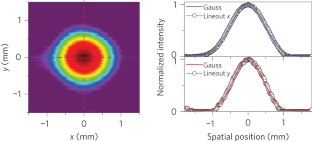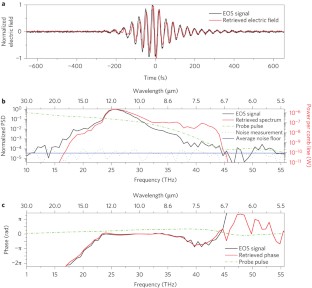 References
1

Cinque, G., Frogley, M. D. & Bartolini, R. Far-IR/THz spectral characterization of the coherent synchrotron radiation emission at diamond IR beamline B22. Rend. Fis. Acc. Lincei 25 (suppl. 1), 33–47 (2011).

2

Gambetta, A. et al. Milliwatt-level frequency combs in the 8–14 μm range via difference frequency generation from an Er:fiber oscillator. Opt. Lett. 38, 1155–1157 (2013).

3

Keilmann, F. & Amarie, S. Mid-infrared frequency comb spanning an octave based on an Er fiber laser and difference-frequency generation. J. Infrared Millim. Te. 33, 479–484 (2012).

4

Schliesser, A., Picqué, N. & Hänsch, T. W. Mid-infrared frequency combs. Nature Photon. 6, 440–449 (2012).

5

Adler, F., Thorpe, M. J., Cossel, K. C. & Ye, J. Cavity-enhanced direct frequency comb spectroscopy: technology and applications. Annu. Rev. Anal. Chem. 3, 175–205 (2010).

6

Todd, M. W. et al. Application of mid-infrared cavity-ringdown spectroscopy to trace explosives vapor detection using a broadly tunable (6–8 µm) optical parametric oscillator. Appl. Phys. B 75, 367 (2002).

7

Griffiths, P. R. & De Haseth, J. A . Fourier Transform Infrared Spectrometry 2nd edn (Wiley, 2007).

8

Dupont, S. et al. IR microscopy utilizing intense supercontinuum light source. Opt. Express 20, 4887–4892 (2012).

9

Schiffrin, A. et al. Optical-field-induced current in dielectrics. Nature 493, 70–74 (2013).

10

Schubert, O. et al. Sub-cycle control of terahertz high-harmonic generation by dynamical Bloch oscillations. Nature Photon. 8, 119–123 (2014).

11

Krausz, F. & Stockman, M. I. Attosecond metrology: from electron capture to future signal processing. Nature Photon. 8, 205–213 (2014).

12

Crosson, E. R. et al. Stable isotope ratios using cavity ring-down spectroscopy: determination of 13C/12C for carbon dioxide in human breath. Anal. Chem. 74, 2003–2008 (2002).

13

Foltynowicz, A., Masłowski, P., Fleisher, A. J., Bjork, B. J. & Ye, J. Cavity-enhanced optical frequency comb spectroscopy in the mid-infrared application to trace detection of hydrogen peroxide. Appl. Phys. B 110, 163–175 (2013).

14

Biegert, J., Bates, P. K. & Chalus, O. New mid-infrared light sources. IEEE JSTQE 18, 521–540 (2012).

15

Meek, S. A., Poisson, A., Guelachvili, G., Hänsch, T. W. & Picqué, N. Fourier transform spectroscopy around 3 µm with a broad difference frequency comb. Appl. Phys. B 114, 573–578 (2014).

16

Popmintchev, T. et al. Bright coherent ultrahigh harmonics in the keV X-ray regime from mid-infrared femtosecond lasers. Science 336, 1287–1291 (2012).

17

Cousin, S. L. et al. High-flux table-top soft X-ray source driven by sub-2-cycle, CEP stable, 1.85-µm 1-kHz pulses for carbon K-edge spectroscopy. Opt. Lett. 39, 5383–5386 (2014).

18

Petrov, V. Parametric down-conversion devices: the coverage of the mid-infrared spectral range by solid-state laser sources. Opt. Mater. 34, 536–554 (2012).

19

Petersen, C. R. et al. Mid-infrared supercontinuum covering the 1.4–13.3 μm molecular fingerprint region using ultra-high NA chalcogenide step-index fibre. Nature Photon. 8, 830–834 (2014).

20

Møller, U. et al. Multi-milliwatt mid-infrared supercontinuum generation in a suspended core chalcogenide fiber. Opt. Express 23, 3282–3291 (2015).

21

Kaindl, R. A., Eickemeyer, F., Woerner, M. & Elsaesser, T. Broadband phase-matched difference frequency mixing of femtosecond pulses in GaSe: experiment and theory. Appl. Phys. Lett. 75, 1060–1062 (1999).

22

Fattahi, H., Schwarz, A., Keiber, S. & Karpowicz, N. Efficient, octave-spanning difference-frequency generation using few-cycle pulses in simple collinear geometry. Opt. Lett. 38, 4216–4219 (2013).

23

Zhang, J. et al. 260-megahertz, megawatt-level thin-disk oscillator. Opt. Lett. 40, 1627–1630 (2015).

24

Pronin, O. et al. High-power multi-megahertz source of waveform-stabilised few-cycle light. Nature Commun. 6, 6988 (2015).

25

Porer, M., Ménard, J.-M. & Huber, R. Shot noise reduced terahertz detection via spectrally postfiltered electro-optic sampling. Opt. Lett. 39, 2435–2438 (2014).

26

Isaenko, L. et al. Growth and properties of LiGaX2 (X = S, Se, Te) single crystals for nonlinear optical applications in the mid-IR. Cryst. Res. Technol. 38, 379–387 (2003).

27

Brons, J. et al. Energy scaling of Kerr-lens mode-locked thin-disk oscillators. Opt. Lett. 39, 6442–6445 (2014).

28

Jocher, C., Eidam, T., Hädrich, S., Limpert, J. & Tünnermann, A. Sub 25 fs pulses from solid core nonlinear compression stage at 250 W of average power. Opt. Lett. 37, 4407–4409 (2012).

29

Nikogosyan, D. N. Nonlinear Optical Crystals: A Complete Survey (Springer, 2005).

30

Arisholm, G. General numerical methods for simulating second-order nonlinear interactions in birefringent media. J. Opt. Soc. Am. B 14, 2543–2549 (1997).
Acknowledgements
This work was supported by the Deutsche Forschungsgemeinschaft Cluster of Excellence 'Munich Centre for Advanced Photonics', Fundacio Cellex Barcelona, the Ministerio de Economa y Competitividad through Plan Nacional (FIS2011-30465-C02-01), the Catalan Agencia de Gestió D'Ajuts Universitaris i de Recerca with SGR 2014-2016 and Laserlab-Europe grant agreement 284464.
Ethics declarations
Competing interests
The authors declare no competing financial interests.
About this article
Cite this article
Pupeza, I., Sánchez, D., Zhang, J. et al. High-power sub-two-cycle mid-infrared pulses at 100 MHz repetition rate. Nature Photon 9, 721–724 (2015). https://doi.org/10.1038/nphoton.2015.179
Received:

Accepted:

Published:

Issue Date: